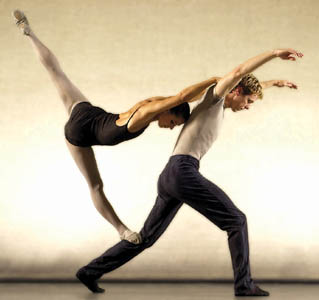 Windy City Moves: Hubbard Street Dance Company debuts a new work this weekend during its Stanford Lively Arts concerts at Memorial Auditorium.

Step Lively

SJ Ballet and Hubbard Dance give a lift to week ahead

By Michael S. Gant

WITH ANY LUCK, this coming week should prove to be better for dance in the South than in the East Bay, where the Oakland Ballet, apparently depressed by the missteps of the hapless A's, canceled its Oct. 10-12 program, rescheduling (if only that were possible in the playoffs) for a single Nov. 7 performance. Meanwhile, Ballet San Jose Silicon Valley, no doubt buoyed by the exploits of the Western Conference-clinching Earthquakes, kick off their season Oct. 16 with the company's first stab at Martha Graham's famed Appalachian Spring, with a little help from San Jose's own dance veteran Yuriko (see story on page 50). Graham's American classicism will be paired with Michael Smuin's Stravinsky Piano Pieces and Dennis Nahat's US, set to a panoply of pieces by American popular composers. The program runs Oct. 16-19 at the San Jose Center for the Performing Arts; early ticket purchase is recommended for this one: 408.288.2800.

Up the peninsula, Stanford Lively Arts hosts Chicago's Hubbard Street Dance troupe for two nights. The company, now in its 25th year, doesn't have a founding father or mother to pay homage to, so it is free to pick and choose works by young choreographers. For this appearance, Hubbard has commissioned (with some input from Lively Arts) a premiere and programmed some pieces unseen by audiences on the West Coast. The shows are Oct. 10-11 at 8pm at Memorial Auditorium on the Stanford Campus; call 650.725.ARTS.

No sooner does the new Macla open up (see page 46 for the first weekend's schedule), than it starts booking plays. First out of the gate for the renewed venue is The Journey of Isis by Macla's resident theater company, Los Del Pueblo Actors Lab, directed by Marc David Pinate. The play, inspired by Artaud, will consist of scripted scenes performed in a random order chosen by audience members. The Journey of Isis runs Oct. 25-Nov. 1; call 408.938.3594 for details. ... One block up on South First Street, San Jose Stage Company plans to celebrate the closing of its successful, twice-extended run of Buddy: The Buddy Holly Story with a preshow cocktail and dinner with Buddy Holly's widow, Maria Elena Holly, on Oct. 25. The event takes place at the Agenda restaurant, and tickets are $150 ($75 for show and party, sans dinner). The next night, the official closing, Maria Elena will appear for a post-show discussion and reception at the Agenda (tickets are $60 for this one). Call 408.283.7142 for info.

Top Notes

Even thought October is well along, the season openers keep coming. This Sunday at 7pm at the acoustically favorable Le Petit Trianon, the San Jose Chamber Music Society inaugurates 2003-04 with an appearance by the Amati Quartet: Willi Zimmermann on violin, Anahit Kurtikyan on violin, Nicolas Corti on viola and Claudius Herrmann on violoncello. The program features Beethoven's String Quartet in F Major, Bartok's String Quartet no. 5 and Schubert's String Quartet in A Minor. Tickets are $17-$30; call 408.286.5111.
---
Send a letter to the editor about this story to letters@metronews.com.
---
[ Silicon Valley | Metroactive Home | Archives ]