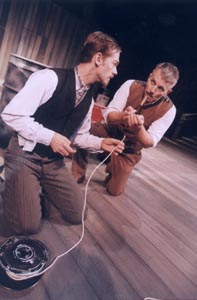 Fuse Muses: Randall King (right) and Jonathan Rhys Williams spark some satirical dialogue in 'The Firebugs.'

Photograph by Dave Lepori





Light Their Fire

Two would-be arsonists bamboozle an upper-crust family in 'The Firebugs'

By Heather Zimmerman

SOMETIMES THERE'S nothing more dangerous than an "upstanding" citizen. In his satire The Firebugs, Max Frisch demonstrates that those who proclaim their dedication to Decency and Charity the loudest are, in their actions, often the most unfamiliar with the concepts--to the point that they can pose significant danger to others. San Jose Stage Company gets its season off to a rousing start with a spot-on production of Frisch's cutting comedy.

Gottleib Biedermann (Randall King) is a wealthy businessman living in an unnamed city where arsonists have been burning down the houses of wealthy businessmen. A peddler, Sepp Schmitz (Kevin Blackton), arrives at the Biedermann home seeking food and shelter. Schmitz flatters his would-be host, and Gottleib, pumped full of the righteousness of his own generosity, lets Schmitz sleep in the attic, despite ominous hints that the man may indeed be one of the dreaded arsonists. Gottleib's wife, Babette (Domenique Lozano) reluctantly defers to her husband's decision.

Even as Gottleib revels in Schmitz's flattery, we learn that he has recently fired (and likely cheated) his best employee, Herr Knechtling. The wronged worker never appears, but Knechtling's presence is nevertheless constant; the guilt of his ruin hangs uneasily over Gottleib, though he loudly denies it.

His denial goes into overdrive with the arrival of Schmitz's friend, Willie Eisenring (Jonathan Rhys Williams), accompanied by a breathtaking array of gasoline barrels. The refined Eisenring, in shabby spats and tails, meets the Biedermanns on their own ground, proclaiming his love for the niceties of upper-crust life. Even so, Gottleib begins to realize that he has, in fact, given shelter to the city's notorious firebugs but lulls himself into a precarious sense of security, believing that a show of magnanimity to the pyromaniacs will make his house immune to them.

He even helps Eisenring to measure out a fuse, proving careless not only of his own household's safety, but that of the entire city, since we learn that his house is, conveniently for the arsonists, located next to the gasworks.

Frisch's play is deceptively simple, as are his characters. We know their types: the self-important businessman, the smooth swindlers, the long-suffering wife, but the cast ably teases out the unique personalities within these caricatures. Williams and Blackton are particular stand-outs as the firebugs--it's clear Schmitz and Eisenring relish every aspect of their work, from "seducing" their victims to lighting the match, but there's no malice in them. It's just what they do, and they love their jobs--they're the perfect villains.

In his complacency and cowardice, Biedermann is as much a villain, perhaps more so, though he certainly has less passion for it. King nicely captures Biedermann's craven bluster and woefully misguided goodwill.

Director Kenneth Kelleher plays Frisch's absurdist satire deadly straight, underlining the ironies in the plot and dialogue, and the effect is both hilarious and a bit titillating, evoking a slightly uneasy sense that the audience, too, is laughing in the face of danger. Indeed, so blatant are the clues that Schmitz and Eisenring truly are arsonists, it's hard not to feel sure that their appearances deceive, and to feel generous--perhaps even superior to Biedermann--in that conviction.

Eisenring says that the "best and safest method" for hoodwinking people "is to tell the plain unvarnished truth," and Frisch pulls off the best hoodwink of all, shaping the fable of a vain businessman into an unflinching look at a dark aspect of humanity, showing that we provide a safe haven for evil by choosing to ignore it, because ignoring it is usually the easiest thing to do.
---
The Firebugs plays Wednesday-Saturday at 8pm, Sunday at 2pm through Oct. 29 at the Stage, 490 S. First St., San Jose. Tickets are $16-$30. (408.283.7142)
---
[ San Jose | Metroactive Central | Archives ]