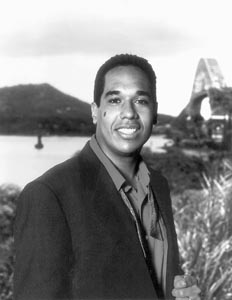 Honor Thy Mother: Danilo Perez says that music comes from the earth.





Pan-Musical

Danilo Perez continues to bring together diverse sounds and cultures on his latest CD, 'Motherland'

By Marianne Messina

ON HIS 1995 CD, PanaMonk, pianist Danilo Perez asserted his Panamanian roots within a tribute to Thelonius Monk. "That record had a lot of revelations for people," Perez says proudly. "You've got an Israeli bass player, who isn't supposed to play jazz or whatever; then you've got a woman playing who's been in the pop world [Terri Lynne Carrington on drums]; then you've got this Panamanian piano player playing the music of Thelonius Monk." Perez chuckles. "I think it broke a lot of stereotypes," he says. "I love that about the music. Music breaks all the boundaries."

Stepping into his new role as Panamanian cultural ambassador to the world, Perez introduced his CD, Motherland, a complex response to the historical push-pull of influences that define the Americas: Panamanian mountain singing, indigenous pan-piping, Spanish guitar, African chant--all of these are given voice. At times, Motherland can be moody (as in "Prayer," written for a cousin who died of pancreatic disease), or bright (as in the piano solo of "Pan-Africa"). "There are a lot of different emotions in the record," Perez agrees. "It's like life for me."

At the New England Conservatory in Boston where Perez teaches, his lessons are notoriously unconventional. For one thing, a lesson may last all day. For another, it may involve the student dancing to music he is trying to learn. "The music and the dances--especially Afro-heritage--all come together," Perez explains. "Music has to be felt through the body; that's basically what it is."

Perez absorbed percussion, rhythm and melody in this direct way as a boy--from the festivals, from nature--and he often revisits his native country for inspiration. "You go there and you hear the sounds of the birds, the animals. The music comes from the earth, really. And God made it that beautiful and we can pick it up if we tune in. The birds, they've got melodies they're singing. And the rivers have sounds they're making, and the trees, the wind blowing--there's music." Perez suggests that thanks to recent genres like New Age, Meditational and World music, people are realizing the relationship between music and nature. "Right now it seems vague, but in 10 years," Perez predicts, "it will be totally connected."
---
Danilo Perez and his five-piece group will play Monday, October 16, at 8:30pm at the Cubberley Community Center, 4000 Middlefield Rd., Palo Alto. Tickets are $12 advance/$14 at the door; 408.998.BASS.
---
[ San Jose | Metroactive Central | Archives ]