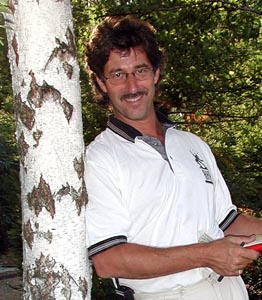 Party Planimal
Meet the party planner to Silicon Valley's stars
By Will Harper
SILICON VALLEY'S most famous divorcee, Barb Ellison, is known for more than being the ex-wife of You Know Who. The Woodside diva also throws the most lavish theme parties ex-hubby Larry's money can buy.
As explained in David Kaplan's book The Silicon Boys and Their Valley of Dreams, some of her various fiestas include Barbstock, Barbarella and, of course, the Barbi Gras of 1998.
For the latter, Ellison sent her 300 guests a professionally produced, videotaped invitation in which she reportedly says, "When the sun goes down, the spirits awaken and you've got your pass to the Voodoo Lounge ... a place to get rid of your burdens. And friends, I need your help to get rid of my biggest burden--my name and that damned doll."
According to Kaplan, Barb then instructs her guests to bring their own sacrificial voodoo Barbie dolls. As she pokes her own doll, Ellison deadpans, "Take revenge on a cheating spouse."
This year Ellison morphed into "Barbzan: Queen of the Jungle." According to Ellison acquaintances, her Woodside estate was transformed into a tropical outpost complete with real alligators, ostriches, camels, a full-grown tiger, a sloth, a giraffe, giant cockroaches and several monkeys imported for the party. Tour guides chauffeured 300 guests around the estate in Land Rovers, traversing man-made water obstacles. At the end of the Rover ride, spectators came upon an orchestra-sized drum circle where three actors in gorilla suits staged a comical abduction of Barbzan.
The man who dreamed up and choreographed Ellison's extravaganzas is none other than Rick Herns, event planner to the stars. At least, event planner to the recklessly rich of Silicon Valley.
His 13-year-old company, Rick Herns Productions, actually gets hired mostly by corporations for business parties. But it's the private parties Herns throws for wealthy socialites that reflect this age of digital decadence.
People have paid Herns--according to Herns--up to $250,000 to impress their pals by putting together a party they'll never forget. Herns, however, won't say who spent that much cash on a party. And Herns refuses to talk about Barb Ellison's shindigs, out of respect for her privacy, he says.
Being the event planner to the filthy rich requires a certain amount of discretion. Why?
"They don't want everyone to know," Herns explains, "how extravagantly they do things. ... I have clients who spend what would seem like obscene amounts of money [to most people], but it's not to them."
Don't mistake Herns' discretion for modesty. It doesn't take much to get him bragging about his party exploits--he just doesn't like to drop hosts' names.
Sitting in his purple and red office in downtown Redwood City, the youthful-looking 47-year-old San Jose State alumnus--who bears more than a passing resemblance to talk show host Geraldo Rivera--becomes noticeably excited when asked to talk about his most recent fiesta.
"It was incredibly decadent," he begins. He estimates the price tag on this one at $150,000.
The host in this case, Herns says slyly, was a dotcommer who just had his company bought out by Mr. Bill in Redmond.
He gets out of his chair and retrieves photographs from the party. He points to a shot showing off perhaps the event's most decadent artifact: a vodka bar made of solid ice, which also produces a martini in an ice glass (cost: $3,000).
Herns' company doesn't just deal with the rich and infamous. He will also book a wedding band for $500. "The client sets the budget, not me," he says.
Of course, clients who spend more get more. But Herns insists they don't need to drop ducats in the six-figure range for Herns to create a unique party-going experience. Take the 1999 New Year's party he put together for a peninsula couple at the Burlingame Country Club.
When party-goers first entered the club--transformed to fit the theme of bestselling novel Midnight in the Garden of Good and Evil--they encountered a maze of rose bushes and hedges. The paths, Herns says, led to rooms with different characters. In one, guests played blackjack with Satan. In another, a transvestite and his female companion played Truth or Dare, asking guests things like, "What do you sound like when you're faking an orgasm?"
Does it ever bother Herns that these people are spending thousands of dollars on parties when children somewhere are starving?
"Yes," he acknowledges, "it's been a topic of conversation and internal dialogue [at his company]." But Herns refuses to let guilt overcome him: "I've concluded it's all relative."
[ San Jose | Metroactive Central | Archives ]