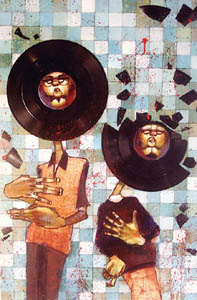 Disc Men: Samuel Rodriguez shows his site-specific wall art as part of MACLA's new show.

On Your Marks

MACLA's 'Can Control' displays graffiti's artistic side

By

THE BEST THING about graffiti is that it's not meant to last. So if you check out the current show at MACLA, Can Control: Urban Transformers, don't get all teary-eyed when you realize that they will eventually paint over the artwork that's on the walls. That's the point. Graffiti art is all about leaving your mark knowing that it will eventually get erased.

Sure, the existence of graffiti is a bone of contention for authoritarian types and anti-graffiti task forces, it is a vehicle of empowerment for hordes of younger folks, a point of entry to see themselves as artists. It's about leaving one's mark, a record of existence in a world where youth and the disenfranchised have little voice.

Now, we're not talking about some pseudo-gang-banger dumbshits defacing a storefront window with a few letters or numbers. Instead, think of those elaborate colored murals you see on the backs of warehouses along the railroad tracks. These folks are talented, brutha.

Believe it or not, several gifted young artists whose love of art began with graffiti are beginning to emerge. Can Control: Urban Transformers features recent paintings, mixed media work and site-specific ephemeral pieces by Gwen Mercado-Reyes, Jose Reyes, Samuel Rodriguez, Santos Shelton, $NAKE EYE$ (Lucy & Gutterlungs) and videos by Syndrome Studio. Each artist was asked to create a site-specific ephemeral piece that could integrate recent studio work.

$NAKE EYE$ is a tag team of two artists, one of whom holds a BFA degree from San Jose State University and the other of whom is currently pursuing a degree in illustration and animation from SJSU. Their mixed-media collaboration includes self-imagery, flowers, paint, lettering, characters and all sorts of stuff.

But it's not just painting on walls. Other facets of the show include mixed-media paintings and more traditional paintings influenced by graffiti. We're talking urban underbelly at its finest with Can Control—a representation of our constantly transforming landscape. All of the artists involved began their introduction to the art world with graffiti and several of them now either have college degrees from art programs or are currently enrolled in art programs. When you visit the show, you'll notice that a handful of the pieces have actually sold. There you have it. If it weren't for graffiti, none of these artists would ever have emerged. The spray paint gave them a voice. Go out and buy a can for yourself. You just might wind up an artist someday.
---
Can Control: Urban Transformers runs through Oct. 29 at MACLA, 510 S. First St., San Jose. The gallery is open Wednesday–Thursday, noon–7pm, Friday–Saturday, noon–5pm. Free. A program called 'What Is a B-Girl?' takes place Thursday (Oct. 13) at 6:30pm. An artists' talk takes place Wednesday (Oct. 19) at 6:30pm.
---
---
Send a letter to the editor about this story to letters@metronews.com.
---
[ Silicon Valley | Metroactive Home | Archives ]