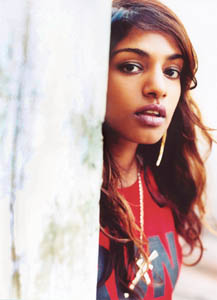 Photograph by Mike Schreiber

I'm British But ...: Did M.I.A. lose her militant voice since signing with Interscope and lending her music to Honda?

Chairman M.I.A.

You can't spell 'mania' without M.I.A.

By Todd Inoue

TO CHARACTERIZE last week's M.I.A. show as "anticipated" is like saying the 49ers need an offensive game plan: blatantly understated and obvious. It's been a year since her single "Galang" set blogorati ablaze, and the mixtape Piracy Funds Terrorism became the must-have CD-R among cultural gatekeepers. This summer, Interscope rereleased the British rapper's indie debut, Arular. "Galang" is running in a Honda Civic ad campaign, and her next record will be produced by TIMBALAND. So busy is she, M.I.A. turned down an appearance on Kanye West's Late Registration ("Drive Slow," which Paul Wall filled in).

M.I.A.'s San Francisco show last Wednesday—her third local appearance in the past year— was an appropriate quinceanera of sorts. Her grime-meets-dancehall patois escaped the hipster ruling class and rightly landed with the prole buying public. The show was a major coming-out party that stirred longtime (one year) and new fans into one.

The show was identical to previous visits with a few aesthetic revisions. The label shelled for Cost Plus–like stage decorations: frilly revolutionary flags, M.I.A.'s logo and artwork on a fabric backdrop, a fake palm frond, a tiger placard, a helicopter placed precariously on another fake palm frond. Freshly minted M.I.A. promotional fans were passed out, and a label lackey took pictures of ticket holders posing with them prior to entering the venue.

That said, there is an immediate improvement in her live set. She's only been playing out for a year and early shows were dominated by nervous energy and a penchant for arriving late, just at the audience's wit's end. This time, she was on time and packed a crowd split evenly by sex (though minority women represented hard) and sexual orientation ("I'd fuck you if I was straight!" yelled one well-lubricated attendee).

Opening act SPANKROCK—DJs XXXCHANGE, CHRISTOPHER ROCKSWELL and MC NAEEM "SPANKROCK" JUWAN—tested the sound system limits with a set of Baltimore club music, a virulent strain of hip-hop and dance with bawdy rhyming. M.I.A. DJ CONTRA spun a set of dub, funk, pop, B-More club and peaked with Miami bass hits ("Scrub the Ground" by Splack Pack had people losing their minds).

Backed by Caribbean dancer and backup vocalist CHERRY, M.I.A. set it off with "Pull Up the People." The crowd was fed high-decibel, speaker-clipping bass-wave versions and returned the gesture with lusty singalongs. "$10" and "Bucky Done Gun" nearly blew out the venue windows with M.I.A. and backup singer Cherry frolicking across the stage. The crowd—giddy from pumping M.I.A. tracks in their iPod for months—breathed in every amplified minute like rarefied air.

Seeing how outspoken M.I.A. is on record, it was disappointing how she relegated her political commentary to two nonmusical moments. During her intro, footage of a GEORGE BUSH and TONY BLAIR press conference was chopped humorously and displayed on a flat-screen TV. "The only important thing in the world today is ... ," said Blair, and cut to Bush's talking head saying, "M-I-A." Later, DJ Contra would trigger Kanye West's audio clip "George Bush doesn't care about black people." She kept the messages to a minimum and almost apologized for not being like STEVE EARLE. "I'm not a leader, I'm an activator," she said at one point.

The fellows from Spankrock came out during the encore "URAQT" and the lot lost themselves in the B-More club banger, doing freak dances, engaging in a primal celebration ritual. Even in the shadow of high-profile ad campaigns and a major label step up, M.I.A. hasn't lost vision of what got her to this level: a commitment to hot tracks and love of the street. After this tour, she may not need Kanye West's help after all.
---
Send a letter to the editor about this story to letters@metronews.com.
---
[ Silicon Valley | Metroactive Home | Archives ]