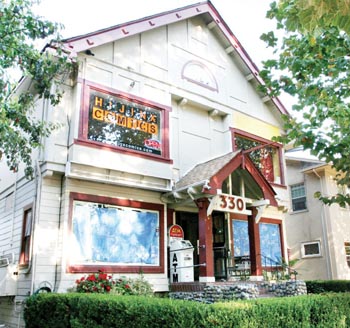 A House Is Not a Home: Iguana's and Cafecito were once both once located side-by-side in this Victorian; they're only the latest in a line of popular independent businesses shuttered after their properties came under the ownership of Malcolm Durham.

Plight of the Iguana

Local business owners say landlord stepped over the line playing hardball on downtown space

By Najeeb Hasan

THE OROZCOS are seated, somberly, in the fully equipped studio—complete with a soundproof recording booth—that's been erected on the back corner of their north San Jose property, just behind their stately green Victorian. There are three Orozcos in the studio: Sam and Liz, the husband-and-wife owners of Iguana's Taqueria and the popular Cafecito coffee shop, and Paul, the brother from whom Sam originally bought Iguana's several years ago. Samuel Jr. and Jeremy, the Orozcos' sons, who were each assigned to manage one of the family businesses, have just left.

The voice of a sixth Orozco—daughter Melissa—pulses through the speakers in the studio. Earlier, Sam had proudly pointed out a poster of a bronze-skinned young lady with a bare midriff tacked on to the wall. That's my daughter, he said. "We have plans for her as an artist."

With Melissa's voice in the background, each of the three Orozcos bow down their heads contemplatively; Liz wipes away a tear from the corner of her eye. Melissa's song, written a month ago by her brothers, is about Cafecito; it's an ode to her parents' coffeehouse, which, along with Iguana's, closed its doors this past July.

"That song ends the exact same way we ended Cafecito," Sam Orozco says after the music fades out. "My son played that last note on his guitar. Once he played that note, I said, 'Thank you everybody for coming. We have a choice. Because people look at this as an ending, but I look at it as a beginning. And we will be back.'"

More than 300 people went through Cafecito that night, the Orozcos say. And, at Iguana's next door, people waited in a line that snaked out the door to buy their burritos. In the end, having run out of ingredients, the Orozcos were slapping together burritos with only beans and cheese and were still selling them.

Shuttered Trust

Iguana's and Cafecito, both once located side-by-side in a Victorian at 330 S. Third St., are only the latest in a line of popular, independent businesses shuttered for various reasons after their properties came under the ownership of Malcolm Durham. Durham, along with Tony Bayard de Volo, also became the owner of the historic Lawrence Building on San Fernando Street in 2003.

The two-story, brick Lawrence Building, flanked by Fahrenheit Ultra Lounge and P.F. Chang's, stands almost empty; only Cinebar remains as an operating business. Twice Read Books, San Jose's storied used bookstore, was eliminated when the building changed hands (Craig Thrush, the owner of the bookstore, was also the owner of the Lawrence Building). Olga Enciso-Smith's Inca Gardens also has drafting paper taped to its windows, and its green awning advertising the only Peruvian food in town now competes with a bright red sign reading "Opening Soon: Tony Soprano's, Pizzeria and Restaurante."

Next door to Inca Gardens, Mandrakes Shoe Repair stands gated with a padlocked black wrought-iron fence. Aaron Stewart, the owner of Mandrakes, went to court to get a fair settlement on the terms of his lease; he was paid only just before the court date. Meanwhile, the once-bustling Stratta Grill & Bar also remains empty. Its menu is still up on the window, and liquor bottles still line the bar, as if the restaurant is only temporarily closed between meals. However, a plant in the far corner that is shedding dead leaves because it hasn't been watered betrays the actual fate of Stratta.

"I don't know if it's a fair conclusion [to classify Durham as a bad owner]," says Scott Knies, the president of the Downtown Association; Knies points out that he believes Durham intends to reopen Stratta. "Malcolm is a new owner; he hasn't owned these properties for that long. These older properties are difficult for a number of reasons. I know Iguana's and Cafecito were beloved businesses. I haven't talked to Sam or Liz; I haven't had a chance to hear their side of the story—nor have I heard Malcolm's side of the story."

Back on Third Street, not only have both Iguana's and Cafecito closed their doors, but upstairs in the same Victorian, Kevin Wu, the owner of Hijinx Comix, has also shut the store that he leased from the Lawrence Company. Luckily, Wu found space in another Victorian a handful of houses down to move his comic book store into.

"I got too much work to do," said Wu, when asked about the situation. "I don't need the drama."

Getting Litigious With It

The Orozcos say that Durham, the CEO of the Lawrence Company, had sent them "Pay or quit" notices several times while they were his tenants. Durham has also initiated three legal eviction proceedings against the Orozcos, according to public records. Shortly after the first eviction proceeding, which was resolved out of court, the two parties attempted to settle their differences by having the Orozcos, with the help of Sam's mother, Guadalupe, buy out Durham. On March 17 of last year, Durham signed a Commercial Property Purchase Agreement to sell the property to Guadalupe Orozco for $1.1 million. However, allege the Orozcos in court documents, Durham backed out of the deal by attempting to change the terms of the sale, even after Guadalupe Orozco acquired a loan for the down payment on the property.

Durham did not return a request for comment on this story by presstime.

After failing to mediate the dispute, the Orozcos, on April 20 of the same year, secured their claim on the property by filing a lis pendens, which warns outside parties that the property is disputed; seven days later, despite the lis pendens, Durham took out a $449,000 loan against the property from a business associate's family member. Durham then took the Orozcos to court once again, in a failed attempt to evict them. Finally, his third eviction proceeding against the Orozcos (which demanded the Orozcos pony up more than $13,000 in unpaid rent, a figure the Orozcos dispute) succeeded this past July when a judge ruled in Durham's favor. Much to the consternation of the local San Jose State community, Iguana's and Cafecito closed down July 5, but the Orozcos have appealed the eviction. Twenty days after the Orozcos were evicted, a new company was recorded at the secretary of state's office—Macho Taco, LLC. The agent's name was listed as Tony Bayard de Volo.

"I suspected all along that Malcolm and his business partners knew my business was successful and wanted the business for themselves," says Sam Orozco. "They not only wanted to take our business away, they're using the same color schemes and the same food." Iguana's was also the only downtown eatery allowed to serve food until 3am—in other words, the only place in town where club-goers can find a bite to eat after the clubs close down. It's unclear if that permit would transfer to Macho Taco.

Bayard de Volo disputes the Orozcos' version of what happened with the purchase agreement. "They failed to close the deal in three months," says Bayard de Volo. "The closing date came and went, and we entered into a second contract to give them more time. The closing date came and went again. All the while Sam is not paying his rent and a bitter landlord situation arising. We feel like we entered into the deal in good faith, and they failed to perform. The judge found that Sam had breached his lease agreement. That alone meant that we don't have to close the purchase."

Macho Taco has already been cited for code violations for installing restaurant fixtures—including the hood system, plumbing and gas appliances—without permits. For Paul Orozco, the code violations are only further proof that Durham's partners are trying to steal the Iguana's concept.

Bayard de Volo acknowledged that the taqueria would cater to the San Jose State University crowd. He envisions serving beer and wine at the taqueria and, also, opening up the back for outdoor seating.

"It's going to be some place where students can get a taco and enjoy themselves," Bayard de Volo said. "I think there's enough business to go around. La Victoria has experienced a great increase in business ever since Iguana's shut down."

Meanwhile, in another twist, Durham's business partner soured on him and sold the $449,000 loan that Durham took out to Guadalupe Orozco. Now, Durham owes Sam Orozco's mother money; he's already behind on his payment, and Guadalupe Orozco has sent him a foreclosure notice on the property.

"The whole thing with for us was to be part of the community," says Sam Orozco of his pushed-out businesses; he adds that his family has lived in north San Jose since the 1930s. "We live in the community, and we wanted to invest our lives in the community. My wife and I are both musicians, and we wanted to integrate music and arts into our daily lives. And, since our sons are also musicians, the natural progression would have been to have them take it over."
---
Send a letter to the editor about this story to letters@metronews.com.
---
[ Silicon Valley | Metroactive Home | Archives ]