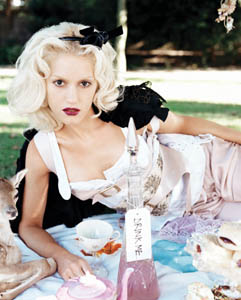 Photograph by Lorenzo Agius

Table For One: Gwen Stefani is happy she doesn't have to wear low-top Chucks and checkerboard suspenders any more.

Get Over Yourself

Tender rock star egos crave the validation (and big bucks) that a solo career affords

By Todd Inoue

GWEN STEFANI'S "Hollaback Girl" hit the million digital music sales mark last week. Stefani was an outside bet that paid off big time. For others seeking fortune or notoriety in pop, lightning of Stefani's variety is unpredictable. Going solo is a risky strategy where some make it and others flop in full view of fans and naysayers. Here's a rundown of artists who left the safe confines of the band and made it work, some who ate Costco-size boxes of humble pie, and others who are straddling the line of commercial success and failure.

Made It Work

Some artists stuck in bum deals cut their losses and carve out a respectable and lucrative career. There is no "I" in "team," but there is no "we" neither. R. Kelly ditched Public Announcement to become pop's biggest oddity next to Michael Jackson. Ice Cube is a franchise unto himself. The aforementioned Gwen Stefani got props by bridging the club and the mainstream. Justin Timberlake dumped deadweight and is making all the dough. Scarface moved from the Geto Boys to become one of Houston's most respected rap legends. Others more likely to be remembered for their singular output include Michael Jackson, Peter Gabriel, Björk, John Fogerty, Bun B, Eric Clapton, Neil Young, Mike Patton and Morrissey.

Blew It

Sometimes it takes a train wreck of epic proportions to make stars face reality when vanity and cocaine-fueled God complexes collide. But egos speak louder than talent and the result is a bunch of soulless records and embarrassing videos. Delusional David Lee Roth is the poster boy of throwing it all away. Billy Corgan is second banana with the zipless Zwan, a shite solo album and later a full-page ad begging to reunite with his disgruntled Smashing Pumpkins brethren. Courtney Love got a reality check when William Hung outsold her in her second week. Others humbled into submission include Dave Wakeling and Ranking Roger, Paul Weller, Roland Gift, the Spice Girls, Terry Hall, Annabella Lwin, Peter Cetera, Dawn Robinson, all three Digable Planets, Blake Schwarzenbach, Mick Jagger, Steve Perry, Guru, Q-Tip, Phife Dawg, Slash and Stone Roses' Ian Brown.

Jury's Out

Quick! Name one hit song that Natalie Merchant had after 10,000 Maniacs! Though she isn't quite banging the charts, she's made more records solo (including a best of compilation out this week) than with 10,000 Maniacs and she tours the lucrative winery circuit. This middle ground between anonymity and preaching to the converted is inhabited by many. Lauryn Hill is batting .500 with a great solo debut but dreadful acoustic album. She cut her losses and reformed with the Fugees recently. Pete Doherty is making more noise now with Babyshambles (and links to Kate Moss and narcotics consumption) than he ever did with the Libertines. Bobby Brown and New Edition have hit and missed to varying degrees. Erasure's Andy Bell releases a solo album this month to little fanfare. Phil Collins had a respectable solo career going but seriously messed with his legacy by cutting all these weak sauce Disney soundtracks. Diana Ross, Beyoncé, Trey Anastasio, Kool Keith, Mos Def, Paul Westerberg, Glenn Danzig, Tommy Lee are others walking the tightrope between hot tracks and cold pizza.

Who Needs to Go Solo

Pharrell Williams needs to ditch the N.E.R.D. vehicle and get on the solo creep. Rivers Cuomo could afford a fleet of yachts if he left Weezer. A Thom Yorke solo album would induce all manner of critical masturbatory fantasies. Chris Martin is Coldplay, so going it alone would put the rest of the band on the dole. OutKast has been recording separately for the past two albums, so it won't be long. The Black Eyed Peas' Fergie presents a conundrum; isn't it odd that the woman brought in to help sell BEP to mainstream audiences has the biggest opportunity to cash in? Nobody will care if the other guys go solo but a Fergie record would be huge. Girlfriend, follow your headliner's lead and get your paper while you still can.
---
Gwen Stefani and the Black Eyed Peas play Tuesday (Oct. 18) at HP Pavilion. Tickets are $35.50-$65.50 and the show begins at 8pm.
---
---
Send a letter to the editor about this story to letters@metronews.com.
---
[ Silicon Valley | Metroactive Home | Archives ]