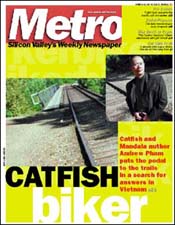 For the Week of
October 14-20, 1999
Cover: Ride of Passage
How former Silicon Valley engineer and Metro writer Andrew Pham's return to Vietnam became a journey of the heart and the source of a brilliant new book, 'Catfish and Mandala.'
News: Silicon Shake-Up
A decade after the Loma Prieta quake of 1989, structural engineers say the valley has enduring safety problems, namely that its tilt-up buildings are set to come tumbling down.
Saratoga: AT&T wants KSAR, KCAT cases to be heard in federal court.

Cupertino: Measure E bond on ballot in November.

Sunnyvale: Dead fields at two schools result from bad prep work.
Castle's in the Clouds: A brief foray into one woman's imagination.

Public Eye: Mineta won't return to Congress, ex-aide says. Councilwoman cusses. Reeps urge Dando to run for Assembly.






Viva Death in Vegas: 'The Contino Sessions' injects electronica with a jolt of rock.
Dizzying Schubert: The San Jose Symphony whirls through dramatic reading of Schubert's 'Great.'
Aural Fixation: Gwen and company of No Doubt order a willing crowd about at the Edge.



Brawl's Well That Ends Well: 'Fight Club' sends up America's macho culture.
Stamping 'The Limey': Steven Soderbergh's formula mystery targets Los Angeles decadence.
Anime Blues It: Even a surreal plot turn can't save Japanese anime 'Perfect Blue.'
Kiss and Tell: Teen girls wrestle with lesbian urges in 'Show Me Love.'



'Meat' the Truth: The start-up work ethic is killing us.



Art Smarts: Steve Martin tosses a bouquet of bons mots in 'Picasso at the Lapin Agile.'



Immortal Zin: Bye-bye, simple merlot and overpriced, save-it-for-later cabs. Christina Waters writes about the glorious ascension of the big and brassy zinfandel.
A La Carte: Riga European Bakery brings a taste of the Old World to a new housing complex.



Please don't forget to write! Metro welcomes letters. Like any great work of art, they should be originals -- not copies of letters sent elsewhere. Include address and daytime phone (for verification purposes only). Letters may be edited for length and clarity or to correct factual inaccuracies known to us. Postal: Metro Letters, 550 S. First. St., San Jose, CA 95111. Fax: 408/298-0602. . Emailers, please include name, city of residence and phone number. Letters printed will list email address unless otherwise specified. Letters to the editor are not currently published in the online version of this paper.