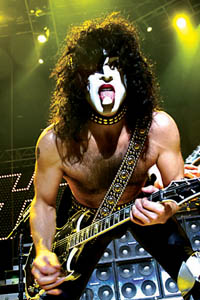 Photograph by George Sakkestad

Kiss' Paul Stanley licks it up.

Trick or Treat

Halloween comes early for Kiss and Marilyn Manson fans

By Sarah Quelland

BETWEEN KISS and Aerosmith last Friday (Oct. 10) at Shoreline Amphitheatre and Marilyn Manson last Sunday (Oct. 12) at the Warfield, Halloween came early to the Bay Area. Fans came out in full force wearing their alliances on their clothing and painted all over their faces.

Aerosmith may have the bigger hits, but even without original guitarist Ace Frehley, Kiss' costumed rock & roll superheroes proved to be the favorites on Friday. Star Child Paul Stanley was feeling sexy, and the 51-year-old had the energy of a teenager. He pranced around the stage in his towering platforms, shook his ass at the audience, played his guitar between his thighs and, best of all, showed how well he could sing. From the moment Kiss hit the stage with "Detroit Rock City," the enthusiastic audience became caught up in the experience as the band condensed material from its 1974 self-titled debut to 1983's Lick It Up into one set that included "Deuce," "Shout It Out Loud," "Lick It Up," "Firehouse," "I Love It Loud," "I Want You" and "100,000 Years."

"People!" Stanley repeatedly bellowed happily in greeting. Near the end of the night, he began playing the intro to Led Zeppelin's "Stairway to Heaven" before stopping and addressing the crowd. "You didn't come here to hear that. Nope!" he exclaimed, delighted, as the band struck into "Black Diamond."

Bassist Gene Simmons' bloody "God of Thunder" and drummer Peter Criss' ballad "Beth" were other highlights--with demon gore and long-stemmed red roses, respectively. Kiss concluded its portion of the show with the two-song encore of "Love Gun" and "Rock and Roll All Nite" that saw hands clapping in the air from the front of the stage to the back of the lawn and Stanley smashing his guitar into two pieces against the stage.

Kiss' show was larger than life and hotter than hell with flames, spark showers and fireworks and it made a hard act to follow. With its pyrotechnics, Kiss would have made more sense as the last band of the night. Still, Aerosmith held its own.

Even without the benefit of obvious makeup, Aerosmith appears to have aged like a fine wine. The band played a stripped-down set that touched on three decades worth of material starting with 1973's "Mama Kin." The stage was simple, with a giant ramp that ran up the center of the venue, and singer Steven Tyler and guitarist Joe Perry spent nearly as much time at the top of it as they did on the main stage. The band balanced its set with old songs ("Toys in the Attic," "Train Kept a Rollin'," "Dream On," "Same Old Song and Dance"), post-comeback material ("Love in an Elevator," "What It Takes," "Cryin'"), newer singles ("Pink," "Jaded") and material from its forthcoming blues album. If the live show was any indication, Aerosmith's next record is going to be full of blistering roadhouse blues complete with hot keys and sweaty harmonica.

After 30 years together, the members of Aerosmith display a mutual admiration onstage. There's a great deal of band interaction, and the music they make together sounds amazing live. During the classic "Walk This Way," much like Kiss earlier, Aerosmith had hands swaying in the air from the very front to the very back of the venue before it closed with an extended version of "Sweet Emotion."

Moving on to Sunday at the Warfield, Manson outdid himself and stole the show at this year's OzzFest, which gave reason to believe that his own headlining tour would be even more elaborate and more extreme. Surprisingly though, his show at the Warfield differed very little from his OzzFest appearance. It was a decadent rock & roll orgy of erotic dancing girls, masked marching men, prosthetic props and a robotic servant. Rude and engaging as ever, Manson spent the show spitting, blowing snot, molesting his dancers and inciting his rabid fan base with anthems "The Beautiful People," "The Dope Show," "Rock Is Dead," "The Fight Song" and "Disposable Teens" while still concentrating on his cabaret-influenced new album, The Golden Age of Grotesque. Though he included his covers of the Eurythmics' "Sweet Dreams (Are Made of This)" and Soft Cell's "Tainted Love," he once again ignored debut album Portrait of an American Family completely, indicating that the Spooky Kids days are a thing of the past.
---
Send a letter to the editor about this story to letters@metronews.com.
---

Kiss/Aerosmith/Manson Photo Gallery
Photographs by George Sakkestad

Heaven's on Fire: Kiss' Gene Simmons calls up the demon.

Horns o' Plenty: Kiss' Paul Stanley flaunts his metal.

Thunderstruck: Kiss' Gene Simmons unleashes the god.

Getting Floored: Stanley drops to his knees.

Destroyer: Simmons gives the crowd a tongue lashing.

Thigh High: Stanley balances showmanship with musicianship.

Out of Aces: Guitarist Tommy Thayer fills original Kiss guitarist Ace Frehley's heels.

Rock and Roll Over: Stanley brings the Kiss show to a fiery end.
[ Silicon Valley | Metroactive Home | Archives ]