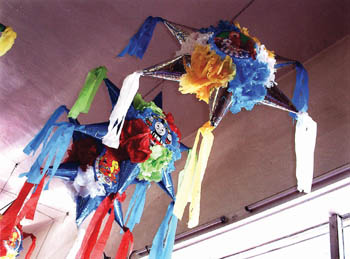 Photograph by Chris Revell

Full of Good Stuff: Apatzingan, your one-stop party mercado.

My Mercado

A sign in the window read 'Fresh Menudo,' and that was all it took to stop the car

By Joseph Izzo Jr.

I'D BEEN commandeered by a hunger that shoved me out of the house in a blind search for something to eat. It didn't take long to find what I was looking for. I drove two blocks, turned left onto Bascom, passed Valley Medical, then came face to face with serendipity. There in the window of the Apatzingan Mercado was poised a sign that read, "Fresh Menudo, Sat. and Sun." That was it.

Not only was it Saturday, but it was 8 in the morning, and the store was open. I pulled into a slot next to a crate of watermelons. The cook was just tying on his apron when I walked in and ordered a large menudo with a dozen corn tortillas. From a big kettle, he filled a quart-size bowl to the very edge. I added onion, oregano and lime juice and found a table in the little dining room, then stirred the ruddy red soup, huffing and puffing sheets of fragrant steam.

The people are friendly at Apatzingan. Everybody says hello. Kids play games in the aisles. This is the place to discover those authentic Mexican spices and hard-to-find produce like tomatillos. Aromas of cooking meats form halos around the taqueria, which sits left of the checkout stand and is connected to the butcher department. Because they work together, it makes sense that the meats are so fresh in the many dishes simmering along the steam table.

Apatzingan's recipes come straight from those kitchens my Latino friends refer to when speaking of home. Beans, rice, roast pork, chicken, beef and cabeza are made fresh and abundant every day. I haven't been to a place this authentic since my surf trips down to the cape of Baja.

In addition to the menudo, that celebrated cure-all for the hangover, birria de chivo ($5.75), or goat meat, is also served in a red, spicy stew. I love the burritos, my favorite filled with chile verde ($3.29 super grande), or roasted-pork simmered in green chile and natural juices. The burritos are huge, maybe a pound or more. Chile verde also comes served plate-style with rice and beans ($5.99) or in a sandwich, called a torta ($3.29), plied with pico de gallo and chile sauce.

My favorite torta filling is the carnitas ($3.29), a spicy, roasted pork that can also be ordered by the pound for service at home. One time, I brought 2 pounds of carnitas home, and we sat around a table in the backyard eating tacos and drinking cold beer. Many of Apatzingan's patrons come for takeout. They order soups and meats in large quantities for dinners or parties.

Just the other day, I stopped by for a snack of soft tacos ($1 for small; $1.50 large), with a large glass of horchata, the chilly rice-pudding drink. I prefer my tacos made with two warm corn tortillas, with morsels of carne asada heavily seasoned and splashed with pico de gallo. I had two that day, then went back for two more. Soft tacos can also be filled with just about any meat you desire, including goat or carnitas.

The dining room is small, and people gather here to eat, and eat only. Nobody lingers. Patrons fetch their food when it's ready and add spices and condiments located on a table in the dining room. Servers rarely step from behind the counter. Most of the utensils are plastic, except for the metal spoon you get with the menudo.

I prefer to come on weekends and sit with the people gabbing about whatever fun things they've got on the agenda for the day. A feeling of hopefulness circulates in the air with the fragrances of roasting pork and fresh menudo. And Apatzingan is a great place to practice your Spanish. I rarely hear English in this tasty little mercado.
---
Apatzingan Mercado and Taqueria
Address: 542 S. Bascom Ave., San Jose
Phone: 408.279.4333
Hours: 8am-8pm daily
Price Range: $1-$5.95
---
---
Send a letter to the editor about this story to letters@metronews.com.
---
[ Silicon Valley | Metroactive Home | Archives ]