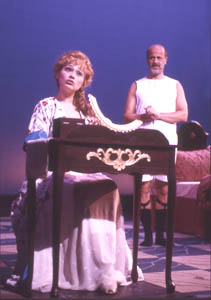 Photograph by David Allen

Just Say No: Sex and marriage don't go together when Anne (Lianne Maie Dobbs) holds out on Fredrik (Allen Fitzpatrick) in 'A Little Night Music.'

Fractured Foibles

TheatreWorks revisits Sondheim's 'A Little Night Music' with elegance and grace

By Rob Pratt

STEPHEN SONDHEIM'S landmark 1973 musical, A Little Night Music, proves the maxim that beauty in maturity is a work not of nature but of art. Even 30 years after its Broadway debut, A Little Night Music sparkles with timeless wit and sophistication in telling a story that has lost none of its passion and virility. Thanks to a sensational cast and classy staging, TheatreWorks' thrilling production, running through Nov. 2 at the Mountain View Center for the Performing Arts, presents the show as the rarest of performing prodigies returning to the stage decades after debuting. It returns with no appreciable loss of daring and skill and with a new lifetime of elegance and grace.

For this second TheatreWorks look at A Little Night Music (the company first presented it more than 20 years ago), director Robert Kelley and scenic designer Tom Langguth place the show amid a gorgeous, royal blue art deco set that's often little more than a sketch or a simple line or a curve of arc. Scenes play among a forest of sliding panels or brilliantly colored line drawings of architectural elements peppered with Cubist images. The effect is light and suggestive--a fitting complement to a parlor comedy about romantic foibles.

The story is taken from Ingmar Bergman's 1955 film, Smiles of a Summer Night. A summer night has three smiles, explains Madame Armfeldt (Norma Hughes), as the show opens: one for the young who know nothing, one for the fools and one for the old who know too much. It is the fools--a couple of young lovers who rekindle their romance after 15 years apart--who move the show to its bittersweet climax.

Fredrik Egerman (Allen Fitzpatrick) is a middle-aged lawyer married to a teenage bride (Lianne Maie Dobbs) who refuses to sleep with him even 10 months since their wedding. After seeing onstage one night a love of his youth, the glamorous actress Desiree Armfeldt (Charlotte Cornwell), Henrik runs to her. Their reunion is interrupted by the Count Carl-Magnus Malcolm, who has taken Desiree as a mistress and who is quick with rapier and pistol. The three converge for a weekend at the country estate of Desiree's aging mother, Madame Armfeldt.

Kelley has assembled a cast of wonderfully appealing actors, all strong singers equal to Sondheim's challenging score and rapid-fire lyrics. Fitzpatrick and Cornwell share a luminous chemistry as the middle-aged lovers. Cornwell's voice, however, doesn't have the buoyancy that Fitzpatrick brings to musical numbers. She nonetheless delivers "Send in the Clowns," the show's big hit and the climactic musical number, with enough heart to make it work.

Stanley Bahorek is a riot as Henrik Egerman, Fredrik's seminary student son. After angrily and luridly bowing and fingering a cello during "Later," arguably one of the greatest odes to sexual frustration in an American musical, Bahorek left an opening night audience roaring with laughter. Hughes, too, delivers a sensational number in "Liasons," telling her 15-year-old granddaughter of her many youthful affairs of state.
---
A Little Night Music, a TheatreWorks production, plays Thursdays and Fridays at 8pm, Saturdays at 2 (except Nov. 1) and 8pm, Sundays at 7pm (with a 2pm show Oct. 19), Tuesdays (Oct. 21) at 7:30pm and Wednesdays at 8pm through Nov. 2 at the Mountain View Center for the Performing Arts, 500 Castro St., Mountain View. Tickets are $20-$48. (650.903.6000 or www.theatreworks.org)
---
---
Send a letter to the editor about this story to letters@metronews.com.
---
[ Silicon Valley | Metroactive Home | Archives ]