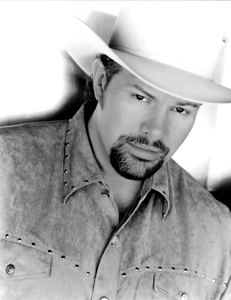 Top Dog

Keith Unleashed

Country came to town in a big way with Toby Keith at Shoreline last Friday

By Sarah Quelland

HIS POLITICAL BELIEFS may be controversial in some circles, but at Shoreline Amphitheatre last Friday (Oct. 11) in a crowd sporting cowboy gear and red, white and blue, Toby Keith's proud red-blooded all-American sentiments were met with the waving of U.S. flags and roars of approval. He was among his people that night.

Though it took him a few songs to really find his groove, by the time he got to what he called "bus songs"--novelty songs written on the road--the country star was in full Toby Keith force. While a timely folk song titled "The Taliban" was humorous enough as it imagined the life of a good, hard-working family trying to get out from under the Taliban's reign, another titled "I'll Never Smoke Weed With Willie Again" had the crowd in stitches with the chorus "My party's all over before it begins/ You can pour me some Old Whiskey River my friend/ But I'll never smoke weed with Willie again."

Big, brash and full of confidence, Keith has the rowdy presence of a Hank Williams Jr. His hits stretch back to his debut in 1993 and Keith touched on most of the best ("I'm Just Talking About Tonight," "You Ain't Much Fun," "You Shouldn't Kiss Me," "Getcha Some," "A Little Less Talk and a Lot More Action," "I Wanna Talk About Me"), playing only a handful from his new album Unleashed. Throughout it all, he included the crowd, leading audience sing-alongs at the end of his liveliest songs. Wherever possible, he acknowledged the home state of his California fans. The line "California's full of whiskey, women and gold" (from "Should've Been a Cowboy") was a given, but he did it more than once.

As a prelude to his newest singles, he told the crowd, "I wrote y'all some brand new songs," before singing "Who's Your Daddy?" and riding solo on his recorded duet with Willie Nelson "Beer for My Horses." Following the ballad "Does That Blue Moon Ever Shine On You," Keith announced, "That's about as tender as I'm gonna get all night, by God."

Between dance skits, solos, onstage appearances by openers Paul Thorn and Rascal Flatts, and rude video footage of a big ugly dog named Toby terrorizing the neighborhood and marking his territory, Keith entertained the crowd.

Nearing the end of the night, he asked, "Have we got any angry Americans in California tonight?" As the flag-waving crowd started chanting "U.S.A.!" Keith repeated "Thank you for showing your patriotism." Before launching into "Courtesy of the Red, White and Blue (The Angry American)," Keith called the song his gift to the military and said, "I don't give a damn what Peter Jennings or the Dixie Chicks have to say about it."

A frenzy of fireworks lit up the stage and red, white and blue confetti showered down on the crowd. After exiting the stage, Keith reappeared one last time for his smash hit, "How Do You Like Me Now."

There's been a good little run of country shows and they aren't over yet. Rock It Rodeo! the Grand National Rodeo Horse and Stock Show features numerous concerts at the Cow Palace with Asleep at the Wheel (Oct. 25), Lonestar (Oct. 26), Diamond Rio (Nov. 1) and David Ball (Nov. 2). Meanwhile Willie Nelson was well worth the drive to Concord. Visit www.metroactive.com/metro to read a review of last Thursday's performance (Oct. 10) at the Chronicle Pavilion.

ANARCHY IN SAN JOSE: Local artist Jeff Gardner has an exhibit at the XPO inside Cafe Matisse. A reflection on the history of San Jose's DJ and club scene, The Anarchist Disco features handbills from past bands, clubs and parties circa 1991-2002. The exhibit, which runs through Oct. 31, also features works by Barbara Koltai and Pietro Maffei. A reception takes place tonight (Oct. 17), 7-9pm, with an afterparty at the Velvet Shop at Waves Smokehouse and Saloon.

HOT TOPIC: After the success of the invite-only Duncan Sheik show, Agenda Lounge is again working with Mix 106.5 to present Dishwalla on Oct. 24. Tickets can be won by listening to Mix 106.5.
---
Send a letter to the editor about this story to letters@metronews.com.
---
[ Silicon Valley | Metroactive Home | Archives ]