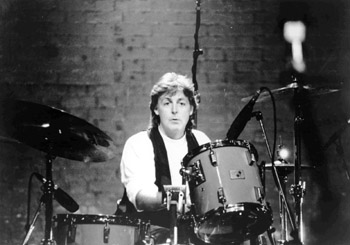 Photograph by Eugene Adebari

Macca Framalama: Paul McCartney is the funky drummer.

The Sampling of Sir Paul

Alt-rock darlings and hip-hop impresarios have long twisted up McCartney's music

By Spence D.

SAMPLING is essentially the digital equivalent of imitation. And we all know that imitation is the highest form of flattery. For years, hip-hop producers have been sampling the songs that they love, the beats that make their heads nod and the sounds that rock their world.

Sampling is, at its core, an aural tribute, a digital tip of the hat to someone you admire and respect. That being said, it should come as no surprise that over the years a few adventurous souls have tackled the daunting task of rearranging the music of Paul McCartney. Given that sampling has been the modus operandi of DJs since the early '80s, it should come as no surprise that hip-hop heads were among the first to realize the potential of McCartney's music.

In 1989, production wizards the Dust Brothers did just that on the Beastie Boys' seminal Paul's Boutique album. The track "The Sounds of Science" contained two separate Beatles samples. "We sampled the beat from 'Sgt. Pepper's Reprise' and, if my memory serves me correctly, the guitar hits are from 'The End,' from Abbey Road," recalls Mike Simpson, one half of the Dust Brothers duo.

"I grew up listening to the Beatles, and they are probably my single biggest musical influence, especially with respect to production and arrangement," he continues. "I have studied their records and revisit them often for inspiration."

The latest hip-hop head to incorporate the sounds of Sir Paul into his work is Dr. Dre protégé Knoc-Turn'al. His current hit, "Muzik," tweaks the guitar riff from McCartney's 1979 track "Old Siam, Sir." What sets this use of McCartney's music apart from the rest is that it's considered the first sample actually to be sanctioned by the man himself.

"I didn't know it was a Paul McCartney sample until after I rapped over the track," explains Knoc. "Paul McCartney really doesn't clear hip-hop samples, so I didn't know whether or not he was gonna clear it." At first, McCartney didn't want to hear the track, but after some cajoling he listened to it and liked it. "I think as long as you make a good song that's creative, then he'll clear it. That's what he did for me."

The interesting thing about all of this is that the sampling of McCartney has not been limited to the hip-hop arena. In 1994, Paul messed around with his own compositions on the Fireman project, a joint effort with Youth, bassist for the '80s art band Killing Joke and sometime member of Orb.

The most current rock outfit to fiddle with McCartney's music, however, has been Welsh popsters the Super Furry Animals. Cian Ciaran, the group's keyboardist and sampling wizard, worked with McCartney on a project titled The Liverpool Sound Collage, which was released in 2000. Ciaran was actually given free reign with a slew of never-before-heard Beatles rarities and studio outtakes, being allowed to cut and paste them into new compositions.

"I saw him [at a party] and said, 'Let me do a remix for you one day,'" laughs Cian. "I didn't think anything of it [after that]. He probably didn't even know who I was. But then three weeks later, he called me up and said, 'Are you still interested?'"

Most recently, the Super Furry Animals were able to record Sir Paul chomping down on celery and carrots, which they turned into a rhythm track for their song "Receptacle for the Respectable." Intended as a homage to Paul's veggie-munching antics on the Beach Boys' 1967 track "Vegetables," it was the direct result of Ciaran's previous association with the legend.

The sparse yet diverse range of sampling that has occurred over the years in conjunction with McCartney's music proves that the man has a devout following among the younger generations of musicians--and vegetarians. It also indicates that as long as Paul McCartney continues to create music, there undoubtedly will be those musicians inclined to rework, sample and tweak it.
---
Paul McCartney performs Tuesday (Oct. 22) at the Compaq Center, 525 W. Santa Clara St., San Jose. (Ticketmaster)
---
---
Send a letter to the editor about this story to letters@metronews.com.
---
[ Silicon Valley | Metroactive Home | Archives ]