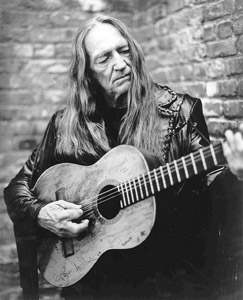 Trigger Happy
Willie Nelson's guitar got a workout last Thursday as Nelson ripped through his unforgettable songs with skill and vigor
By Sarah Quelland
Willie Nelson's no spring chicken, but you could hardly tell by his performance last Thursday (Oct. 10) at the Chronicle Pavilion. Nelson is like those old jazz and blues greats who tour forever and never lose their touch. Even more than that, he's a widely-recognized national treasure. Pushing closer and closer to 70, the years may show in the lines of his face and they might make his voice break just a little bit now and then, but they have yet to adversely affect his guitar playing. At Thursday's show, he attacked his old guitar Trigger with a vengeance, burning up the strings like a man possessed.
There's not another guitar in the world like Trigger, Nelson's scratched and battered Martin Classical N-20--a lifelong friend etched with more than 30 years worth of memories and signatures from the likes of Leon Russell and Roger Miller. The sound Nelson gets from it is as unique as his voice. Onstage in Concord, his expert fingers flew from one complex chord to the next with the ease of decades of experience.
After leading off, like he always seems to, with the rowdy jukebox classic "Whiskey River," and jumping immediately into "Stay a Little Longer," Nelson barreled through upwards of 35 songs. With a stage set with little more than a huge Texas state flag as a backdrop, he was content to let his music speak for itself. Though clearly appreciative of his audience, he didn't waste much time talking, and packed as many songs as possible into his limited time onstage.
One of Nelson's most remarkable gifts is his ability to capture and convey honest human emotion through song. He must have a song for every kind of broken heart and there's sage wisdom and sad beauty to them all. On Thursday, he sang of love and loss through songs like "Help Me Make It Through the Night," "Angel Flying Too Close to the Ground," "Always On My Mind" and "To All the Girls I've Loved Before." Voiced in that half-spoken, half-sung way of his, the stirring medley of "Funny How Time Slips Away," "Crazy" and "Night Life" was truly mesmerizing.
Honoring his late buddy, Waylon Jennings, Nelson announced, "Let's do a couple for Waylon," before breaking into his gospel stash with "Will the Circle Be Unbroken," "I Couldn't Believe It Was True" and "I'll Fly Away." With those followed by the mournful tale "Seven Spanish Angels" and the rail-riding "City of New Orleans," he again celebrated Jennings with "Luckenbach, Texas (Back to the Basics of Life)," which immortalizes the poetic outlaw legacy of "Waylon and Willie and the boys."
Deceptively-simple sounding renditions of "Me and Bobbie McGee," "Blue Eyes Crying In the Rain," "Blue Skies," "Georgia," "All of Me" and "Stardust," along with rowdy country classics "Mammas Don't Let Your Babies Grow Up to Be Cowboys" and "On the Road Again," and Nelson's long-time guitarist Jody Payne's rugged vocal take on Merle Haggard's "Working Man Blues" rounded out the first half of the show. By the time he got to "Whiskey River" again, part of the crowd thought the show was over. But a giant American flag unfurled, covering the Texas flag, and Nelson plowed ahead with "Still Is Still Moving to Me." During "Milk Cow Blues," members of Latin rock band Los Lobos (which opened the show) joined Nelson onstage.
It wasn't until more than halfway through the show that Nelson got to songs from his latest album, The Great Divide: "Maria (Shut Up and Kiss Me)," Mickey Newbury's "Just Dropped In (To See What Condition My Condition Was In)" and the sparse, aching Spanish-styled title track.
A lively run of vintage Hank Williams, Sr. tunes ("My Bucket's Got a Hole In It," "Jambalaya (On the Bayou)," "Hey, Good Lookin'" and "Move It On Over") ended the main portion of the concert, before the guys from Los Lobos joined Nelson again for an encore of sorts that included rare cuts "Truck Drivin' Man," "Roll In My Sweet Baby's Arms" and Hank Sr.'s "I Saw the Light."
Maybe it was the exaggerated guitar parts, maybe it was something deeper, but on that night, his songs had the underlying sound of a freight train hauling across the plains, the presence of its iron ghost a reminder of the cowboy spirit of the Old West Nelson sings about with such proficiency and authenticity.
Waylon Jennings once said, "Willie Nelson is a true Gypsy. No matter what era he might have been born in, his music would have touched the hearts and souls of everyone, as it has in our times." Amen to that.
---
Send a letter to the editor about this story to letters@metronews.com.
---
[ Silicon Valley | Metroactive Home | Archives ]