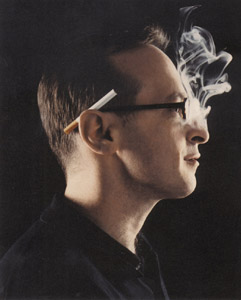 Talking Pretty Every Day: The truth of experience keenly observed shines through all of David Sedaris' work.

Bare-Naked Writer

Author David Sedaris trains the X-ray specs on society and himself

By Serena Kim

CHEAP THRILLS come in many forms--fly swatting, making shampoo horns, pimple popping. Then there are the hard-core jollies of peeking inside someone's private journals--their deepest, darkest secrets honestly disclosed in a supposedly safe place. Writer David Sedaris, 44, has made a living from sharing the details of his strange and bizarre life experiences. His books, based on journals that he has maintained since the age of 19, have become wildly popular. He appears Friday as part of Villa Montalvo's Fall Fusion series.

In his second book, Naked, Sedaris orders a catalog from a nudist colony to send to his younger brother--just as a joke at first. But being the type of guy who likes to subject himself to sticky and uncomfortable adventures just for the sake of a good story, Sedaris finds himself flipping through the catalog. He wonders what it would be like to stroll freely in a trailer park among quirky senior citizens whose sagging private parts flap unencumbered in the cool breezes of upstate New York.

By the story's end, Sedaris overcomes his self-consciousness about his lumpy, hirsute figure and settles into his nudity. And when, after a week, he goes back to Manhattan, he can suddenly see past everyone's sartorial armor, their artifices and the projections of who they want to be. It's like wearing mail order X-ray glasses that actually work, he reports.

But actually, Sedaris has been blessed with a kind of X-ray vision ever since he realized he wasn't a crappy, speed-addicted performance artist but a talented writer armed with biting humor and a searing gaze that can cut through any cloth.

Though he currently resides in France, he is particularly skillful in cross-examining contemporary American society (people who fawn excessively over all things nice and cute), his own very large family (including an eccentric Greek grandmother whose goldfish commits suicide) and himself (an obsessive-compulsive who rocks himself to sleep). His books Barrel Fever (1994), Naked (1997) and Me Talk Pretty One Day (2000) became bestsellers and led to a devoted following.

Sedaris made his national debut on NPR's Morning Edition in 1992. He read his now-classic tale about one particularly desperate holiday season when he takes up work as one of a cadre of elves that serve the various Santa Clauses who take photos with children at Macy's. Wearing green knickers and a matching velvet smock, he sees firsthand that, despite its promises, Christmas can do more to divide than to unite. White parents insist on a Santa Claus like them, emphatically not the "chocolate" one; at the same time, black parents insist on a similarly hued Saint Nick.

Growing up gay in Raleigh, N.C., during desegregation, the writer observes, in his story "I Like Guys," his teachers regularly making asses of themselves, proudly exhibiting their homophobia and racism. In the eighth grade, his Spanish-language teacher, a banal white woman, recounts an anecdote about "a little colored girl" she met at a fair who asked if she could touch her hair for good luck. The teacher's eyes become dewy as she says, "Then this little fudge-colored girl put her hand on my cheek and said, 'Oh, I wish I could be white and pretty like you.'"

Even as a teenager, Sedaris had the good sense to see his teacher's delusions about racial superiority. But Sedaris isn't interested in championing civil rights. He has no political agenda. He gives everything from discrimination to the insipid conventions of society the same degree of scrutiny.

A lot of book critics like to compare Sedaris to J.D. Salinger for how well he can excavate his own disillusioned youth and point out the phonies in American society. But because Sedaris writes eloquently about the prosaic, wringing out meaning with effortlessly elegant sentences, you can't help but think of E.B. White on speed. Or maybe it's S.J. Perelman on ecstasy.

Like many great writers before him, Sedaris has made alcoholism a recurring theme in his work. His maternal grandfather suffered from delirium tremens, commonly known as barrel fever, as his then 16-year-old mother, Sharon, watched. She in turn became a hard-drinking smoker who ultimately died of lung cancer.

He musters the courage to write the elegiac "Youth in Asia" (Me Talk Pretty One Day)--probably the funniest and most moving story in his collection. With sarcasm and wit, he riffs on his family's succession of collies, Great Danes and German shepherds--from their winsome infancies to the dreaded euthanasia, weaving this with meditations on his own tough-talking mom, a woman who never warmed to namby-pamby sappiness.

"When my mother died and was cremated herself," he writes, "we worried that, acting on instinct, our father might run out and immediately replace her. Returning from the funeral, my brothers, sisters and I half expected to find some vaguely familiar Sharon Two standing at the kitchen counter."

Like Sharon One, Sedaris himself nursed a dependency on the bottle. And he isn't afraid to train his pen on his addictions for his irreverent but subtly tragic stories. In a piece that reads eerily like an autobiography, one of his characters wakes up from a liquor-induced blackout to find himself using the vacuum cleaner as a pillow while marinating in a puddle of his own urine. Another harsh morning, he realizes he had made several long distance calls to Scotland Yard after watching Mystery Theater to congratulate them on their fine work.

Despite the beer goggles, Sedaris can see quite well. His X-ray vision renders the dross of everyday lies absolutely transparent, from the lies that people tell themselves about who they are to the lies that issue from society. And when he takes a good hard look at himself, he finds that--despite his honestly rendered flaws--he is actually comfortable in his own skin.
---
David Sedaris appears Friday (Oct. 18) at 7 and 10pm at the Fox Theater, Redwood City. Tickets are $20-$35 and available through the Montalvo Box Office (408.961.5858 and www.villamontalvo.org).
---
---
Send a letter to the editor about this story to letters@metronews.com.
---
[ Silicon Valley | Metroactive Home | Archives ]