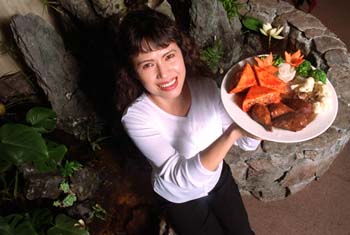 Photograph by Goerge Sakkestad

Di-Lightful Experience: Di Lac owners make patrons feel like part of the family as they sample an assortment of meatless dishes including "drumsticks" formed around sticks of bamboo.

Deluxe Di-Lac

A bite of veggie heaven in East San Jose

By Jena Torres

BEING A FAMISHED vegetarian after 9pm on Sunday usually means settling for bland, mush-filled bean burritos at Taco Hell. Ever the optimist, my fellow vegetarian companion, Red, decided one such Sunday to drive out to Capitol Expressway near the Silver Creek Area to Di Lac Cuisine, a new vegetarian restaurant we had been eyeing since we noticed the "Coming Soon" sign in the window. When we arrived, the "Closed" sign was up, but a family eating inside began gesturing for us to come in. We smiled, perplexed, until a young girl inside turned the sign to "Open."

As we entered the spacious restaurant, our eyes were immediately met with an appetizing array of foods teasing us from behind the steam table. We thanked owner Hien Nguyen for letting us in and told him we'd take the food to go. What happened next shocked us, especially since I was with Red, a dreadlocked fellow who regularly elicits wary looks from strangers. "I'll give you all the food you want," Hien said, "if you eat with me and my family."

We were led to a table where a group of friendly faces had gathered for their evening meal. A Lazy Susan perched in the center formed a mosaic of fragrant dishes, like sizzling veggie salmon, vermicelli noodles, seafood and vegetable soup, veggie ham salad with crisp rice crackers, tofu in peanut sauce, and rice. We were treated with grandmotherly attentiveness, each person urging us to taste something different, try each sauce and, of course, "Eat more!"

Still giddy from being invited to feast with the family, we felt like we'd stepped into veggie heaven. First, I devoured the vermicelli noodles with the savory soup. Next, I tried the salmon ($8.95), encrusted with seaweed for a distinctly oceanic flavor. The thin slices of veggie ham in the salad were so authentic in taste and texture that I became suspicious, thinking maybe it really was ham. Hien assured us he uses no meat or eggs and that all his food is made fresh daily, including the soymilk and tofu. He proudly showed us his huge tofu machine, on display through a window behind the steam table.

Hien introduced us to his wife, Tina, and his two sons. He recounted for us his adventures in Asia, researching methods of preparing vegetarian cuisine. Just as we were getting full, he sauntered into the kitchen and returned with two very real-looking "chicken" drumsticks, and for a moment I was sure he misunderstood that we don't eat meat. As he set them in front of us, I noticed the bamboo "bones" (75 cents each). Although I've never been a fan of faux meats, these drumsticks were impressive--not elastic, but tender and flavorful. Hien must've learned something on his travels. We were delighted, but Tina shook her head. "The chicken nuggets [$5.95] are better," she said.

Since discovering Di Lac, I've returned many times, occasionally fooling a meat-eater with my favorite dishes, the spicy Kung Pao chicken and Lemon chicken (both $5.95) (Hien said one vegetarian customer threatened to sue after mistaking the "meat" for the real thing). I was also pleased with the sweet and sour pork ($5.95) and Mongolian beef ($6.95), thin slices of seitan that fill your mouth with flavor and spicy heat. For an exotic treat, try the fresh coconut juice ($1.75) or the sour plum soda ($1.50), a fizzy mix of sour, salty and sweet flavors.

Feeling like the potbellied Buddha on the shelf in front of us, I sat back and looked around. A beautifully detailed wooden image of Quan-Yin, a Buddhist goddess, adorns a mirrored wall of the restaurant, and a large, enchanting stone fountain decorated with lotus blossoms, lily pads, small houses and figurines trickles soothingly in the background. During my visits to Di Lac since then, I've noticed it's almost impossible not to find a child next to the fountain, mesmerized. Also highly likely are displays of Di Lac generosity, as new customers are granted complimentary bowls of sweet ginger tofu pudding ($1) to try.
---
Di-Lac
Address: 1644 E. Capitol Expwy., San Jose
Phone: 408.238.8686
Price Range: $11-15 for entree/salad
Hours:10am-9pm Mon, Tue and Thu; closed Wed; 10am-10pm Fri; 9am-9pm Sat and Sun
---
[ San Jose | MetroActive Central | Archives ]