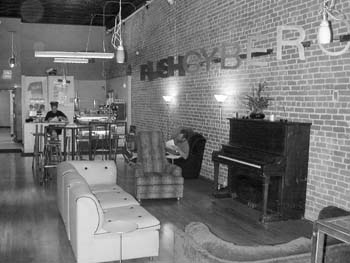 Cyber Savvy
Cyber cafes in Silicon Valley? Rush says 'Why not?'
By Genevieve Roja
RUSH CYBER CAFE looks like a New York City mirage, almost out of place at its location on 80 South First Street. It's graphically grabbing, a distinct contrast to the faded signs of downtown tuxedo shops and Mexican eateries. It is comfortably lit in a perfect blend of torchiere and track lighting laced with opaque hues of rich reds, blues, yellows and oranges. As if that weren't enough, the eye is immediately drawn to the Italian motorcycles and computers lining the brick walls, which prompts me to ask internally, "What the hell is a motorcycle doing in an Internet cafe?"
Whatever it is, the cafe is getting noticed, whether it's being used as the backdrop for a photo shoot or as the meeting place of conventioneers. The retro/modern quality of the cafe makes its case in the dress of its Filipino owners, Joel Cruz (pronounced Jo-El), 30, and Emmanuel deJesus, 32. Cruz, sporting spiky bangs, yellow-tinted eyeglasses, a French blue oxford shirt, navy blue polo vest, gray slacks and black leather shoes, is a bona fide prepster. deJesus, on the other hand, is in Silicon Valley dress-down casual, wearing the standard printed shirt and blue jeans.
It's been quite a journey for the two longtime friends, who invested their personal savings into the now 3-month-old cafe. Cruz once published the now defunct PSsst magazine, a publication spotlighting news and features about Bay Area Filipinos. The duo's professional careers--Cruz has a background in advertising and graphic design, and deJesus has one in computers--may have had a hand in the architecture and design of the cafe, which they say combines San Jose's recurring architectural motifs of brick and metal. The outcome is an industrial aesthetic highlighting the historic building's key pieces: an ornate ceiling painted black, brick walls, wheat-colored hardwood floor, and aluminum letters spelling out the cafe's name.
"We're trying to blend it with the old look of San Jose in one," says deJesus, who works as a systems administrator at Synapta in Mountain View. "It's kind of industrial retro."
"Rush" even sounds industrial, as if the name itself came off the assembly line. The duo reports they derived the name from people always rushing here and there, as well as the adrenaline rush fueled by caffeine. The bikes are part of an arrangement with San Mateo-based Moto Italiano, which lets the guys display the bikes available for sale. The cafe looks anti-establishment, even serving up antidotes to the frappuccino-inclined, like halo-halo, a Filipino iced drink that is part evaporated milk, sweetened fruits, coconut and tapioca. Most importantly, though, Rush has the distinct aroma of being anti-Starbucks. I'm in love. Others, apparently, aren't so easily impressed. One San Jose publication asked the duo what persuaded them to open an Internet cyber cafe in the heart of the valley. Duh, the writer said, they might as well have sold ice to Eskimos.
"San Jose is so diverse that [its population] accepts this place," Cruz argues. "Some days we have people who are elderly come in and we teach them how to use the Internet."
The two are convinced that in addition to patrons grabbing a cappuccino to go, they might log on for directions, check their email and track the progress of their stocks. One drink currently buys a 10-minute browse, while $3.50 buys half an hour and $7 an hour. For nonrushers, they'll be persuaded to stay on some retro love seats, even a two-toned, maroon and burnt ruby red Lazy Boy sofa that reclines way past vertical. As you enter, you'll see the six computers--mostly Dells, a G4 and an iMac--embedded into the aluminum walls.
Once a month, deJesus and Cruz post open-mic night and poetry readings, and host live DJs spinning reggae, acid jazz and hip-hop from Thursday to Saturday. They also invite patrons to jam on the upright piano and let community groups like the Filipino Youth Coalition utilize the space. They want to connect to the greater community, work with charitable groups and host corporate parties. Noting the failed cyber cafes in Mountain View, Palo Alto and San Jose, the two are aware that people not only need more than a muffin and latte, but a savvy diversion from the rush.
"Our main idea was like this couple here," says deJesus, gesturing to a hip young couple engrossed in conversation. "They can chat, drink coffee, get up and get access."
[ San Jose | MetroActive Central | Archives ]