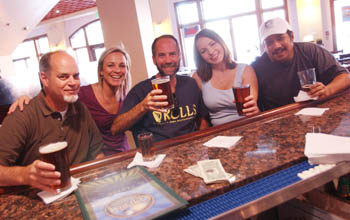 Photograph by Dave Lepori

Beer Cheer: CBC regulars toast manager Diana Rodich (second from left) and hostess Cristina Sans-Mariages (second from right).

Big Brew

Campbell Brewing Company hops to the front of the brewpub scene

By Jim Harrington

EVERYTHING about Campbell Brewing Company is big. The two-story building itself is massive, offering sidewalk and balcony seating, two indoor dining rooms and a spacious downstairs drinking area centered around a 100-foot-long marble-topped bar.

The brewpub, which is located in the space that once housed the downtown Campbell outpost of Stoddard's, also offers plenty of big distractions, including multiple televisions tuned to the big game of the day, numerous pool tables, a sizable dance floor and a bandstand that regularly hosts local live acts with big aspirations.

Even the lines can be big, especially on weekend nights, as customers commonly have to wait to secure a table or even a seat in the bar. And likewise, the owners of this new brewpub that opened its doors on July 15 were thinking big when it came to the kitchen. Maybe too big. Campbell Brewing Company's menu is much lengthier and more diverse than what one expects to find at this type of place.

There's a good reason why most brewpubs aren't known for their food. They are run by beer guys who think of food as little more than a necessary evil. Given their choice, most brewpub owners would probably just order in from Domino's so there's more time to sit around and marvel at the wisdom of their hops selection.

That's not the case at Campbell Brewing Company. Still, it's easy to hypothesize that the restaurant arm of the organization would benefit from a little nip-and-tuck work on the menu.

Interestingly, the beer list doesn't try to be "big" in the traditional sense. Brew master Mike Gray, a Hollister resident with 16 years of brewing experience, says his goal isn't to impress other beer makers or brew snobs. He's looking to win over the average beer fan and even the cosmo crowd. To accomplish this, Gray has created a winning lineup of mostly smooth, moderately hopped brews that should appeal to a variety of palates. And, at just $3 a pint, the brews should appeal to a variety of wallets as well.

The beers are all keepers. But there are some standouts. The Vasona Cream Ale, for instance, is a refreshing warm-weather brew with a relatively low-alcohol content, soft floral hops aroma and clean finish. The Dry Creek Wheat, a delicious straw-colored filtered beer, works equally well with or without a lemon wedge. Five bucks gets you a sample of all five brews.

Once the beer selection is made, the next hard choice comes with the ample appetizer menu, which spans from usual suspects like nachos ($5.50) and buffalo wings ($4.25) all the way to less-familiar candidates such as crab cakes ($6.50) and pecan-dusted calamari ($6.95). I took the middle ground during a recent visit and ordered the chicken quesadilla ($4.95), which was stuffed with nicely grilled slices of bird and soupy black beans, accompanied by the oddest "habanero salsa"—thick and yellow like curry paste—I've ever come across.

Pizza is a popular offering at CBC, which rolls its own dough and then fires the creations in a brick oven. In the mood for something beyond basic pepperoni, my party ordered the garlic chicken ranch pizza ($11.95). The pizza was soggy with an overabundance of ingredients, but the main problem was its blandness. With grilled chicken, mushroom slices, sun-dried tomatoes, tomato paste and ranch dressing, there's simply nothing to give this pie kick. The garlic, presumably, should help to combat this problem, but I couldn't detect the "stinking rose."

With the exception of the beer, CBC does sandwiches better than anything else. The CBC Burger ($7) stands tall next to any brewpub patty at a whopping 10 ounces of lean ground beef. The Campbell Cheese Steak ($8.25) is another fine choice, with a savory mix of sliced sirloin, pepper jack and caramelized onions served on a sourdough roll.

From the regular entree menu, we tried the salmon fillet ($9.95), which was nicely pan-seared in a tasty pinot noir beurre blanc and topped with a salty black-olive tapenade.

As one would expect, CBC offers a lengthy menu of dessert items. The abundant brownie sundae ($3.75), with two scoops of French vanilla, hot fudge, whipped cream and ground nuts, was good. But next time, I think I'd just save room for another big beer.
---
Campbell Brewing Company
Address: 200 E. Campbell Ave., Campbell
Phone: 408.866.2699
Hours: 11am-midnight Sun-Thu, 11am-2am Fri, 7:30am-2am Sat
Cuisine: American, brewpub
Price range: $7-$16
---
---
Send a letter to the editor about this story to letters@metronews.com.
---
[ Silicon Valley | Metroactive Home | Archives ]