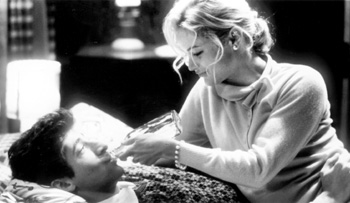 Bottle of the Sexes: Carolyn Murphy plays nursemaid to Adrien Brody in 'Liberty Heights,' part of the San Jose Jewish Film Festival.

Jewish Range

San Jose Jewish Film Festival showcases a wide array of features and shorts through November at Camera 3

By Richard von Busack

IT SEEMS to me that the most eclectic range of films in a film fest--outside of a Gay and Lesbian fest, maybe--can be found at the average Jewish film festival. And the San Jose Jewish Film Festival (which runs Wednesdays, Sundays and some Saturdays, Oct. 22-Nov. 23 at Camera 3 in San Jose) is above average. Here, after all, a viewer can discover films about a people found worldwide: "an ancient people," wrote the British Prime Minister Benjamin Disraeli, "a famous people, an enduring people, and a people who in the end have generally attained their objects. ... I cannot help remembering that Jews have outlived Assyrian Kings, Egyptian Pharaohs, Roman Caesars and Arabian Caliphs ..."--not to mention the lethal 20th century itself.

Within the more than two dozen films at this year's San Jose Jewish Film Festival can be found the American revivals of Liberty Heights (by Barry Levinson, and starring Oscar winner Adrian Brody) and a Fiddler on the Roof sing-along, in the tradition of the late mass warblings at The Sound of Music. The range on display promises to go from as serious as Sabbath to as playful as Purim. The bass note is sounded in the 1999 film Gloomy Sunday (Nov. 5 and 9), named after Paul Robeson's most depressing song (rumored to have led to as many suicides as Judas Priest, in its time). The film concerns a love triangle in pre-World War II Budapest, disturbed by the arrival of the Nazis. This tragedy can be contrasted with the couldn't-be-more-facetious Hebrew Hammer (Nov. 8). Trouble is Hebrewing: an exclusionist Santa (Andy Dick) is determining to wipe out Chanukah (and Kwanzaa yet) with a fiendish plan to brainwash the Chosen with bootleg tapes of It's a Wonderful Life. Only that "circumcised dick," the Jewish Shaft, known as the Hebrew Hammer (Adam Goldberg), can save the world's menorahs.

In upcoming weeks, features include the short film "Today You Are a Fountain Pen," celebrating the traditional Bar Mitzvah gift. This short by director Dan Katzir features favorite character actor, Len Lesser, best known as the somewhat persistent Uncle Leo on Seinfeld. Lesser will be the guest of honor at the festival, appearing for the Nov. 2 screening.

Trumpet in the Wadi (Oct. 29, Nov. 2), by the team of Lina and Slava Chaplin, provides an agreeable twist on Romeo and Juliet. It's set in the Wadi--the Arab ghetto--of Jaifa, where it's said that relations are the best between Jews and Palestinians in all of Israel. A well-blended mix of romance and political commentary, this shot-on-video drama tells the story of a pair of sisters. The plain but sweet Hooda (Khawlah Hag Debsa, quite good) has just turned 30, with no prospect of marriage. Her smoldering little sister, Mary (Raeda Adon), is already sleeping with men. The two get a new upstairs neighbor: Alex (played by Alexander Senderovich). A half-pint who plays the trumpet, this Jewish arrival from Russia has no ideology and less Hebrew. Circumstances and mutual liking draw the Jew and the Arab together. The relationship turns out to be less of a big deal for Hooda's family than it is for the world outside their apartment. Based on Sami Michael's novel, Trumpet in the Wadi is more indication that a vibrant new cinema is emerging in Israel from the midst of strife.
---
The San Jose Jewish Film Festival runs Oct. 22-Nov. 23 at Camera 3, 288 S. Second St., San Jose. This week: Monsieur Batignole and the short A Little Drive show Oct. 26 at 3pm. Trumpet in the Wadi and the short Haymishe Viking show Oct. 29 at 7:30pm. For a full schedule, check www.sjjff.org. Tickets are $5.50/$7.50 (408.358.5907).
---
---
Send a letter to the editor about this story to letters@metronews.com.
---
[ Silicon Valley | Metroactive Home | Archives ]