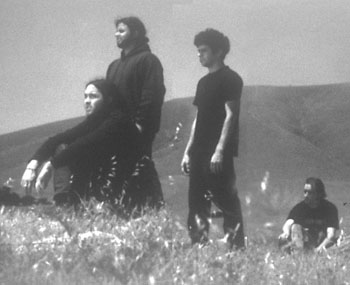 The dredg dynamic took over at the Catalyst.

Sky's the Limit

dredg experimented with sound and fury at the Catalyst last Friday

By Sarah Quelland

WINDING DOWN A STRING of CD-release dates, dredg headlined the Catalyst in Santa Cruz Friday (Oct. 18) with Divided, Tenfold and Codeseven in tow. The band played more than 15 songs, mixing it up between numbers from its beautiful new concept album, El Cielo (Interscope), and the rough-by-comparison Leitmotif, an ambitious independent CD that was later released by Interscope. There's something increasingly worldly about this Los Gatos band and its complex, nuanced and intellectual-sounding rock music. Plaintive, earnest and centered, dredg's matured sound is intense without being aggressive. The contrast between new crowd favorites "Same Ol' Road" and "Of the Room" and older tracks like "Penguins in the Desert" and "Symbol Song" was striking.

dredg likes to experiment with sound and noise. To that effect, bassist Drew Roulette would periodically pick up a drumstick and hit Dino Campanella's drum kit. Similarly, vocalist Gavin Hayes sang and breathed through the mouthpiece of a trumpet and intently sawed on a slide. At the end of the show, the band's closing song, "The Canyon Behind Her," was transformed from epic to chaotic as Hayes furiously sawed on the strings of the slide until they snapped like rubber bands, Roulette banged on Campanella's cymbals and Campanella pushed his drum kit to shambles in a fit of rage. The band still seems to be developing its live identity, but despite some tempo problems and overkill on the drums, dredg gave a good performance. Next, the band hits New York and then jets across the Atlantic to tour in Germany.

Opening for dredg at the Catalyst was a good opportunity for heavy San Jose rock-fusion band Divided, and the group didn't squander its chance to make new fans in Santa Cruz. Divided just keeps getting better.

BELL BOTTOM BLUES: SoFA dance club Polly Esther's is all washed up and closing its doors soon, but a new club is already in the works for the historic old movie theater space. Drew Adelman, who hails from the East Coast, plans to bring fashionable Manhattan style to San Jose with a new club whose name he won't reveal. He describes his vision as the exact opposite of Polly Esther's loud retro décor and says there will be a lounge area with sushi and chill live music upstairs and a classy dance club downstairs featuring name-brand DJs. He says if he doesn't meet his goal to open on Dec. 9, he may push back the grand opening until New Year's Eve. Stay tuned.

STAND UP AND BE COUNTED: In other grand-opening news, comedy showcase and restaurant the Improv is opening its doors on South Second Street in downtown San Jose on Nov. 7 with special headlining appearances by comedian Paul Rodriguez Nov. 7-10. Additional comics already booked at the space include Kevin Pollak (Nov. 14-17), Bill Engvall (Nov. 22-24), Brett Butler (Dec. 5-8), Mark Curry (Dec. 12-15), Don McMillan (Dec. 18-22) and Christopher Titus (Dec. 26-29 and 31). The San Jose link at www.improv.com should be live soon.

BIRTHDAY BLUES: Halloween and birthday celebrations for JJ's Blues owner June Stanley are all rolled into two big parties this Saturday (Oct. 26) with a 6pm barbecue and a CD-release show by the Certified Blues Band and next Thursday (Oct. 31) with a costume contest, a Shawn Ridley jam at 6pm and a free concert by the Jr. Deville Blues Band at 9pm.

HOT TOPIC: After a successful run of booking shows at Plant 51, Scott Long has taken a new gig as general manager of the Knitting Factory in New York City. His replacement booker at Plant 51 will be none other than Larry Trujillo, editor and co-publisher of Zero magazine. Trujillo's also putting a call out to local bands to participate in LIVE 105's Local Band Workshop with panelists Trujillo, LIVE 105 music director Aaron Axelsen, band manager Bret Bair (known for his work with Papa Roach and Hoobastank), Bottom of the Hill booker Ramona Downey and representatives from Virgin, DreamWorks and Nitro Records labels. The event will be held Nov. 13, 6-9pm, at 330 Ritch St. in San Francisco.
---
Send a letter to the editor about this story to letters@metronews.com.
---
[ Silicon Valley | Metroactive Home | Archives ]