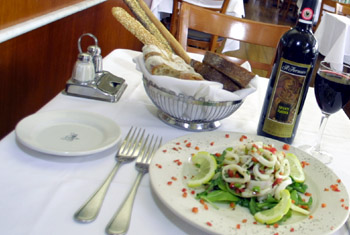 Photograph by Kyle Chesser

In a pasta life Sicilian specialties spice up Il Fornaio's regular menu

Wood-Fired Up

Romance and custard in a turn-of-the-century hotel. Could this be downtown San Jose?

By Christina Waters

With its lofty ceilings and vintage dark woodwork, the Il Fornaio embraced by the graceful Sainte Claire Hotel remains my all-time favorite. There are other Il Fornaios, and they're all smashing, but this one satisfies on every level--from visual sophistication to flavor strut. Each month the restaurant showcases a different region of Italy; our ravenous quartet hit Il Fornaio during its gastronomic "trip" to Sicily. Spying the very wine I'd had last Christmas in Florence--La Segreta Rosso, a luscious blend of merlot, cabernet sauvignon and nera d'avola by Planeta, 2000 ($32)--I pounced. Soon we were all admiring this bold Sicilian vintage, albeit while wondering why Il Fornaio's terrific house-baked breads didn't have a worthier olive oil companion.

Our shared Sicilian appetizers offered the haunting combination of peppers, lemon, golden raisins, green olives and pinenuts that distills the Mediterranean island's vivacious multicultural past. A lovely plate of plump grilled shrimp arrived punctuated with fragrant oranges as well as a knockout caponata composed of colorful peppers, raisins, nuts, tomatoes, olives and eggplant ($8.95). Another dish of stuffed funghi arrived in its copper baking dish, a crimson sea of intense pepper and tomato sauce upon which floated moist islands of mushroom ($8.50). Each one had been stuffed with a finely diced mix of leeks, parmesan, bread crumbs, peppers and garlic and each bite revealed huge palate-pampering flavors. Throughout the delicious meal, our server was mildly helpful, but her comments had the unmistakably generic ring of the over-rehearsed and undersensitive.

Entrees, however, brought unanimous delight. The inexpensively priced pasta specialties were every bit as finessed as my glorious Sicilian Branzino, a visual orgy of fresh tomatoes, zesty green olives, tart capers and supple moist bluenose sea bass riding a fat wave of exceptional mashed potatoes ($20.50). Tara was well into the middle of her impeccably spit-roasted chicken ($14.95) when we compared the perfection of our mashed potato accompaniments. Her half chicken also came with excellent al dente fresh green beans and baby carrots, all perfumed by a Tuscan rosemary and white wine reduction sauce.

Meanwhile, Bob had clearly entered a deep trance state over a platter of artfully constructed cappellacci, resembling fat, knotted ravioli filled with butternut squash and walnuts ($13.75). The perfectly cooked pasta morsels had been sauced with sage and browned butter. A tomato sauce had also been added to the construction, which Bob found momentarily distracting. Karin's fagottini Siracusana ($13.50), equally delicious, involved wide, flat squares of pasta filled with an assertive mixture of pecorino, ricotta and roasted eggplant, slathered with a robust fresh tomato sauce. Each dish delivered rustic flavors and sophisticated execution, though three of the four of us agreed that the sea bass, festooned with bold flavor garnishes, was the Mount Etna of the entire meal. Or rather, it was until we sampled three Il Fornaio desserts.

In addition to a Sicilian-style Torta di Ricotta, our table managed to sample, enjoy and, ultimately, demolish two other house specialties. A Rosina al cioccolato provided a semisweet turban of chocolate mousse filled with fresh raspberries and served with orange crème anglaise ($6.50). But even better was a fennel-infused custard topped with a thin layer of chocolate mousse and a caramelized sugar topping ($6.50). "The topping is a bit thick," observed finicky Bob. Yet this minor flaw did not keep him from savoring his fair share of what is now my new favorite dessert in the entire South Bay.

The ricotta torta ($6.25) was similarly killer. Presented as an individual torte, it was studded with orange zest and a few of those plump golden raisins. A pool of crème anglaise drizzled with chocolate waited patiently for us to dive in. It didn't wait long.
---
Il Fornaio
Address: 302 S. Market St., San Jose
Phone: 408.271.3366
Hours: 7am-11pm Mon-Thu, till midnight Fri; 8am-midnight Sat, 8am-11pm Sun
Cuisine: Regional Italian
Entrees: Moderate
---
[ Silicon Valley | Metroactive Home | Archives ]