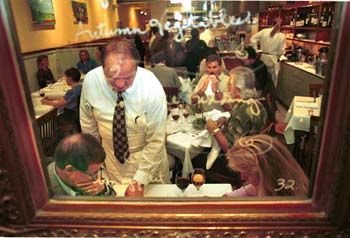 Photograph by George Sakkestad

French Twist: Diners partake at L'Amie Donia where a menu of depth and complexity awaits.

Dinner Chez Donia

With its seductive seasonal menu in place, downtown Palo Alto's smartest bistro still feels as crisp as the Left Bank

By Christina Waters

THE FOUR OF US SLID into one of the pale green booths by the wine bar and immediately (well, almost immediately) poured glasses of Truchard Pinot Noir 1997 Carneros ($25/split). A menu this sophisticated cries out for a wine to match. L'Amie Donia is a great rendezvous spot. Those fresh yellow walls and tiny wine bar invariably host the most discriminating palates in the Bay Area. Like me, the faithful keep coming back to be intrigued, wooed, delighted and occasionally transported by the seasonal menus of Donia Bijan, whose brasserie touch has few peers. The wine list always impresses, with its edgy mix of California superstars and classic specialties from the continent.

Though brief, this menu yields both depth and complexity. The season weaves through appetizers like risotto of butternut squash and foie gras, and entrees like osso bucco and cod with chanterelles drizzled with truffle oil. We felt no need for restraint, and an evening of robust flavors unfolded.

Three breads arrived, including a lovely walnut-studded loaf from Acme, along with unsalted butter. Reasoning that eating a little butter never hurt the French, we indulged.

Gorgeous platters came--service here is warm and expert. A circle of tiny artichokes framed a central nugget of niçoise-style albacore confit, all tangy with preserved lemons and garlicky micro-croutons ($12.50). Another platter of fall vegetables contained magenta squares of sweet, roasted beets, a tangle of celery root curls, another of aromatic fennel and long strands of roasted leek ($10). This splendid salad of earthy roots glistened with a whole-grain mustard vinaigrette, a soft-cooked egg on top, split in half to reveal its golden yolk. (If this bistro can offer so much flavor and finesse for a mere $10, why can't others?) The tuna, emerging from a Mediterranean field of lemon and olives, was both rich and refreshing.

Three entrees showed the range of current thinking at L'Amie Donia. A tour de force of roast duck breast was vigorously accompanied by a mound of warm cabbage, tossed with Gravenstein apples, crisp bacon and tender duck livers. A tiny oval casserole held a creamy gratin of potatoes and celery root--a country-style side dish that made the perfect companion for rare duck and crunchy cabbage. Another deep bowl cradled pan-roasted cod on a bed of lazy green limas and delicate chanterelles. The legumes and mushrooms intoxicated us with the perfume of truffle oil, though the cod itself managed to elude much in the way of flavor. Many of the vegetables were noticeably salted.

The absolute hit of the evening was a dish that deserves its own shrine. Described as a "fricassee of sea scallops and bass with fennel and figs," it was nothing short of sumptuous. Enormous tender scallops were supple inside, salt and pepper-crusted outside. The bass showcased firm texture and glorious fresh flavor. Transparent fennel and figs completed this remarkable communion of inspired flavors. The figs, Black Mission figs, were in full ripe season. And to make it all almost too much to bear, the dish had been simmered in a sauce laced with pastis. If you dine here this autumn, don't miss this dish. Sampling two of the house side-dishes--gnocchi dusted with parmesan ($7.50) and Pommes Frites ($4), we agreed that the gnocchi were right on the money, but that the very crisp French fries lacked enough interior area to be completely satisfying.

We split a dessert of tarte tatin--lovely and warm, but a bit overly pliant crustwise ($6.50). It arrived with a scoop of vanilla ice cream, making for a nice marriage of apples and vanilla. An unforgettable fromage platter ($6.50) stole our complete attention. Perfectly ripe Brie, Reblochon and St. Andre joined a scoop of fresh chèvre, as well as luscious figs, tiny corinth grapes and toasted walnuts. With espressos and sips from a communal glass of viscous Vin de Glaciere ($6, from Bonny Doon Vineyard, of course), it made an impeccable close to a terrific meal.
---
L'Amie Donia Bistro
Address: 530 Bryant St., Palo Alto
Phone: 650.323.7614
Hours: Dinner from 5:30 Tue-Sat
Cuisine: California brasserie
Amenities: Wine bar; outdoor cafe seating
---
[ San Jose | Metroactive Central | Archives ]