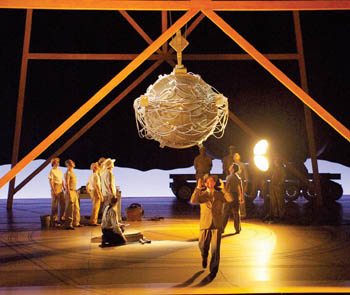 Bomb Qualms: Gerald Finley plays a conflicted J. Robert Oppenheimer in the San Francisco Opera's production of 'Doctor Atomic.'

Critical Mass

The San Francisco Opera splits the atom in John Adams' new creation, 'Doctor Atomic'

By Scott MacClelland

JOHN ADAMS' operas not only tackle historic events, they also challenge the history and conceits of opera itself. Almost as soon as Monteverdi introduced his masterful Orfeo, in the early 17th century, other opera composers discovered that virtuoso singers attracted larger audiences and opted to write show-off vehicles instead of dramas set to music.

As Baroque opera revivals today make plain, a solo aria stops the dramatic action dead in its tracks, a practice that has troubled dramatists, librettists and composers for centuries. What to make, therefore, of the San Francisco Opera's production (which finished its run over the weekend) of Adams' fascinating new opera, Doctor Atomic, which is largely a sequence of dialogues and "arias" with virtually no action? Opening at the Los Alamos test site and covering the two weeks before the detonation at Alamogordo of the first atomic bomb on July 16, 1945, the opera zeros in on the personal anxieties of all the principals. In that sense, it is a meditation on those states of mind.

The central intellectual interaction revolves around the three physicists, J. Robert Oppenheimer (Gerald Finley), Edward Teller (Richard Paul Fink) and Robert Wilson (Thomas Glenn), with Oppenheimer as referee among them and running interference with Army commander Gen. Leslie Groves (Eric Owens).

Each man suffers his own brand of anxiety: Teller wants his bomb to prove itself as planned but expresses concern over the responsibility of scientists creating weapons of unprecedented destructive power; Wilson amplifies the moral ramifications; Groves gets so frantic about a persistent lightning storm that he threatens to hang the meteorologist (James Maddalena) absent a guarantee of good weather. Talk of uncontrolled detonation and of possibly igniting the world's atmosphere adds to the tension. Oppenheimer's own stress rises almost to the breaking point in a solo scene at the end of Act I where he agonizes on John Donne's sonnet "Batter my heart, three person'd God."

Doctor Atomic is the brainchild of Adams and librettist/director Peter Sellars. While they absorbed voluminous factual material about the events in New Mexico, the final libretto also draws on the Bhagavad-Gita and poetry by Baudelaire and Muriel Rukeyser. A chorus is used to set the stage and provide narrative continuity. Choreography adds visual energy either to enhance or distract from the fairly static movement of the piece. Much of the dialogue is not poetic in phrase or cadence and resembles traditional operatic recitative. Adams' score is rich and varied, often sounding (intentionally) like postwar science fiction film scores and music by Edgar Varese. On occasion, the music seems to fight the libretto (though much of it could succeed arranged as a concert suite).

Other principals included Kristine Jepson as Kitty Oppenheimer and Beth Clayton as Pasqualita. The conductor was Donald Runnicles. With the ominous spherical "gadget" suspended on high, pipes and poles suggested an industrial complex as well as the structures of molecules, all seen against a backdrop of the Sangre de Cristo Mountains. Lighting by James Ingalls ran a gamut of moods and effects, culminating in the reflected light of the detonating orchestral bomb.
---
Send a letter to the editor about this story to letters@metronews.com.
---
[ Silicon Valley | Metroactive Home | Archives ]