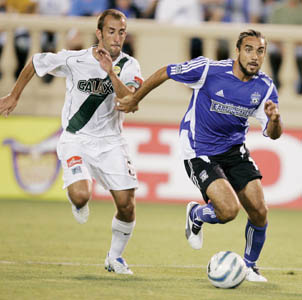 Photograph by John Todd/San Jose Earthquakes

Star Power: Canadian Dwayne De Rosario of the San Jose Earthquakes is one of three candidates for the 2005 Major League Soccer MVP award.

Showdown

By Gary Singh

THERE JUST isn't enough space to list the records broken by the San Jose Earthquakes this year. They finished the 2005 season alone atop the Major League Soccer table. Pat Onstad won best goalkeeper of the year, and the Quakes allowed fewer goals than any other team. Throughout the 32-game season, they lost only four times—an MLS record—and during the last 17 regular season matches, they didn't lose at all. San Jose even finished the season with a better record than it had during its 2001 and 2003 championship seasons. In fact, the Quakes finished with one of the best records in MLS history. All this from a team that was rebuilt almost entirely from scratch during the off-season.

The Quakes proved that they didn't need a superstar player to accomplish all this. Fourteen different players on the squad scored goals this year, making the Quakes probably the most dangerous team in the league. It would be a travesty of justice if Dominic Kinnear doesn't take home the coach of the year award.

Even if you hate soccer, you will still revel in the screaming celebratory environment that is a Quakes game at Spartan Stadium—before, during and after the match. You only need to attend one game to get hooked. It's pure wholesome chaos at its finest. And no, there are no riots, thuggish nonsense or violence of any sort. It's actually more of a family-oriented event than any other Bay Area sports experience. Hell, just go for the beer, if you like. The concession stands offer about 15 different brands, for crying out loud.

But most importantly, the rivalry between the Quakes and the Los Angeles Galaxy is right up there with the Yankees and the Red Sox. These are two teams who have stated publicly that they absolutely, thoroughly hate other. It's a beautiful thing. Landon Donovan now playing for Los Angeles only amplifies the rivalry even more.

And the darkness has descended. Right now the Quakes are in the middle of a two-game home-and-away playoff duel against Los Angeles. It's an aggregate series, and since the Quakes pretty much botched the first match last Sunday and lost 3-1, they are looking for another miraculous turnaround, much like the 2003 playoff series, also against Los Angeles, where they overturned a four-goal deficit. That match was said by many to be the greatest game in MLS history. The battles between the two clubs are never disappointing.
---
The Earthquakes vs. the Galaxy, Saturday (Oct. 29) at 7pm. Tickets are $13-$45. (408.985.GOAL)
---
---
Send a letter to the editor about this story to letters@metronews.com.
---
[ Silicon Valley | Metroactive Home | Archives ]