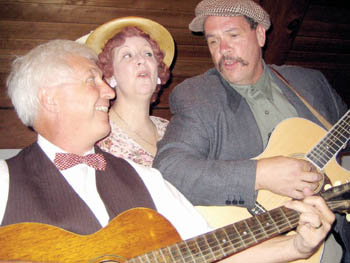 Photograph by Edmond Kwong

Gospel Gang: Pastor Mervin Oglethorpe (Toby Cordone, center) leads the choir in 'Smoke on the Mountain.'

Smoke Gets in Your Eyes

'Smoke on the Mountain' plays gospel with undertones at Tabard Theatre

By Marianne Messina

TABARD THEATRE Company's current production of Smoke on the Mountain, the hottest regional musical in Middle America, falls somewhere between A Prairie Home Companion and A Modest Proposal in song. Tabard brings a well-suited cast to the characters of the traveling gospel-singing Sanders Family—daddy Burl (Tom DeWester), momma Vera (Ruth E. Mullins), their twins, Dennis and Denise (Jonathan C. Murphy and Jaime Wolf), daughter June (Christine Schisano), Burl's brother, Stanley (Mark Monday), and sundry cousins, uncles or whatnot making up the band.

Of that group, Paul Indman as Jebediah Sanders stands out on mandolin and banjo. With the detached manner of those old-time pickers, Indman gives the (guitars/bass/keys) musical pallet some breadth, as does Schisano's repertoire of oddball percussion items, washboard to triangle to train whistle.

Set in 1938 in a North Carolina Baptist church, when church service both edified and entertained, the play's strong suit is its storytelling. First, Pastor Mervin Oglethorpe (Toby Cordone) warms up the congregation. Cordone's affable, shiny-faced pastor conveys a skill set rooted primarily in public relations. Then, between songs that are a combination bluegrass and gospel, the stories flow. Burl Sanders tells about the time he was almost tempted to sell beer (God forbid) at his filling station, complete with dramatic pauses, sound effects and representative action that includes sprawling on the floor.

Young Denise tells the story of the time she sneaked off to Charlotte to audition for a movie role. Ruth calls children up from the audience to tell them the tale of the June bug that fell in her lemonade. Each of these performers has mastered the unique craft of storytelling that keeps you hungry for the next twist or turn.

The music is fun and mostly upbeat; the smattering of bad intonation is funny—presumably a couple of these family members were dragged aboard before their talent's time. The ballads are drowning either in bathos (Stanley's "Mother" songs) or hyperbole, such as "There is a fountain filled with blood" drawn from someone's veins, etc.—a relish in gore rivaling that in any contemporary film. In fact, both in the lyrics and the narratives, this desperate quest for the right metaphors tries to resolve the virtual Armageddon between primitive instinct and godly ideal by sublimation.

When Vera sits the children down to tell them the story of the June bug, Mullins' voice modulates with wonder and surprise, and the children sit rapt. The June bug flies erratically, she notes, "doomed to an unhappy ending just like a sinner." Then she wonders, what would happen if she tied a tiny thread to the June bug's leg and held the other end? Well the June bug would fly around in a nice controlled circle above her head of course. This, according to Vera, is a good thing. In triumphant Bible-school fashion, she brings it back to the Christian message "Tie a thread onto the hind leg of your soul" and circle perfectly around the Lord.

This could as easily be satire written by some sardonic comic writer for SNL—gimping for Jesus—as a fond fun-poking written by a nostalgic Christian. Friendly ribbing imbedded with messages about the crippling nature of this rural Baptist life suggests the kind of coded humor you find in repressed societies. Pastor Oglethorpe stops the Sanders show when sisters June and Denise get a little overexcited during one song and lapse into dancing (oh, my). As the preacher tries to calm his indignant congregation, the girls are marched into the office and the play cuts to intermission. This essentially passes on to the audience the experience of interruption. Smoke is a family show, and it's possible to doze pleasantly through the underlying darkness in the humor, but that oblivion is a luxury best left to the children.
---
Smoke on the Mountain, a Tabard Theatre Company production, plays Thursday-Friday at 8pm, Saturday at 3 and 8pm and Sunday at 2pm through Oct. 30 at Joint Venture Churches, 6581 Camden Ave., San Jose. Tickets are $18. (408.979.0231)
---
---
Send a letter to the editor about this story to letters@metronews.com.
---
[ Silicon Valley | Metroactive Home | Archives ]