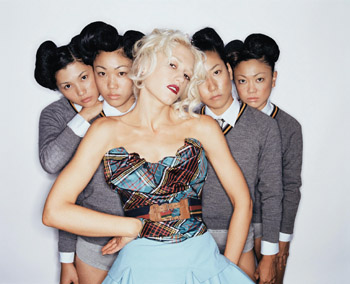 Mellow Yellow: If Gwen wants to be Japanese, she should get reverse blepharoplasty.

Rack of L.A.M.B.

The Gwen Stefani show would have rocked if she wore sensible shoes

By Todd Inoue

THE METAPHOR of the ugly duckling blossoming into the graceful swan was apparent at last week's sold-out Gwen Stefani show. The former No Doubt singer sprang from the hyperactive Orange County ska/punk scene to emerge in 2005 as pop music's pre-eminent suburb-fabulous princess. As if it were her 20-year class reunion, Stefani showed up last Tuesday at the stuffed HP Pavilion completely made over and looking to wop the jaws of the jocks and cheerleaders. After years slogging out the clubs and amphitheaters, her solo album, Love Angel Music Baby, established Stefani among the club and SUV set, while a clothing line (L.A.M.B.) and acting (The Aviator) keep her coffers full.

But the newly born swan's legs exhibited gawky, unsteady moments during the second live show of the Harajuku Girls tour. The trileveled stage blinked with neon and video. The show opened with "Harajuku Girls" as the star rose from beneath the stage, draped across a throne, dressed like a slutty courtesan from a Merchant/Ivory-directed skinflick. It didn't help matters that Gwen was clicking across the stage in heels or boots, careful not to sprain an ankle or tear an ACL.

I partially blame the footwear, but much of Love Angel Music Baby is not conducive to the full-blown, spectacular pop show that was on display. When Stefani locked into midtempo ballad mode ("Long Way to Go," "Cool," "Luxurious"), the momentum slowed to 35 mph. The crowd—packed floor to ceiling with girls, their parents, some not-so-reticent boyfriends and enough trendy highlights, low-cut jeans and Forever 21 camisoles to keep Oakridge Mall in the black—pulled for Gwen as if cheering on a long-shot horse. To compensate, Gwen and her four Asian dervishes swept through multiple costume changes, coordinated dancing and appeals for noise. Four breakdancers joined the fray, upping the street-cred factor (it worked; the dancers were legit and superb).

When all the elements clicked, as they did on "Rich Girl," "What You Waiting For?" and the New Order collaboration "The Real Thing," the show bore a "This is something special" quality of Madonna's Blonde Ambition tour, only with severe Asian-fetishist window dressing. Yeah, I said it. Gwen so wants to be down with Japanese cool. We'll accept her, but as a trade-off, white folks need to take Quentin Tarantino back, and we'll call it even.

Too bad the tour budget didn't include an economic adviser. When more than a million people buy a digital track ("Hollaback Girl"), a good portion probably isn't familiar with the rest of the album. Gwen has an ample back catalog to draw from to remedy these lulls. I'm not asking for faithful renditions of "Just a Girl," but something unexpected—a grime version of "Underneath It All," "It's My Life" performed with toy pianos, a cover of a Lisa Lisa and Cult Jam hit.

My favorite part of the show began offstage. During the break between Black Eyed Peas (who ran through the motions quicker than a nervous hooker under police surveillance) and Gwen, the PA system blasted a tasty mix of freestyle and contemporary tracks: Debbie Deb's "Lookout Weekend" and "When I Hear Music," M.I.A.'s "Bucky Done Gun." When Missy Elliot's "Lose Control" played, a young girl who looked about 8 years old got up out of her seat and busted out all new dances. She shook it and dropped it; it was adorable, and the crowd clapped back its approval. At the end of the set, roadies invited a ton of girls onstage for the "Hollaback Girl" closer. Enhanced by a minidrumline and a booming 808 kickdrum, the little girl was front and center, doing her thing, mouthing the words and having the best time. It was, as Stefani would chant, "B-a-n-a-n-a-s!" Stefani returns to the Bay Area on Dec. 1 with M.I.A. at the Oakland Coliseum.
---
Send a letter to the editor about this story to letters@metronews.com.
---
[ Silicon Valley | Metroactive Home | Archives ]