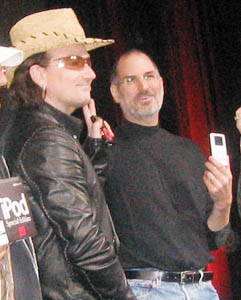 Photograph by Todd Inoue

Mullet-Free Zone: Bono and Jobs get snarky.

The Fly

iPod Vertigo

The new California Theatre got a jolt of rock star power Tuesday as Apple's Steve Jobs introduced a couple friends to announce the latest batch of Apple good fortune. The Cupertino company is on a roll just a week and a half after Jobs made his first public appearance—at the Apple Mini Store opening near Stanford—since receiving cancer treatment. At the California, Jobs unveiled a graphic of monthly iTunes downloads, reflecting a 64 percent increase in sales since last spring. "It looks like a slope rather than a curve," he quipped. After 40 minutes of Apple updates (the new G5 iMac computer, the new iPod Photo, and, no joke, iPod socks), the mix of media and Apple Kool-Aid sippers were treated to the extended version of the iPod silhouette commercial featuring the new U2 song "Vertigo." The commercial—with dancers flailing along spastically in silhouette—prefaced the South First Street arrival of Irish rock kahunas Bono and the Edge. The grand spectacle reached its zenith as the band plugged its latest venture: the custom U2 iPod. It's a 20GB, black and red number with laser-engraved autographs on the flip. Jobs then announced the first digital box set—the Complete U2. Four hundred tracks, 25 unreleased songs, every album including the new How to Dismantle an Atomic Bomb. All yours for $149 by mid-November (broadband required). Contemplating his legacy shooting through cyberspace, Bono said, "It's mind blowing, like life flashing before your eyes ... I sounded like a girl in the early '80s. And I hope you'll forgive the mullet." Interscope/Geffen/A&M chairman Jimmy Iovine nodded in appreciation from the second row. Bono and the Edge closed the event with two new U2 tracks, "Original of the Species" (with Edge on piano) and "All Because of You." Then John Kerry and Bruce Springsteen came out and sang Ashlee Simpson's "Pieces of Me." Just kidding about that last part—but with Jobs and Apple in full recovery, don't think it couldn't happen.

Waiting for Answers

Last Nov. 30, Raul 'garfield' Curiel was murdered at Zoë Nightclub in downtown San Jose. A year later, the police still have no answers about his death, much to the consternation of his daughter, Mary Helen Aguilar. At the end of next month, Aguilar plans to hold a vigil for her father. She tells Fly that she's learned more "on the street" about what happened to her dad than she has from the police. "I do know that the police do have a guy's name and age, but they haven't done anything publicly with it yet," Aguilar says. "I think it's about time." When asked how she knew that the police had a suspect's name, Aguilar told Fly that Enrique Garcia, a former homicide detective with the SJPD, told her. Garcia, meanwhile, tells Fly that he's off the case (and off homicide) and can't comment. "My dad used to be part of the street life," says Aguilar. "I know a lot of his friends, and I found out a lot more about it on the streets."

No Tipping, Please

Looking for a good election-night party? Try hanging out with Jon Zellhoefer, the wacky, skirt-wearing Republican trying to upset Joe Simitian for a District 11 state Senate seat. Zellhoefer caught the political bug running for governor last year, a race in which he finished 126th out of 134 candidates. To entice voters during his Senate run, he hung out at King's Head Pub in Campbell, wearing a kilt and circling the room with a beer in his hands. Zellhoefer likes King's Head so much he's hosting his victory party there Nov. 2 from 7pm to midnight. Unlike nearly every other victory party in America, this one comes with a $10 entrance fee.
---
Send tips to 'The Fly': .
---
---
Send a letter to the editor about this story to letters@metronews.com.
---
[ Silicon Valley | Metroactive Home | Archives ]