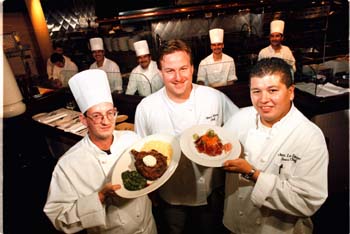 George Sakkestad

Boys Meet Grill: Chef Steve Mesa (center) and sous chefs Tom Turner (left) and Jess Le Desma keep standards high at Birk's.

Meat and Greet

The mead hall of corporate America, Birk's serves patrons' culinary and social needs

By Joseph Izzo Jr.

'THIS IS THE PLACE to make contact," said a woman with eyes so blue I thought I was looking into a watercolor sky. She was telling the truth about Birk's. This restaurant has become the place to be seen ... or not be seen, to show your best ... or your worst, a place to gawk at promising entrepreneurs ... or at nobody at all.

Birk's (named after co-owner/developer Birk McCandless) is a raucous California establishment full of mischief and good cheer, a place to eat or drink, or do both, or do just the opposite of either. And I like that.

One step through the doors and you're immediately sucked into a whirlpool of relentless activity. You see huge columns, windows, marble, beautiful women, people in suits and ties, folks in shorts and T-shirts. Plus bartenders with wide eyes and fists full of frothing pints. It's the mead hall of corporate America, where the eyes of technology have come to rest their gaze, where the winds of commerce blow so hard you hear them singing through the monoliths of McCandless Towers.

I've watched this place evolve year by year into what it's become today: a classic American grill. That's what Birk's set out to be when it commissioned Pat Kuleto to design the restaurant--with masculine lines, autumn colors, golden lighting and rich brass everywhere. Along the way, it's reworked the steakhouse motif and created a dining experience that is upscale and exciting, yet loyal to the old traditions.

If you're not in the mood for a sit-down dinner, find a seat (if you can) in the bar area. The place gets crowded, especially during the week. Have a martini from a wide range of creative selections, some appetizers--like ahi tuna sashimi ($10.50), steak bits ($9.95) or fried calamari--and check out the scene.

What makes a restaurant like Birk's stand out from the rest is a commitment to quality, freshness and hygiene. All three are on station here. You pay for it, but in the end you don't leave feeling ripped off. From steaks (the specialty) to the fresh catch--and everything in between--the food handlers procure the finest products available. To wit, the best piece of fish I've had this year came from the grill of Birk's. It was a substantial piece of sword--two fingers thick at least--oozing natural juice.

Further, one of the most outstanding Caesar salads I've had since the fad broke loose was assembled in this kitchen. There are several unique recipes, my favorite being the blackened chicken over crunchy romaine hearts for $10.95.

This visit, our table was decked with Birk's most prestigious red meat offerings. "It's like fudge," said my guest about the texture of the smoked prime rib ($18.95), a house specialty. This grain-fed piece of Angus beef was rich beyond description. It's cut thick (like the swordfish--about two fingers), and roasted with enough wood to accent flavor but not smother it. Each bite compelled us to take the next.

According to the health stats, I shouldn't like red meat, but I do--very much. And when it comes to steaks, I love the porterhouse ($27.95), another house specialty. This patriarch is a mouthwatering slab of New York and filet on the T-bone, grilled over red oak any way you want it. My second guest ordered his well-done (not the way I would have), but there it was, cooked to his specifications right down to the last drop--delicious in its fully certified Angus flavor. We drank glasses of both Ravenswood Merlot and Rabbit Ridge Cab with our meat, the merlot far more complementary with its subtle berry influences.

Though Birk's menu has not changed much (considered by some the best thing about this place, by others the worst), you can still experience culinary innovation by concentrating on specials. The new executive chef, Steve Mesa, abides by all the rules of the American grill concept but strays from the norm when it comes to the specials. Listen up when they're announced because the man has a gift.

This visit I broke rank and ordered the Octoberfest specialty of pork loin with mashed potatoes and spatzle. I had it one time a few years ago, but this time it was even better. I felt like I was in Arkansas sitting down to a dinner of fresh-butchered pork with all the trimmings. There's nothing like fresh-tasting pork. It's sweet, delicious and subtle to the palate.

For dessert, we continued to hail the season with a huge piece of fresh-baked pumpkin pie (enough for two) framed in whipped cream.

As you might expect, the servers at Birk's are adept table managers; they've been trained and retrained according to the American grill game plan, working the tables with swift, exacting hands.

Some people think that Birk's is a corporate place functioning on a corporate schedule, but it's not. Oh, there are rules and regulations, and standards of quality, but overall, Birk's is a place to eat, drink and kick back. The concept isn't packaged or faddish; it's straight up. So loosen your tie and breathe easy. The world could be tumbling down around you, but while you're in here, you're safe and well taken care of.
---
Birk's
Address: 3955 Freedom Circle, Santa Clara
Phone: 408.980.6400
Cuisine: Steaks, chops, seafood
Hours: Lunch Mon-Fri, 11:15am-2:30pm; dinner daily 5-10pm.
---
[ San Jose | Metroactive Central | Archives ]