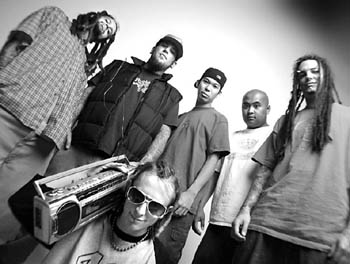 San Jose's Insolence gets ready for the radio.

Stand Strong

Insolence celebrated its homecoming at the Edge last Friday

By Sarah Quelland

IT'S BEEN MORE than five months since Insolence played a show in the South Bay. After joining forces with manager Gary Avila this April, the band headed south and spent the summer holed up in producer T-Ray's (Cypress Hill, Ozomatli, Helmet) in-house studio in Malibu, where it recorded its forthcoming album, Stand Strong, which will be released by Warner Music Japan on Nov. 12 and is scheduled for a spring 2004 release in the States.

Clean-sounding and vibrantly produced, Stand Strong comes with a stony West Coast vibe and sounds like a rock & roll California summer spent at the beach. It features songs about smoking weed with friends. Other songs slated for the new album include "Root Boy," "Underground," "Fuck Off" and the title track, which vocalist Mark Herman says went to radio overseas just last Monday.

The members of Insolence all seem incredibly proud of and excited about their latest musical accomplishment. Herman says it took them about a year to write the material for the new album. He smiles broadly. "This is the funnest record we've ever made." Insolence celebrated the completion of its new album last Friday (Oct. 24) with a big homecoming show at the Edge in Palo Alto with Called to Ruin, 7th Standard and Lica Sto. The club was filled with enthusiastic Insolence fans screaming along to songs like "Natural High" and "Death Threat."

Still, after kicking off with "Poison Well" (from its Maverick Records release Revolution), for the most part the band stuck with songs that it's been playing for a while. It wasn't until six songs in that Insolence started dipping into its newer catalog, playing "Downfall," "Root Boy," "Put Down Your Gun" and "Girl" before returning to Revolution's fast and furious "Head 2 Head."

The band played a long set and closed with the song "Lifted," which Herman joked was off an old demo--the newest version is actually on Revolution. Then the band came back onstage for an encore that really did go back into the band's history. Insolence ended the night with "Trava" and "Theory," two songs it says it hasn't played in about four years from 1998's Universal. Visit www.insolence1.com for updates and check out the band's Warner Music Japan site http://wmg.jp/insolence/#.

HOT TOPIC: Inner City Soul, the popular Latin funk/reggae/hip-hop/salsa/rap band formerly known as East LA Sabor Factory, plays the Agenda Thursday (Oct. 30) and the Day of the Dead event at the Mexican Heritage Plaza Saturday (Nov. 1). Visit www.innercitysoulmusic.com. ... Members of the Hieroglyphics will show up for an in-store performance and signing session at Streetlight Records in San Jose Tuesday (Nov. 4) at 4pm before playing a show at Zoë that night. ... After a long ordeal, the Caravan has finally secured its permits for live music. The famed San Jose dive bar will be hosting live bands every Thursday and Friday starting next Thursday (Nov. 6) with Clay Wheels. Shows are 21 and up, no cover, and bands start around 10pm. Call 408.995.6220 for more info.

LIVE HALLOWEEN: Local bands get into the spirit of Halloween with big Halloween shows Friday (Oct. 31). Among them are Stunt Monkey, Dynamite Boy, My New Life and Near Miss at the Outhouse in Los Gatos; Rivals, UN-I.D., Clearing Autumn Skies, Happy Ending, Something Must Die, Thirty3 and Maida at Gaslighter's Music Hall in Gilroy; Hayride to Hell, ArnoCorps and Banger at the Blank Club; and Death Machine, San Resina, SECURITY, Darkin Fluid and Artillery Hell at the Gaslighter Theater in Campbell.

PLAN AHEAD: The Peter London Band, Not My Hero, Booty Call, Left to Die and Eyesores, Oct. 30 at spy; Strata, A Burning Water, Tragedy Andy and Shinobu, Nov. 1 at the Santa Clara Basement; Bonnie Hayes, Nov. 1 at the Little Fox in Redwood City; Jonny Lang, Nov. 1 at the Fillmore in San Francisco; Modest Mouse, Nov. 2-4 at the Fillmore; Genitorturers, Nov. 3 at the DNA Lounge in San Francisco; King's X, Nov. 4 at the Edge; Rancid, Nov. 6 at the Warfield in San Francisco; the Thrills, Nov. 6 at Bottom of the Hill in San Francisco.
---
Send a letter to the editor about this story to letters@metronews.com.
---
[ Silicon Valley | Metroactive Home | Archives ]