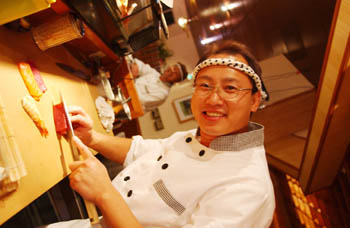 Photograph by Dave Lepori

Fish Tricks: The chefs at Sushi Zone know their way around sharp knives.

Roll of the Rice

A slick house of sushi sensations, Sushi Zone offers tons of wasabi-laced specialties for the fussiest sushi-heads

By Christina Waters

THE BALLGAME roared softly from the TV suspended above the curved wood bar. Glades of good-looking tropical plants dotted the various dining islands wrapping around the central sushi workshop. Jewels of raw fish--crimson maguro, alabaster hamachi, maroon tako--gleamed from the case in front of us.

Angela and I were weary from shopping Valley Fair and desperately seeking sushi. We had found it beneath the honeycombed wood ceiling of Sushi Zone, where the whole point is fun sushi--well-priced and beautifully made.

"Beautiful plates," Angela murmured, admiring the black and amber glazes of our soy and wasabi pots. After a quick encounter with warm, damp hand towels, we were ready to tackle the delicious edamame soybeans, finger food seemingly made to go with my hot sake and Angela's ice-cold Sapporo draft beer ($3 each).

We began our voyage into the Sushi Zone with an order of gossamer gyoza ($3.95), a bowl of transparent wakame seaweed salad ($3.50) and a vinegary sunomono ($4.50) topped with slices of chewy, pliant octopus. I adored the vinegary cucumber sunomono, whose tart, brisk flavors created the perfect warm-up to a sushi feast.

Service at Sushi Zone is on the ball and swift, and the guys behind the bar know their way around sharp knives. Somehow, they managed to keep one eye on the playoffs while crafting gorgeous plates of specialty sushi. Sushi Zone is big on playfully named specialties like "Sex With a Shark," "Golden Eye," "Whoo Whoo" and one we succumbed to called "Temptation Island."

Prices are tempting, too. Our shared appetizer platter of combination sashimi was $10.95, for more than we could handle of succulent red snapper, albacore, maguro and salmon. Arranged on beds of spun daikon with mounds of pickled ginger and hills of chartreuse wasabi, the lovely slices of fish were sparkling fresh. My new favorite turned out to be the albacore--like buttah!

As if to prove that sushi was not the only thing on the kitchen's plate, our order of delicate gyoza blew us away. Arranged on a bed of greens, accompanied by a lemony dipping sauce, the tiny potstickers had been deep-fried by angels. These were the lightest possible gyoza, transparent as blown glass, utterly wonderful.

By now Angela was beginning to chuckle about the occasional mishap with chopsticks. It's true that this might not be the place to wear that white silk shirt. You need a sense of humor, as well as adventure, to get through the sushi experience.

So generous were the portions of sashimi--voluptuous squares of perfect seafood--that we had to admit we were beginning to get full just at the moment our "main dish" arrived. After all, we'd devoured those golden crisp gyoza, feasted on a huge tangle of sesame-studded seaweed and almost finished all of the cucumber salad topped with tako. Plus sashimi!

But our Temptation Island roll was too much to resist. Glistening in a sweet soy glaze, the wide-bodied roll was a monument to anago, draped prettily on top of each slice. But inside were more treasures. Under the top layer of succulent barbecued eel were ripe avocados and then a layer of sticky rice. But inside that was the secret heart of the Temptation Island roll: a tempura prawn still warm from cooking. So what we got with each bite was warm, cool, vegetable, starch and seafood. Flavor, texture and temperature contrasts. Call it baroque, or just call it fabulous, over-the-top, killer sushi, it was jampacked with flavor voltage--all the more so when dredged through our mixtures of nose-blasting wasabi and soy sauce.

With our sinuses cleared, our palates humming and our appetites seriously satisfied, we made a mental note of this little corner of Campbell Avenue and San Tomas Aquino Road. God bless California--where such full-service sushi bars can sprout up on every suburban corner.
---
Sushi Zone
Address: 75 S. San Tomas Aquino Rd., No. 1, Campbell
Phone: 408.866.1323; www.sushizone.net
Hours: Lunch 11:30am-2:30pm Mon-Sat, dinner 5-9:30pm nightly, Fri-Sat. till 10pm
Cuisine: Sushi bar and Japanese classics
Price Range: Inexpensive to moderate
---
---
Send a letter to the editor about this story to letters@metronews.com.
---
[ Silicon Valley | Metroactive Home | Archives ]