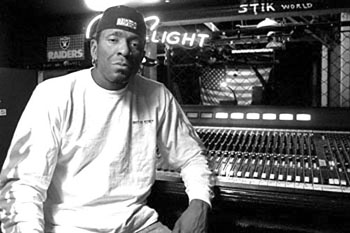 Stikmon walks softly.

All About the Kids

Stikmon needs blessing of Burbank community to move forward

By Sarah Quelland

THE BURBANK INTERNATIONAL Youth Center for the Performing Arts isn't a go yet. Building owner Denton Coetzee and his business partners, Stikmon and Alyssa Smith, can't move forward with their plans to turn the old porn theater into a multiuse art and culture space unless the community members in the Burbank area approve their proposal, which includes a coffee shop, an Internet cafe and a dining area. They also propose to screen classic movies, host a variety of daytime and evening performances and open up the space for gatherings.

On Oct. 21, I attended the monthly Burbank Community Association meeting at the Luther Burbank School to figure out the climate of the discussion and the concerns within the community. There were fewer than 40 people there, and many of them were senior citizens. They were concerned about parking, alcohol, teen curfews and building security, and they expressed fears that a venue of this type would attract a criminal element--one woman even suggested that an "international" youth center would bring terrorists to the area. Hmmm. Let's think about this.

When there's nothing good to do, kids get in trouble. That's why there are high rates of teen pregnancy, vandalism, crime and hate crimes in small-town America and why news magazine programs like Dateline love to do exposés on teenage heroin and crack abuse in white-bread suburbia ("But she was a cheerleader!").

Teenagers are hurricanes of emotion and angst looking for ways to channel their energy and express themselves creatively. Not every teenager likes school. Not every teenager is into sports, the debating society or the drama club. Most teenagers respect and relate to art though--when it's presented properly--and in that way connect with other people in a positive way. Stik was part owner of San Jose's Cactus Club, a nightclub that gave teenage musicians the opportunity to perform in front of their peers in a supervised but cool environment. With the Burbank, he hopes to expand on that by offering young artists of all types a place to share and exhibit their work.

A broader spectrum of the community needs to be represented, and a larger discussion needs to take place, before decisions about the Burbank are made. I don't live in the Burbank community and won't speculate on the benefits or detriments a youth-focused arts space of Stik's scope might bring. I will say that artists and youth tend to add vitality to an area. I'll also say that alcohol should not be a sticking point. Large all-ages venues like Shoreline Amphitheatre and the HP Pavilion, as well as most restaurants (including neighborhood taquerias and family pizza joints), sell alcohol. The Cactus Club staff was very strict about checking IDs and hand stamps before serving anyone at the bar. The Burbank--which wants to serve beer and wine--plans to take added precautions by completely closing off the drinking area to minors.

Stik's most persuasive point at the meeting was that the Cactus Club helped revitalize and clean up downtown San Jose's SoFA district. SoFA was a red-light district when the city coaxed Mike Trippett and company to open their club on South First Street. Look around now. With MACLA, the Stage Company, the Institute for Contemporary Art, Cafe Matisse, d.p. Fong Galleries, Eulipia, Camera One, Agenda, spy and the B-Hive, a new Manhattan-style club soon to be established at the old Polly Esther's location and new clubs Sideways, Zöe and Backbar pushing to open, SoFA is a better place.

Community leaders, parents in the Burbank district, high school teens, college students, and art, dance, music and theater groups need to get involved if they want to see the Burbank International Youth Center for the Performing Arts become a reality. There were people at the meeting who supported Stik's plans to restore the historic building and create something positive, and there were people who opposed the impact the arts space might have on their community. It's the squeaky wheel that gets the grease though, and if the majority of the people speaking out and making the decision are, with all due respect, old ladies with an irrational fear of teenagers and terrorists, we all lose. Contact Stik at [email protected].
---
Send a letter to the editor about this story to letters@metronews.com.
---
[ Silicon Valley | Metroactive Home | Archives ]