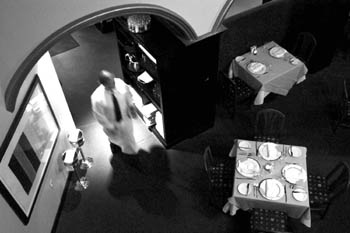 Photograph by Paul Myers

The Stage Is Set for Snazzy: Entrees get their 15 minutes of fame at the beautifully decorated Z.

Brought to You by the Letter...

Bold art direction sets the stage for eclectic Eurasian cuisine at Los Altos' appealing Z

By Christina Waters

IN A BEAUTIFUL and dramatic dining room--draped with midnight-blue fabric and lit by dreamy abstract chandeliers--Pat and I polished off more cross-cultural flavors than any two women had a right to. Plump Peking duck on polenta, fresh ono lounging on a bed of soba noodles, pork loin with chanterelles, lobster and roasted corn in star anise vinaigrette--and that's not including desserts that ranged from chocolate to cheese, plates drizzled with crème anglaise.

OK, so maybe we didn't actually finish every bit. But we thought about it.

Glasses of richly rounded Côtes du Rhone Vacheron-Pouizin "Vielles Vignes" 1999 ($9.50) saw us halfway through a basket of outstanding bread--especially a beauty studded with supple olives. Tiny blue tabletop votives added a sense of playful ritual to the glamorous interior. Under a deeply coved arcade, a polished wood bar hosted an attractive clientele. Soft live jazz guitar set the right mood for checking out chef Noah Cooper's multiculti menu.

After we'd dispatched an excellent bowl of tiny Little Neck clams and PEI mussels in a white wine and garlic broth ($12), Pat continued with a salad the size of a wheel cover piled high with what looked like the entire harvest of a good-sized garden ($8). Though overwhelmed by lettuces, we both loved the crisp candied walnuts and creamy Stilton accompaniments.

My overly chilled Maine lobster salad arrived on a turquoise ceramic rectangle without dressing or topping ($17). Self-consciously straddling a stack of deliciously marinated greens, gummy pancakes and roasted corn highly perfumed with star anise, the bland crustacean failed to enchant. Star anise is an aggressive spice that can easily take over an entire dish. Moderation might be a wise approach in the future.

Only after we'd ruminated over entree choices did our server inform us of three evening specials--one of which, the Peking duck over polenta, turned out to be a star of Eurasian fusion cuisine ($22). Accompanied by braised baby bok choy, the two plump duck legs glistening with crisp, hoisin-perfumed skin proved sensational, and the concept of the aromatic duck on a creamy cushion of polenta worked brilliantly.

Pat's roast pork loin, accompanied by seasonal porcini and chanterelles ($19), was also excellent. Daunting though the portion size was, it formed the basis of a great lunch the next day. Gossamer cubes of butternut squash joined rich, earthy chanterelles, playing off the silkiness of mashed parsnip potatoes. A musky porcini glaze added depth. Splendid dishes both, squelching the critic's cliché that appetizers and desserts overpower entrees. At Z, the main courses are the star attractions.

Finishing up in style, we chose one sweet dessert: a chocolate-bourbon pound cake with buttermilk panna cotta ($7) and a cheese selection ($12). The cheese menu had offered Reblochon, but none appeared on the plate I received. My server opined that maybe the obvious wedge of Explorateur double crème was in fact Reblochon, a ripe, yellow, nutty cheese I have often brought back from trips to France. But, no, it wasn't. The cheese tray--chilled!--was actually a bread tray, piled with French baguette slices and fruit, with some cheese tucked in among the raspberries and unripe pears. Z can do better.

Pat's dessert of a glistening round chocolate pound cake was marred by its presentation. The chocolate dessert, accompanied by a huge triangle of pressed chocolate, was all but invisible on its chocolate-hued plate. A morsel of glorious panna cotta (the size of a silver dollar) added some creaminess, but a shallow drizzle of crème anglaise barely managed to moisten the cake.

Were the dark dinner plates and serving ware rethought, some of Z's pretty cooking could be seen and admired. Z's well-priced, well-made entrees deserve to be showcased, as they are a large part of the attraction of this Los Altos dining room--entrees and some wonderful live music.
---
Z
Address: 127 First St., Los Altos
Phone: 650.917.2000
Hours: Lunch 11:30am-2pm Mon-Fri; dinner 5:30pm-10pm Mon-Sat ; closed Sun
Cuisine: East-West fusion
Full bar; private dining rooms
---
---
Send a letter to the editor about this story to letters@metronews.com.
---
[ Silicon Valley | Metroactive Home | Archives ]