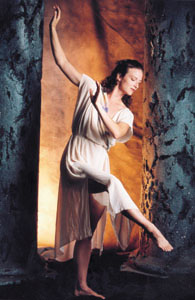 Photograph by Lou Seymour

Ask Isadora: Margaret Wingrove Dance Company premieres 'Isadora'

Dancing to Freedom

The Margaret Wingrove Dance Company celebrates 20 years of joy, euphoria and struggle

By Julia Chiapella

SAN JOSE choreographer Margaret Wingrove has no fear when it comes to tackling big subjects--just keeping a modern dance troupe aloft for two decades testifies to her determination. She is particularly drawn to other artists who have carved out singular niches for themselves despite personal and political odds. Some of Wingrove's dances have focused on Vincent van Gogh, Sylvia Plath and Edna St. Vincent Millay.

For the 20th anniversary celebration of the Margaret Wingrove Dance Company, its founder and artistic director has chosen another artistic lightning rod--dancer Isadora Duncan--for her latest work, Isadora.

Lori Seymour has been with Wingrove for 13 years. Last year, she took on the part of activist poet Millay with impressive poise and depth. For the anniversary production, Seymour finds herself in a new and even more demanding role: portraying Duncan, the "mother of modern dance."

"It's a bit nerve-wracking," Seymour admits, "not only learning the body technique but meeting the expectations for such a figure."

Big dance shoes to fill (figuratively at least--Duncan was famed for dancing barefoot), to be sure, but these are the kinds of figures Wingrove is drawn to. "We look to these people as examples," Wingrove says. "What is it that allows them to be courageous enough to go on this path? To believe in themselves?"

Wingrove's belief in herself, and her art, is courageous in the mold of her subjects. Not only has Wingrove forged ahead in a climate of financial struggle and misconceptions about modern dance, she's done so for 20 years, during which period she lost a son, a husband and a son-in-law.

Wingrove has clearly worked her way through tough times. They have brought her, she says, "spiritual emancipation." They have also helped contribute to the 95 pieces that Wingrove has created for her company, some of which will be showcased this weekend. Clearly, this signal anniversary offers an opportunity for Wingrove to look back over the forces that have driven her creative processes for years, as well as a way for a new audience to catch up with themes familiar to her longtime fans.

"When my son died in 1989, and two years later my husband died, and then my son-in-law died--if there was a time I would have stopped, it would have been then," Wingrove says of her resolve to maintain the company.

One of the pieces created during those difficult years was Shatterings, based on her son, John, who died of AIDS. Wingrove says the dance is about a family's experience, but that, primarily, it's about loss and how one gets through it.

Other pieces in the program include Off Center, a group effort that makes use of props to highlight the universal, if regionally idiomatic, desire to find "center," and Jazz Configuration, a 1998 work that Wingrove calls "fun, upbeat, with a Cirque du Soleil feel to it."

Also on the program is a duet performed by guest artists from Alonzo King's LINES Ballet Company called The Heart's Natural Inclination and a new piece by Wingrove with a flamenco look called Barcelona Nights.

Wingrove says she's tried to provide a retrospective of the company's history. She admits to some surprise that she's been at this for 20-plus years. She credits her dancers for their talent and artistic expression--and the agencies and groups that have helped, including the city of San Jose. Ultimately, however, the company bears her name, sensibility and temperament, and Wingrove's approach resembles that of the artists she so admires.

"If you're doing something you love," she says, "something you believe in, that makes it worth it."
---
The Margaret Wingrove Dance Company presents its 20th Anniversary Celebration Friday-Saturday (Nov. 1-2) at 8pm and Sunday (Nov. 3) at 7:30pm at the Stage, 490 S. First St., San Jose. Tickets are $15-$25. (408.283.7142)
---
---
Send a letter to the editor about this story to letters@metronews.com.
---
[ Silicon Valley | Metroactive Home | Archives ]