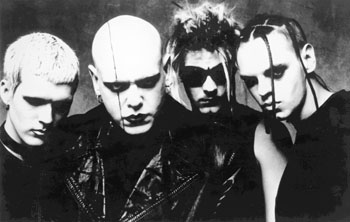 Godhead preaches to the perverted.

Missed Opportunity

Triple Seven blew its chance to win fans at the Catalyst

By Sarah Quelland

WHEN I HEARD TRIPLE SEVEN was replacing LEROY for the SMASH MOUTH show at the FILLMORE (held last Thursday, Oct. 25), effectively making it an all-San Jose lineup with REMOTER also performing, I thought that was great news. So when Triple Seven unexpectedly took the stage at the CATALYST last Tuesday (Oct. 23) to serve as Smash Mouth's main support there as well, I was excited to see the guys outside their regular digs at the USUAL. Then they started playing. I've never seen Triple Seven give such a terrible performance.

Here's a band that, for whatever reasons, has been given a golden opportunity. Managed by SOUND MANAGEMENT's ROBERT HAYES (Smash Mouth's own manager), Triple Seven has a full-length disc, produced by PHIL NICOLO, due out next February on Smash Mouth frontman STEVE HARWELL's new SPUNOUT RECORDS imprint. That kind of support isn't easy to come by, but judging by Tuesday's pathetic showing, these guys weren't even trying to impress the Santa Cruz crowd.

I remember in June 1999, Triple Seven put on an exciting show at the Usual. Decked out in pimp '70s gear and charged with plenty of funky soul, the audacious band was successfully working the BEASTIE BOYS/RED HOT CHILI PEPPERS angle and generating some significant interest.

Last Tuesday, the band looked nervous and awkward onstage--like a newbie that just made the jump from Mom and Pop's garage to a New View night at the Cactus Club. Triple Seven didn't put any effort into its performance and seemed to be just going through the motions--barely. The two frontmen didn't fit together well. BOBBY DARWIN looked like he'd just rushed over from work, and, skinny tie and all, EDDY G. looked like he was on his way to a high school dance. Sporting a giant Afro wig, wifebeater and camouflage pants, guitarist HAROUN looked like a reject from the Wonderbread 5 and bassist STEED crunched down on his guitar like he was in some hard-core metal band. The only two members that seemed at ease onstage were DJ KTA and new drummer DENNIS.

During "Been Around," Darwin's baggy pants, which had already been sagging uncomfortably south, actually fell down while he was onstage leaving him red in the face. When Eddy broke into "Around the Sun," someone in the crowd asked, "What is this? A gum commercial?" After "Racecar," when Eddy announced, "We got three more," some guy behind me groaned "noooo, one more." Triple Seven definitely wasn't winning any fans.

I was particularly turned off by a song titled "Blackjack" on which Darwin and Eddy belt out the lyrics "You're hungry/I'm hungry too." It sounds like Triple Seven might be trying to follow Smash Mouth's lead and write songs that could be picked up for commercials. The difference is, Smash Mouth writes legitimate hit songs that just happen to lend themselves well to television advertisements. It doesn't work the other way around.

After the show, I busted out my advance copy of Triple Seven's disc to give it another listen. There's energy and attitude on the album that was just plain missing on Tuesday. Live, the band even managed to castrate its theme song, "Naughty." I've been rooting for this band for some time now, but it has some serious work to do if it's going to make a genuine run for the big leagues.

That all said, Smash Mouth's show at the Catalyst was great. Read a review at www.metroactive.com/papers/metro/10.25.01/smashmouth-0143.html.

ALL THE NEWS: On Nov. 1, KSJO presents COLONEL PARKER (featuring GILBY CLARK, SLIM JIM PHANTOm, YOGI of BUCKCHERRY and MUDDY of L.A. GUNS) along with WORLDS APART, IMAGIKA and RED ASPHALT at the Cactus ... On Dec. 7, the "PREACHING TO THE PERVERTED" tour featuring GODHEAD, GRAVITY KILLS and PIGFACE hits the Cactus.

PLAN AHEAD: The SHITKICKERS and the NEW STRANGE, Nov. 1 at the LIDO; MOVEMENT, SHORTIE, 26MPH, SPIRITUAL ECLIPSE and CLEARING AUTUMN SKIES, Nov. 3 at the Cactus.