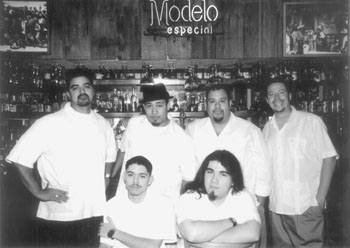 Informing the Mind The members of Grito Serpentino hope performance poetry can carry messages that printed verse can't.

Words in a Groove

Local spoken-word activists Grito Serpentino celebrate the release of 'For the People'

By Jesse Chuy Varela

WE'RE BRINGING a lot of different elements together," says poet Marc Pinate from his office in San Jose, where Grito Serpentino band members José Arroyo (guitar) and Charles Castillo (drums and percussion) crowd around a speaker phone. "The timeless oral tradition, hip-hop, Malo, Santana--what we're trying to do is take this art, this poetry, to Latinos, young people of color and young, progressively minded people."

On Saturday (Nov. 3 ) at Cafecitos, a local coffeehouse in San Jose, Grito (as their fans call them) will host a record-release party for their latest album, Para La Gente (For the People), a collection of raw barrio emotion fusing spoken-word poetry and music. This is a moving, self-produced effort with provocative and inspiring themes like "Searching for César," "Papi Was a Pitcher," "El Rey," "La BrujerÌa Suite" and "Battle of Tenochtitlan."

"Poetry, if you read it on the page, is just a poem," continues Pinate. "But when it's performed with music, it becomes a show. It becomes performance poetry--spoken word--that's different and engaging and touches young people with something that's cool but that also informs their mind."

The group grew out of the bond Pinate and Arroyo forged as students at Santa Clara University in the early 1990s. José accompanied Mark's poems with his guitar at open-mic sessions around the Bay Area. They hooked up with other musicians, and in a few months Castillo and bassist Mikey Chacûn settled into the mix. Their first gigs were at the Agenda Lounge and the groundbreaking poetry series Lunadas, which happened at Chachos Restaurant every full moon.

"I grew up with blues, funk and every kind of music imaginable," Arroyo says. "I also played in punk bands. In playing punk music, I found that it was the groove that grabs the body, but it's the words that got people thinking once they were into the music. We found that the poetry worked if we mixed it up with a groove. I think we're in two camps as a spoken-word group and a Chicano-groove band, but with this album I think we unite both of those scenes as one."

Since their inception in 1997, Grito has held down South Bay representation for a cutting-edge movement of Chicano/Latino spoken-word artists that includes Los Delicados in San Francisco and the Taco Shop Poets in San Diego. On college campuses and at cultural centers, they have honed a loyal following of young people who dance along to their word songs while soaking up the knowledge being tossed at them in word songs about racial profiling, identity, immigration, sexuality, environment and indigenous spirituality.

"We don't want to be revisionist historians," adds Castillo. "We want to be visionary troubadours bringing a bigger and better reality. We're trying to tap people's consciousness. We know there's a lot of young people hungry for something positive that's universal and cool. They're tired of the commercial stuff being rammed down their throats. We want to touch hearts and deliver a strong message without hitting people over the head with a hammer."

Pinate serves as the high priest of the word with Grito Serpentino and has amassed impressive credentials as a poet, playwright, actor, organizer and activist around the San Jose area. He was featured on a 60 Minutes segment after winning the National Slam Poetry Championship in Chicago in the summer of 1999. The group was also featured on the Chicano/Latino spoken-word compilation Raza Spoken Here with "Unidad" and "Ode to the Taco Bell Chihuahua."

"My weapon is my pencil," says Pinate, "which I use to write against abuse, exploitation, subjugation, marginalization, and words can be powerful tools against oppression. I'm not a politician or a lawyer. Just a poet who wants to change society with his art."
---
Grito Serpentino performs Saturday (Nov. 3) at a CD-release party at 8pm at Cafecitos, 330 S. Third St., San Jose. Admission is free.
---