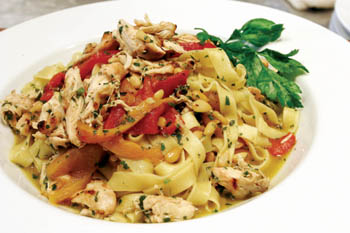 Photograph by Felipe Buitrago

Meet Your Pasta Maker: La Pastaia has just introduced an inspiring new menu for fall.

Setting The Bar

La Pastaia offers big-city style and the embodiment of rustic Italian fare

By Stett Holbrook

Sixteen years after it opened, La Pastaia remains a standout of downtown San Jose's dining scene. Set inside the Hotel De Anza, a beautiful Art Deco landmark, the restaurant has big-city style to spare. The dining room is done up in slate tiles and flowing curtains that open or close off sections of the restaurant, making if feel like a lively multichambered room. The all-Italian wine list is a treasure. At the heart of the restaurant is the long open kitchen backed by the warm glow of a wood-fired oven.

La Pastaia recently switched to a fall menu, an inspiring, evocative list of late-season dishes. When he's on, chef and co-owner Forrest Gingold creates soul satisfying, simple but robust food that embodies rustic Italian fare.

The spinach salad ($13) is a great starter and is big enough to stand in for a light entree. The salad pairs baby spinach with goat cheese, thin strips of grilled eggplant and sliced prosciutto. Small orange sections help balance things out and the balsamic dressing is applied with restraint. Although it was born in Tijuana in the 1920s, Caesar salad has become a standard on the menus of American Italian restaurants. La Pastaia's version ($8) is a faithful rendition of the classic except for the addition of anchovy and roasted cloves of garlic.

La Pastaia's soups ($6), which change daily, are particularly good. The creamy corn soup relies on the natural richness of the corn to carry it of instead of just pouring in the cream. Gingold keeps the much of corn pulp intact, a touch that gives it a heartier quality. I also liked the white Tuscan bean soup. Rather than puréeing the soup as is usually done, the beans are kept whole in the supremely rich, chicken stock-based broth.

La Pastaia's wood-burning oven is put to good use with pizza. The flavors and texture of the thin crust pancetta pizza ($14) were great. My only complaint was that all the toppings (Italian bacon, onion, garlic, tomato sauce and mozzarella cheese) overwhelmed the thin pie.

Two dishes that capture the unpretentious, hearty ethos of La Pastaia are the roasted chicken ($20) and the risotto ($17). For me, chicken is a dish that can only soar so high, but it reaches new heights here. Half a bird is wood-fire-roasted until the skin is brown and crisp. Inside, it remains moist and flavorful. The plate is crowded with good stuff like roasted figs, green olives and almond slivers. All this hearty goodness sits on top of a mound of creamy polenta. Risotto with braised veal cheeks and artichokes is a great dish that reveals what the kitchen is capable of. The arborio rice is cooked until just tender in a rich liquid accented with thyme and Marsala. The coarse-grained, tender veal cheeks give the dish a sultry richness that showcases what a great ingredient this once cast-off morsel of meat can be. The addition of artichoke hearts helped cut the richness of the dish. It's hearty and warming, perfect for a crisp autumn night.

Over the course of three visits, not everything I tried was as successful. To me, fried calamari is predictably mediocre but I still order it in hopes of finding the exception to the rule. La Pastaia's calamari starter ($10) isn't it. The squid is coated in pesto before it's fried, but it makes little difference. It's remarkably unremarkable.

The carpaccio appetizer ($11) tasted just fine, but the presentation threw me. Beef carpaccio is usually fanned out on a plate and garnished with condiments like gherkins, red onion and capers. No one says that's the way is has to be, so I applaud La Pastaia's effort to break the mold. On the menu, it's described as a "bundle of rare beef filled with mushrooms, Parmigiano, fried shallots and truffle oil." But instead of a bundle what was set before me looked like a raw meat balloon on a stark white plate. Once I cut into it and started eating it was good, but that unappealing presentation has to be reworked.

The biggest disappointment I encountered was with a simple plate of pasta, the $15 fusili con ragu di agnello (corkscrew pasta with a lamb and black olive ragu). The ragu was deep and rich and the chunks of lamb wonderfully tender. But the pasta was so undercooked and gummy it was inedible. La Pastaia means "the pasta maker" in Italian so the fact that the kitchen couldn't pull this off is a real problem. When we sent the plate back uneaten, our server took it off the bill no questions asked.

During my first two visits, service was friendly but professional. When I was considering a second glass of wine to go with my risotto, the sommelier magically appeared over my right shoulder and made a great recommendation. But on a third lunchtime visit, there were finger-drumming gaps between starters and entrees in spite of the fact that the restaurant was nearly empty. Diners generally don't have as much time to spare during lunch, so the slow pace was irritating. Also, I think the portion sizes for some lunch entrees are way too big.

Desserts ($7), made by pastry chef Amy Vanclef, echo the big, more-is-more spirit of the rest of the menu. My dining companion one night likened the chocolata—a dense and moist hazelnut chocolate torte with a Frangelico chocolate zabaglione (a sweet, Marsala-spiked sauce) and thick chocolate ganache frosting—to sticking a fire hose in your mouth and pumping in chocolate. It's really chocolaty. Dolce di mele is a custard tart filled with rosemary-spiced apples, a great flavor combination. But the rum zabaglione and vanilla gelato on top made for a cacophony of flavors. The house-made ginger-pear and cranberry sorbets are great. On its own the cranberry sorbet packed an overly tannic pucker, but eaten with the ginger-pear sorbet it mellowed.

La Pastaia has raised the bar for Italian food in Silicon Valley. By ironing out a few wrinkles in the service and the food, the restaurant could lift the bar even higher.
---
La Pastaia
Address: 233 W. Santa Clara St., San Jose.
Phone: 408.286.8686.
Hours: Open for lunch 11am-3pm Mon-Fri and noon-2pm Sat-Sun; dinner 5-9pm Mon-Thu, 5-10pm Fri-Sat and 5-9pm Sun.
Price Range: $13-$31.
---
---
Send a letter to the editor about this story to letters@metronews.com.
---
[ Silicon Valley | Metroactive Home | Archives ]