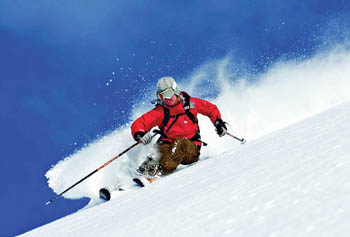 Photograph by John Schwirtlich

Dude, That's Sick: Ingrid Backstrom tames the mountain in 'Higher Ground.'

Ski Porn

By Todd Inoue

IN THE SONG "Root Down," MCA of the Beastie Boys embodies the rapture every city-bound snowboarder feels when winter approaches: "Downtown Brooklyn is where I was born/ But when the snow is falling I am gone/ You might think that I'm a fanatic/ A phone call from Utah and I'm throwing a panic."

Until the first snowflake falls, Warren Miller films whet the appetite. Warren Miller, 81, is the Larry Flynt of ski flicks. For more than 50 movies, Miller traveled the world capturing the illest terrain, the bravest souls making life-threatening cuts and taking spine-breaking bumps. Miller's team releases a new film every year that raises the "Oh, shit!" level exponentially. Being in a theater of snow junkies oohing when a helicopter grazes the tree-tops and opens into a wide-shot of fresh, untouched powder is like watching a horror movie in the 'hood: people shout and talk back to the screen. "Dude, that's sick!" "Oh, my God!" and the oft-exhaled "Daaaamn!"

In the latest installment, Higher Ground, producer and director Max Bervy and his film crew film descend upon daredevils cutting up terrain in Alaska, Colorado, British Columbia, Canada, Utah, Switzerland, France and California (Heavenly!). Higher Ground sticks to the same WM philosophy—uncompromised aerial cinematography, snowboarders with an insane repertoire of tricks, access to untouched, desolate terrain by helicopter, the oddballs, the speed skiers, the deep powder, the wipeouts, all set to a rocking soundtrack‹but with the added bonus of high-definition cameras.

In the climactic scene, Jeremy Bloom, Ingrid Backstrom and Sarah Burke tackle a chute in Blue River, British Columbia. On one side is a two-story boulder, on the other an avalanche-prone area. At the bottom of the chute is a huge snow-covered rock cleaving to the side of a mountain that lifts off into certain death. The solution? Lots of speed, little brain cells and a parachute. The result? An insane flip caught on tape. Oh my God, dude, that's so sick. Daaaamn!
---
Warren Miller's Higher Ground plays Friday (6:30 and 9:30pm) and Saturday (6 and 9pm) at the Mountain View Center for the Performing Arts. Tickets are $19 and available through Ticketmaster. For group tickets, call 800.523.7117. The film also screens on Nov. 16 at the Montgomery Theater in San Jose.
---
---
Send a letter to the editor about this story to letters@metronews.com.
---
[ Silicon Valley | Metroactive Home | Archives ]