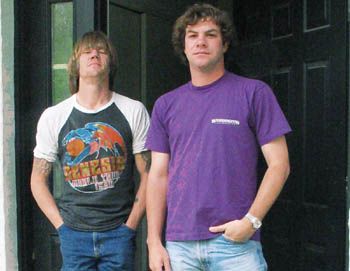 Got Any Tokens?: Like AC/DC's Brian Johnson, Moistboyz member Guy Heller (left) works as a roofer.

Order From Chaos

The Moistboyz are America's premier dirt rockers, a self-identified genre infused with profanity, distortion and more than a healthy dash of paranoia

By Peter Koht

THE MOISTBOYZ are unashamed of categorizing their music as dirt rock. Mickey Moist (a.k.a. Dean Ween, a.k.a. Mickey Melchiondo) and Dickey Moist (a.k.a. Guy Heller) have spent the last 15 years creating punk and plain old ignorant rock. Their music is a direct descendant of the decadent and delirious tunes of Kiss.

"I grew up in the '70s and was in the Kiss Army," Heller says on the phone from New Jersey, commuting home from his day job as a roofer. "I liked Bowie and Gabriel, but the Kiss Army was cock rock all the way."

The profanity and anger found in the collected work of Moistboyz is partially tongue-in-cheek and partially heartfelt. Heller's vocals vent about any number of things including, but not limited to, gentrification, the pussification of modern rock and the general crappiness of the American political system. "I have always been a man with high temper and short fuse. I am extremely angry because I don't live in the system," Heller says, going on to explain that he doesn't have a credit card, "believe" in drivers' licenses or even possess a full set of teeth.

Heller's involvement with Ween's guitarist, Mickey Melchiondo, dates back to high school. Returning to New Jersey after a long stint in New Mexico, Heller ended up in Melchiondo's classes. Things weren't entirely copasetic to start with. In fact, the two aspiring musicians kind of hated each other.

It wasn't until Melchiondo picked up Heller on the side of the road one day. The two retired to Melchiondo's house, smoked some herb and began to bash out tunes. Nine-tenths of the Moistboyz sound comes from Melchiondo's Boss DS-1 distortion pedal. The balance is made up of Heller's schizophrenic vocalisms and Iggy Pop-like stage antics. Almost every picture of their performances features Heller on the floor, writhing in sweat-soaked time to Melchiondo's whirling wall of noise.

With the majority of the song names on their last record, the Zeppelin-titled Moistboyz IV, featuring profanity in the title, it is difficult to single out an isolated critique, but their shoutout to former Attorney General John Ashcroft, "I Don't Give a Fuck Where the Eagle Flies," is a Moistboyz tour de force.

"You hear that tune, 'Let the Eagle Soar'? [Ashcroft's unintentionally hilarious paean to American freedom seen in Fahrenheit 9/11] That tune made me sick. Why would you align yourself with this regal bird called the eagle, which is a bird of prey?"

Heller segues from this query into a long discourse about the double-headed eagle as an imperialist ensign: "What the double-headed eagle means is that you tell your elite contemporaries one thing out of one side of your mouth and the common man another thing out of the other." Heller has a long and storied relationship with conspiracy literature. Thinking that local writer Robert Anton Wilson's Illuminatus! Trilogy is "a lot of glossy hype" about a very real conspiracy, Heller believes that "you can't know American history unless you know the history of the Scottish Rite of Freemasonry."

Barring meddling by a Masonic cabal, the Moistboyz will take to the road for the first time on an extended tour this winter. It's good to know that a drug-taking, toothless roofer from New Jersey can still kick out the jams—even if he doesn't have a driver's license.
---
The Moistboyz play the Catalyst in Santa Cruz on Sunday. Tickets are $15.
---
---
Send a letter to the editor about this story to letters@metronews.com.
---
[ Silicon Valley | Metroactive Home | Archives ]