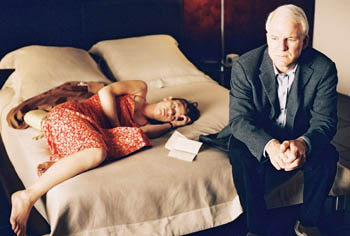 Photograph by Sam Emerson

Fun Couple: Mirabelle (Claire Danes) and Ray Porter (Steve Martin) are full of regrets in Anand Tucker's 'Shopgirl.'

Counter Intelligence

A rich guy and a poor guy contend for a lovely 'Shopgirl,' as they have since movies were invented

By Richard von Busack

SHOPGIRL Mirabelle's vocation is being an artist, but she ran up $40,000 in student loans at art school and must work at the glove counter at Saks Fifth Avenue in Beverly Hills. She waits, alert but not mocking, for the very few customers who come her way. Claire Danes is a dancer (she just gave a ballet recital in New York), and there is composure in the way her Mirabelle stands, in her glovelike wool sheaths of muted green and gray, ornamented with toylike bird-shaped brooches. But there is warmth in her, thanks to Danes' wide Slavic mouth and her rugged old-country nose. Mirabelle has two lovers. Jason Schwartzman plays Jeremy, a shaggy young loser. Late in the film, Jeremy makes a silly apology for viewing Mirabelle as an object. Which is funny, because this human pooch didn't even give her enough attention to really objectify her. We do see a note of objectification in the way director Anand Tucker looks at Mirabelle and in the way her other suitor, Ray Porter (Steve Martin), peruses her after he has picked her up.

A white-haired millionaire more than twice her age, he lives in the Hollywood Hills—in the section called Mount Olympus, yet. This Microsoft-rich Zeus gets to see her reclining on his bed. This is also how Mirabelle likes to photograph herself, reclining nude at a far distance from the lens, a ghostly female form glowing in the dark. Maybe the primal story in cinema is about a rich businessman making a poor working girl happy. She discovers unfeminine practicality; he remembers the last time he needed something. So this film has weight of tradition in it, as well as the effervescence of comedy.

Shopgirl seems a little stretched out. It is based on a novella by Martin, and unfortunately there is no such thing as a moviella. What kept me watching and fascinated was the aura of guilt—one can't get over the notion that this is a true story that Martin is acting out, penance for some real-life episode of remoteness and lapsed compassion. Yet those who got angry that there was no explanation for the disconnection of Bill Murray's character in Broken Flowers will have yet more grounds for irritation. Men can rarely explain their own walled-off qualities adequately in person, let along onscreen. In Evelyn Waugh's novel Brideshead Revisited, a joking girl tells a bachelor, "I can see right through you." The remark catches him off-guard. He thinks, "Can you see through me, the dark places my eyes can't penetrate?"

Martin is a creature of infinite solitude. Cinematographer Peter Suschitzky glides around this opaque riddle of a man; Martin's face only gains definition at the end, when filmed against greenish shadows, the color of an unripe peach. The last word goes to the young. The puppyish Schwartzman matures to self-assured happy dog, and deus ex machina lifts the weight of the department of education off Mirabelle's slender shoulders. The movie ends with a touch of unbelievable sweetness, to counteract the all-too-believable bitterness.
---
Shopgirl (R; 104 min.), directed by Anand Tucker, written by Steve Martin, based on his novella, photographed by Peter Suschitzky and starring Steve Martin, Claire Danes and Jason Schwartzman, opens Friday at selected theaters.
---
---
Send a letter to the editor about this story to letters@metronews.com.
---
[ Silicon Valley | Metroactive Home | Archives ]