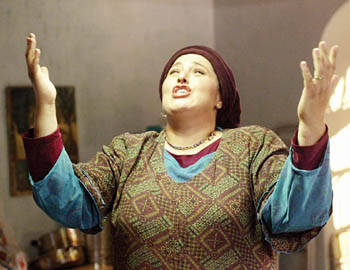 Guest Work: Opening your open to strangers isn't easy in Gidi Dar's 'Ushpizin.'

Festival Fare

The San Jose Jewish Film Festival continues with biweekly screenings

By Richard von Busack

THE ANNUAL FESTIVAL, now in its 14th year, continues through Nov. 20 with screenings Sunday and Wednesday at Camera 12 in San Jose. This week's offerings include one more chance to catch up with the superlative Syrian Bride (2004; plays Nov. 2 at 7:30pm). Eran Riklis' film is set in the summer of the year 2000. It concerns an arranged marriage in Majdal Shams, a particularly pro-Syrian Druze village in the Golan Heights. Majdal Shams' population is particularly restless since old President Assad has just died. The demonstrations over his death are complicating the wedding of Mona (Clara Khoury), and a fatuous TV star from Damascus.

The problem is the border guards: the nemesis nations of Syria and Israel each claim the Heights, with the U.N. trying to keep the peace. Once Mona makes it into Syria she won't be allowed back to see her family. Mona's father is under pressure by both his Israeli watchdogs and the traditional elders of his town, who are angry at the way his grownup children conduct themselves. Meanwhile, Mona's elder sister, Amal (the movie-stealing Hiam Abbass), is planning a small rebellion of her own. Despite the specific set of circumstances, it's a romance addressed to that something inside everyone, that doesn't love a wall.

Other films include Ushpizin (2004; Nov 6 at 3pm and Nov 9 at 7:30pm). It's about Sukkot, the weeklong harvest festival. During this event, Orthodox Jews set up booths for living and eating in sukkahs, sheds, representing the temporary dwellings of the Israelites during their 40-year exodus. (The practice was justified by the philosopher Philo as a way of leveling the rich and the poor for at least a week.) The most arcane custom involves enshrining an expensive, aromatic fruit called a citron; in gentile households, these are only seen chopped, candied and stirred into fruitcake batter.

This sweet cinematic fable from Israel concerns a pair of Breslau Hassidic Jews of today's Jerusalem: Moshe (writer Shuli Rand) and his zaftig wife, Mali (Michal Bat Sheva Rand), both as poor as Job's turkey and as childless as Abraham and Sarah. As the holy week begins, the two receive a pair of Ushpizin—strangers who can be made guests for the festival. Unfortunately, the two are Moshe's nephew and his cell mate from prison. The visit is a species of home invasion, and the results are as often distressing as comic. Billed with The Kiss, a short in which a hard-headed rabbi is given an understanding of what's really sacred.

Behind Enemy Lines (2004; Nov 6 at 7:30pm). Palestinian journalist Adnan Joulani and Israeli cop Benny Herness had attended a peace mission in Japan. The two remeet in the aftermath of renewed violence: Joulani's cousin had been killed by an Israeli settler, and Herness has been providing security for them. It is billed with Shalom Jordan, Behind Enemy Lines' director Dov-Gil Har's earlier documentary: a look backward at the history of the Jordanian-Israeli peace treaty. The Rashevski's Tango (2003/2004; Nov 6 at 5:30pm). The Rashevskis of Belgium are all Jewish, but all Jewish in different ways: some are Holocaust survivors, some are agnostic, some are Orthodox, some are Reform. Sam Garbaski directs. It shows with Oy! It's a Boy. In Canada, a mixed couple have to decide what to do about the little matter of a new baby's foreskin.
---
The San Jose Jewish Film Festival takes place through Nov. 20 at Camera 12 in San Jose; see www.sjjff.org for details.
---
---
Send a letter to the editor about this story to letters@metronews.com.
---
[ Silicon Valley | Metroactive Home | Archives ]