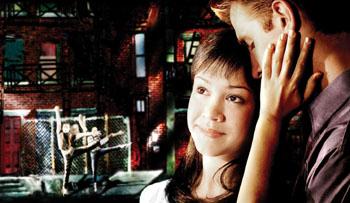 Photograph by Tim Bair

Witty Ways: Diana DeGarmo stars as Maria in 'West Side Story.'

Go West, Young Idol

'American Idol' Diana DeGarmo sings songs of innocence but not inexperience for American Musical Theatre of San Jose's 'West Side Story'

By Marianne Messina

'I FEEL PRETTY and witty and bright"—it takes a certain youthful glow to be able to sing those lines to best effect, the kind of glow that might charm the nation through an entire season of American Idol. In the case of American Musical Theatre San Jose's current production of West Side Story (featuring "I Feel Pretty" and a host of other Leonard Bernstein/Stephen Sondheim masterpieces), the glow comes in the person of Diana DeGarmo, famous runner-up to Fantasia Barrino on the third season of American Idol. At 18, DeGarmo is roughly lead character Maria's age, and she is constantly referring to her experiences as "perfect," "fortunate" and "really great." All of which suits the bubbly, infatuated Maria we meet at the start of West Side Story.

Conceived as a contemporary counterpart to Shakespeare's Juliet, Maria in the Jerome Robbins/Arthur Laurents adaptation differs a bit from her model in that, while rival ethnic gangs, the Jets (Anglo) and the Sharks (Puerto Rican), draw the star-crossed lovers toward tragedy, the Maria character grows. Maria's added dimension appeals to DeGarmo, who especially loves the play's conclusion. "I love it because Maria gets to show so many different sides of herself," De Garmo explains. "She's so young and innocent and pure. But by the end she's almost like an adult woman. She's the protector and she's the one taking over for everyone."

In fact, juggling this maturing process has been the downfall of many a West Side Story production. Just as younger actresses have to dig deep to come up with the maturity, older actresses can have trouble projecting wide-eyed innocence or inexperience. Both the 1957 Broadway production and the 1961 Oscar-sweeping film version went out of their way to hire younger casts, unknowns or even nonsingers—performers who could nail that youthful angst, energy and abandon. Stephen Bourneuf, the director for the AMTSJ production, will remain true not only to the original musical's era but also to its accent on the youthfulness of the Maria role. "He really is about keeping her natural and keeping her young and keeping her sophisticated and kind of feisty all at the same time," DeGarmo reports.

Even at 18, DeGarmo is neither unknown nor inexperienced. Since the age of 4, she has been a working performer, a Coca-Cola Kid (age 8) for the Atlanta Summer Olympics, countless voice-overs, Miss Georgia Teen at 14 and, since winning American Idol, a recording artist with a hit that came in at No. 2 on Billboard. In fact, DeGarmo was on tour with her band when she started working on the music for West Side Story. "It was kind of hard to get into," she admits, "but about a month before I was supposed to be out here I really dug my heels in."

As she approaches "the responsibility" of her first major starring role, DeGarmo credits Bourneuf for pointing out the rich layers in the stage action. "Little things that you don't notice, like holding hands. It's a really big theme that runs throughout the entire play, everything from 'one hand one heart' to in 'Somewhere' where she says, 'Hold my hand, and we're halfway there.'" DeGarmo is both excited about and impressed by the cast AMTSJ has assembled, and she was especially relieved to find she'd be working with "a very cute Tony." "I saw his picture and I was like, 'Yay!' There's a bubbly, youthful Maria for you.
---
West Side Story, an American Musical Theatre of San Jose production, plays Tuesday-Friday at 8pm, Saturday at 2 and 8pm and Sunday at 1 and 6:30pm at the San Jose Center for the Performing Arts, 255 Almaden Blvd., San Jose. Tickets are $46-$73. (408.453.7108)
---
---
Send a letter to the editor about this story to letters@metronews.com.
---
[ Silicon Valley | Metroactive Home | Archives ]