[ Metroactive Central | Archives ]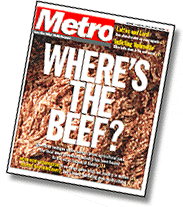 November 2-8, 1995
Features
Where's the Beef?: Harken back to the gory days--back when the only chips in Silicon Valley were of the bovine variety.

Dueling Presidents: A side-by-side comparison of the Nixon and Reagan libraries.
Arts &amp Entertainment
Movies
Here and Theremin: A new documentary unravels the mysterious life and loves of Professor Theremin, the father of electronic music.

Ordinary People: Allen tries the common touch in Mighty Aphrodite.

Rimbaud--First Blood: A good poet doesn't make a good person in Agnieszka Holland's Rimbaud biopic, Total Eclipse.

A Mind In Pieces: Student documentary gives an insider's account of schizophrenia

Music
Shut Up and Paint: Even trendy artists like Julian Schnabel should think twice about making music.

Mallets Aforethought: Vibraphonist Roy Ayers influenced a generation of forward-thinking, backward-looking hip-hop artists.

Keeping It New: Bassist Reggie Workman maintains the spirit of avant-garde jazz.

Audiofile: Reviews of the latest CDs by Joan Armatrading, Doug E. Fresh, Lloyd Cole and Letters to Cleo

Beat Street: San Joseans of Hawaiian descent, where were you?

Art
Crack in the World: Latina writers and artists at MACLA and Villa Montalvo.

Books
From the Outsider: Exile and displacement in the stories of Irene Dische.
Metro Staff Box
---
This page was designed and created by the Boulevards team.
Copyright© 1995 Metro Publishing and Virtual Valley, Inc.