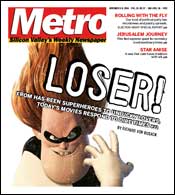 For the Week of
November 3-10, 2004
Cover Story: Loserpalooza:
Depressed wine drinkers! Midlife-crisis-stricken superheroes! Men who never grew up! Is this weekend's movie lineup the first sign of a newly mature cinema?
News: Catch Me If You Can
Bandit cabs sneak into San Jose to mooch the downtown hustle.
The Fly: Election: From Palo Alto to the Almaden Valley, we buzzed through the parties of the political elite to find who had the best to offer this electoral season.
The Fly: This week's political bites.



Biter: Bono and the Edge hit the California Theatre to promote Apple's new U2 iPod—and Biter had to walk a grueling, whopping block and a half from the office to see them.
Techsploits: Annalee Newitz is plagued by questions about the Internet, like 'Why doesn't somebody save Salon.com?'
Rev: Mysterious Fluid: I had a dream about elevators going down or something, and woke up to the sensation of being stuck to the bottom of the truck bed.



The Frayer: The San Jose Jewish Film Festival screens a modern Candide tale in 'James' Journey to Jerusalem.'
Baloonatic: 'Enduring Love' is an impatience-provoking film essay on the laws of attraction.



Head of The Class: Arturo O'Farrill schools the world in Afro-Latin music.
Brian's Song: Betwixt a 'Smile' and a tear.
In Like Flynn: Guest conductor Patrick Flynn led Symphony Silicon Valley to new heights in its new home.



The Lady Is Strange: Hysterical women of historical fiction.
Ring Bearer: 'Unforgivable Blackness' brings pioneering black boxer Jack Johnson to life in all his vulgar and splendid glory.



Sensory Surprise: Anise Cafe offers uncommonly good food in an unlikely place.
Silicon Veggie: Veggie for the Holidays.
5 Places to Love: Thanksgiving.



Please don't forget to write! Metro welcomes letters. Like any great work of art, they should be originals — not copies of letters sent elsewhere. Include address and daytime phone (for verification purposes only). Letters may be edited for length and clarity or to correct factual inaccuracies known to us. Postal: Metro Letters, 550 S. First. St., San Jose, CA 95111. Fax: 408/298-0602. . Emailers, please include name, city of residence and phone number. Letters printed will list email address unless otherwise specified. Letters to the editor are not currently published in the online version of this paper.