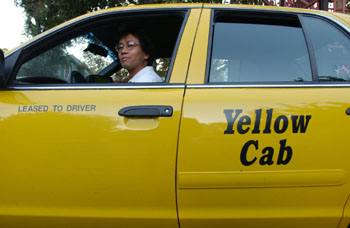 Licensed to Ill: Cabbie Eric Reyes runs a legit operation. But too many San Jose taxis don't have the proper permits, he says.

Catch Me If You Can

Bandit cabs sneak into San Jose to mooch the downtown hustle

By Vrinda Normand

THE STREETS OF downtown San Jose are buzzing with more than the usual Friday night cheer. At least, that's what Yellow Cab driver Eric Reyes thinks as he circles around the "loop" between Santa Clara, San Fernando, First and Second streets. On the two-hour ride-along, I spot clubbers crowding the corner outside of Toons nightclub and a long line of people waiting outside the Improv comedy joint.

"There's some kind of energy out there tonight," Reyes says. He can't put his finger on it, but driving a taxicab for the past 20 years has attuned him to varying levels of excitement on weekend nights. The more merrymaking the better, he explains, because it usually increases his business.

Naturally, many other cabs are thinking the same way. On Friday and Saturday nights, downtown is the prime spot to hustle for flag-downs. Three other Yellow Cabs pass us in one intersection. At 10pm, though, the night is still young. As barkeeps begin to shut their doors, more drivers will flock here to pick up fares, including some who aren't legally permitted to do so.

They are called "bandit cabs" by many of the legitimate local taxicab companies and drivers. They usually come from companies based on the peninsula or in the East Bay. According to Larry Silva, the president of Yellow Checker Cab in San Jose, some intruders are renegades who were "kicked out" of regulated cities.

They sneak into San Jose when they know permit officers are off-duty and uniformed officers are swamped with more pressing matters. "There are no fences around city borders," Silva says. "They just come in and hope they don't get a citation."

Only cabs with a valid blue San Jose permit stuck on their rear windshield are allowed to pick up fares in this city, unless there is a prearranged call for a specific customer. Dmitriy Vorik, the owner of Rainbow Cab Company based in San Jose, says his drivers respond to calls from loyal customers on the peninsula, even though they don't have permits for cities there.

A few of his drivers have been cited, but he has fought the penalties in court and won. In San Jose, though, roughly half of the fares come from flag-downs, Vorik says. This is where the competition gets rough.

Odd Hours

Since the economy plummeted after Sept. 11, 2001, the common perception is that there are now more cabs fighting over a smaller pie. Reyes knows several people who resorted to driving cabs after they lost their high-tech jobs. The problem is, there is less of a demand for taxis. Business is much slower than it used to be, Reyes says. On one day, he works 14 hours and still brings in about 25 percent less than he did three years ago.

The economic pressure makes bandit cabs even more unwelcome. "Of course, that's when it really matters that these guys come downtown," he says. "Because we need every little ride we can get."

Jim Ortbal, the city's assistant director of transportation, says there are currently 14 taxicab companies in San Jose, three more than there were in 2001. But there are actually fewer licensed drivers and cars: he counts 450, down from 570 in 2001.

Bandits could account for the reason why many drivers are saying there are too many cabs in San Jose. Ray Duque, a Yellow Cab driver with 10 years of experience, says he can barely make $150 dollars a day (before has to spend $420 a week on gas and company fees). He says he needs twice as much to make a decent living.

Within the past year, Duque has noticed more bandit cabs than usual. Two months ago, a taxi from Fremont snuck in front of him and "stole his fare." He told the driver, "Get out of here. Go back to your city. You're stealing my money." According to Duque, the driver got out of his car and gave him the finger. "Don't follow me, you motherfucker," he said. "I'm going to kick your ass."

Duque threatened to call the cops, but the man dismissed him and drove away. He didn't really think it would help anyway. "The San Jose cops don't care," he says. "They tell me to report it to the permit police."

But the permit officers at SJPD are only on duty during weekdays. In fact, there is only one permit officer that deals with taxicabs—Ron Macias. He's answered complaints and monitored cabs since 2002 but simply can't get to everything on his own. The strained city budget doesn't allow for overtime hours if he wanted to address problems at night or on the weekend.

For incidents at odd hours, Macias tells drivers to get the cab's number or notify a uniformed officer, who can take a report and have the permits division follow up later. Still, it may be difficult to get even that much help. "Beat officers are often up to their ears responding to victim-oriented crimes," says Sergeant Melanie Bertelsen of SJPD. Needless to say, chasing taxicabs is not the first priority.

Proof

Reyes turns his cab swiftly onto First Street and crawls by the laughing swarm in front of Tres Gringos. Inching toward Zanotto's Market at about 11:30pm, he passes several taxis stopped by the light rail tracks, waiting for fares. We see two California Checker Cabs with SJ stickers on their rear windshields and stop next to one white sedan with "Netcab" on the side. It has only one permit on its window, which says SC for Santa Clara.

The driver shoots us a strange look as we examine his car and then flashes a sheepish smile. This guy is not supposed to be looking for business in San Jose without paying $137 every two years for a driver's permit in addition to the permits and licenses his company must provide. Reyes points out the unfairness of it all. The bandit cabs avoid forking over money to the city, yet they come here thinking, "I'm just going to cruise into downtown and make some easy money," Reyes says. He sees at least five unpermitted cabs on a weekend night. Other nighttime drivers report as many as 15 bandits roaming around the same area.

Rajbir Singh, the owner of Netcab Company, says he has 10 cars. Most have permits for San Jose but a few only have permits for Santa Clara. He says he will speak to his drivers about the incident, but adds, "We have good business in Santa Clara. We don't need to go out."

One National Cab driver, who asked to remain anonymous, says he saw an International Cab from Milpitas hanging out at the San Jose train station. He fumes about the bandit cabs that pick up fares right in front of him. "Legally, that fare is mine," he says. But people who are flagging down cabs can't usually tell the difference.

"There's nothing I can do," he sighs. "I'm not going to go out there and make a scene and tell the people to get out of the car."

Bill Singh, the manager at International Cab, says his two cars serve only Los Gatos and Milpitas. "One-hundred percent no way do my drivers pick up in San Jose," he says. "They live there, and they can drop off there." As to the complaints, he wonders if other cab companies are trying to bully him. "Do they have proof?" he asks.

Not My Job

The elusive nature of bandit cabs makes them difficult to identify and track down. Officer Macias says he needs probable cause to stop a taxicab. It's not illegal for non-San Jose cars to drive here—there has to be an indication they are trying to attract fares.

Five years ago, the permits division had a tough hold on San Jose streets. Officer Terry Brown set up decoys on weekend nights by flagging down unpermitted cabs to see if they would pick him up. But Brown left the division in 2001, and things haven't been the same since.

Without the cab number, it's hard to say to which company the bandit belongs. The anonymous National Cab driver sees a black-colored Yellow Cab from Redwood City regularly. According to the Yellow Pages online, San Mateo County is home to about 150 cab companies, with 77 offshoots of Yellow Cab.

The supervising dispatcher at Yellow Cab Peninsula says bandit cabs are "news to me. I know they're not mine." He adds that several of the 18 Yellow Cab companies in Redwood City have black cars.

"San Jose is so big, there just aren't enough officers to monitor it that well," says Phil Marciel the co-owner of Santa Clara Cab Company. Sometimes his drivers see bandits hanging out near Great America, and he calls officer Bob O'Royle at the Santa Clara Police Department, who usually responds "right away."

Juan, a Yellow Cab driver who didn't want to give his last name, says police officers are much more vigilant in Sunnyvale and Mountain View. He drives there sometimes to drop off fares and has been pulled over several times.

In San Jose, though, he says the enforcement is lacking. Officers won't even let him finish complaining about bandits. "It's not my job," they tell him. He sees cabs from the peninsula scouring downtown streets and yells at them, "What the hell are you doing here? You're not supposed to be here."

But they don't even flinch. "They think they can go wherever they want because nobody does anything," Juan says.
---

Touch And Go

At the airport, more cabs equals more competition--and more bickering

THE TAXICAB HUSTLE on the streets is only half the story in San Jose. An equal proportion of business comes from Mineta International Airport, where more than 200 cabs flock every day, according to Jim Ortbal, the assistant director of transportation and co-chair of the Taxicab Advisory Team.

Yellow Cab and United Cab, the two largest taxi companies in San Jose, currently have total control over airport rides, but that is soon to change. Ortbal says the advisory team (composed of city officials, cab drivers and owners of cab companies) has designed a new service model that will go into effect in February 2005.

The new system will reduce the number of cabs at the airport (many wait in line for hours just to get a fare) and open a small window for other cab companies to join the terminal spree. Three hundred alternate-day contracts will be issued, but only 150 will be active on any given day.

The 14 San Jose cab companies will split 105 of the contracts, which the advisory team will distribute according to business size (smaller companies are assured a minimum of seven). The remaining 195 contracts will be divided among individual drivers, with preference given to those who have worked steadily at the airport for the past year.

Ron Lind, president of the Local 428 taxicab drivers' union, says his collective pushed for a medallion system, which would give individual drivers more independence from cab companies. Lind says the new model is a compromise, but he still wants the city to put a cap on the number of cabs in the city.

"Many drivers are forced to work 12-15 hours a day, 6-7 days a week, and are barely making a living," Lind says. More competition means fewer fares and less money to put food on the table. Cab companies, on the other hand, get $300-$500 a week for each vehicle they put on the road.

In the end, Ortbal says the city prefers a market approach to regulation and trusts that cab companies won't hire more drivers than they can handle. But company owners, like Dmitriy Vorik of Rainbow Cab, express revulsion at the very idea.

"Who gives them the right to even think about it?" Vorik says. "If they tell me I can't have any more drivers, they're putting their hand in my pocket."

Vrinda Normand
---
Send a letter to the editor about this story to letters@metronews.com.
---
[ Silicon Valley | Metroactive Home | Archives ]