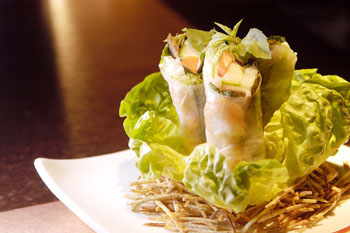 Photograph by Paolo Vescia

Spring Up: Anise Cafe reinvents the popular spring roll, filling it with ingredients like swordfish.

Sensory Surprise

Anise Cafe offers uncommonly good food in an unlikely place

By Stett Holbrook

WALKING INTO San Jose's 4-month-old Anise Cafe is an odd experience. From the outside, the restaurant's anonymous minimall location reveals little of what's inside. Stepping into the narrow courtyard that leads to the restaurant's door, you expect to find a typewriter repair business or a maybe a drab tax preparer's office. But once you enter Anise's doorway you leave the mundane behind; dim lighting and rich, dark colors make the restaurant feel like a velvet-lined womb. Pulsing house music, modern décor and a curving bar give the place the feel of a posh nightclub. But the raves here come from the kitchen.

Anise is the work of first-time restaurateur and chef Rosalie Cartwright. Cartwright, who is half Vietnamese and half Anglo, is a former accountant who says cooking is her true passion. For a newcomer, Cartwright creates food with the style and brio of a veteran. Her menu is reminiscent of San Francisco's famed Slanted Door. The menu fuses Vietnamese ingredients with Western style and technique to create a cuisine that's greater than the sum of its parts. And like Slanted Door executive chef Charles Pham, Cartwright has no formal culinary training. She taught herself to cook but also credits the tutelage of her Vietnamese mother.

Anise's menu is divided into four "acts:" appetizers, salads, entrees and desserts. The preambles before each section read like soft-core porn. ("Act Three: Empowerment. Take over the control for your own pleasure, Anise's seductive table treats come in a range of exquisite and original palate-teasing plates.") It's wince-inducing stuff, but it's worth it to get to the food.

Everyone loves the fresh, clean flavor of spring rolls, and Cartwright has reinvented the appetizer by filling these with nontraditional ingredients like swordfish, pork loin and mango, and tofu with shiitake mushrooms and peanut sauce ($5-$6).

Salads are especially good, and the green-apple salad with grilled beef ($8) may well be the best item on the menu. The tart apples mimic green papaya, an ingredient common in Thai and Vietnamese cuisine. The julienned apples are genius with the juicy slices of charred, lemon grass-scented flank steak. They're combined with fried shallots and ground peanuts in a towering, architecturally imposing salad. Banana-blossom salad ($8), a tangy, artfully arranged jumble of minced pork, fruit, sesame seeds and fried shallots, arrives in the deep red bowl of a banana blossom. It's another beauty for eye and mouth.

The hearty chicken curry ($8) is a perfect entree for the cold days ahead. Rather than using the coconut milk so common in Southeast Asian curries, this dish is more of a stew and the rich, yellow gravy has a warming hint of cinnamon and chunks of sweet potato and taro root. Another winner is the Hanoi catfish ($11). Turmeric-tinted chunks of delicate skewered fillet meat are grilled and served alongside sautéed dill, rice noodles and subtly seasoned cucumbers. Stir-fried skirt steak ($12) combines tender slices of Southeast Asian spice marinated beef with garlic, shallots and green onions atop french fries. It's a satisfying dish that showcases simple ingredients expertly prepared.

Desserts are good but not great. Mango flan ($5) satisfies, and while it's rather heavy, the fried banana spring roll ($5) is a more traditional choice.

Anise Cafe has chosen an odd form of entertainment. Cirque du Soleil DVDs play silently on a screen in the back of the restaurant. Watching the lithe, colorfully outfitted acrobats swim, contort and fly through the air seems weird at first, but it adds to the restaurant's sensory kaleidoscope.

The only real shortcoming at Anise is the service. While the staff is uniformly friendly, the originality of the menu is bound to produce some questions in diners' minds and a few explanatory remarks from the servers would have been in order. At a minimum, servers should pause to see if there are any questions. But with good food at reasonable prices, it's easy to let this go.

If Anise Cafe can maintain the quality and keeps packing them in, one wonders if the restaurant will outgrow its current location and go looking for new digs. But like a flower growing through the sidewalk, Anise Cafe is doing just fine in this unlikely setting—and, there's plenty of parking.
---
Anise Cafe
Address: 1663 W. San Carlos St, San Jose
Phone: 408.298.8178
Hours: Lunch 11am-2pm Wed-Mon; dinner 5:30-10pm Wed-Thu, Sun-Mon, 5:30-11pm Fri, Sat
Full bar, extensive wine list
---
---
Send a letter to the editor about this story to letters@metronews.com.
---
[ Silicon Valley | Metroactive Home | Archives ]