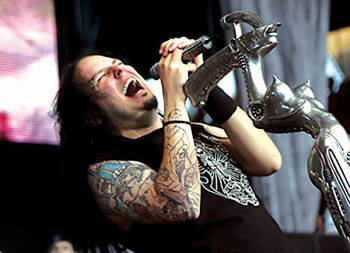 Korn's Jonathan Davis gets in touch with his metal on OzzFest 2003.

It's On

Korn and Limp Bizkit co-headline the Xbox Back 2 Basics tour

By Sarah Quelland

THEIR HISTORY DATES BACK to the mid-'90s, when they met in Jacksonville, Fla. Still budding itself, Korn gave Limp Bizkit a career nudge that got it signed, and the two bands ended up hitting the highways together. Limp Bizkit (and 311) opened for Korn on a tour that stopped at the Edge in May 1995. That was even before Limp Bizkit milked its cover of George Michael's "Faith" for all it was worth. Korn brought the Bizkit on the 1998 and 1999 Family Values tours. More recently, the two bands contributed, albeit independently, to mtvICON: Metallica. Today, Korn and Limp Bizkit (now limpbizkit) are heading back into the clubs as co-headliners of the Xbox-sponsored Back 2 Basics tour, which hits the Warfield Wednesday (Nov. 12).

Edge talent buyer Jimmy Arceneaux remembers the May 1995 gig fondly. "It was a super bill," he enthuses. "Those kind of club shows are rare these days. That period was very exciting. Music was changing, and fans seemed to be more hard-core then. Kids were dumping change on the counter to buy a ticket. Any crumpled dollar bill would do. They just had to see the show!"

Eight years is a long time, and the youthful aggression, raw fury and desperate hunger for success are long gone. Instead, fans will bear witness to seasoned multiplatinum rap-rock vets who changed the face of music and now seem anxious to prove their continued relevance to 21st-century teenagers who spelled Korn "corn" and Bizkit "biscuit" in 1995.

Korn is gearing up to release its sixth album, Take a Look in the Mirror, on Nov. 25. The self-produced album includes the stormy "Right Now" and the apprehensive "Did My Time" (featured in Lara Croft Tomb Raider: The Cradle of Life). Sonically, Take a Look in the Mirror is said to return to the groundbreaking emotionally visceral sound of Korn's earlier work and features frontman Jonathan Davis on bagpipes once again.

The latest from limpbizkit, Results May Vary, hit shelves Sept. 23 and quickly pushed two singles: "Eat You Alive" and an earnest cover of the Who's "Behind Blue Eyes." Headlines about the band have been bizarre lately. Frontman Fred Durst has been publicly fawning over every girl who gets his knickers excited, from Britney Spears to Angelina Jolie to Halle Berry. Berry actually appears in the video for "Behind Blue Eyes," while another Durst crush, Thora Birch, stars in "Eat You Alive." Durst publicly begged guitarist Wes Borland to return (ex-Snot guitarist Mike Smith now fills the role), and when he refused, altered the band's name. Now limpbizkit's being sued by more than 170 unsatisfied fans for playing only 17 minutes at a hostile stop in the Chicago area on Summer Sanitarium 2003.

Results May Vary is pretty much rote limpbizkit, though not as intense or memorable as past albums. Durst seems less enthusiastic and more despondent. Sure, there's the rhyme-spittin' mosh-pittin' numbers ("Gimme the Mic," "Head for the Barricade"), the cocky ego-trips ("Eat You Alive") and the juvenile angst found on "The Only One" ("I will not let you get close until I think that you deserve me") and "Let Me Down" ("I guess that you're not good enough to be with me"). But the ever-contentious Durst makes himself sympathetic as well. On "Drown" he confesses, "Sometimes I feel like a fool 'cause I'm so uncool / Forgive me." He sounds lonely, misunderstood and terrified of time slipping away. He addresses his struggles as a boy and his challenges as a man on "Lonely World" and "Almost Over," and on "Underneath the Gun" he reveals, "Stress is tremendous, and pressure is endless / No one on this planet like me to be friends with / I been working so hard."

This Back 2 Basics tour promises to be an awesome experience for fans of either band (provided limpbizkit plays more than 17 minutes), especially those who have yet to see them in the smaller setting. Also exciting is the prospect of Davis and Durst revisiting their verbal duel, "All in the Family," off Korn's Follow the Leader.

HOT TOPIC: Arsenic plays a CD-release party this Friday (Nov. 7) at the Blank Club with Down Factor and Copius. ... Blues vocalist Kaye Bohler celebrates the release of her new live CD this Saturday (Nov. 8) at JJ's Blues. ... Jazz vocalist Gail Dobson also releases a new CD this Sunday (Nov. 9) at Theatre on San Pedro Square.
---
Send a letter to the editor about this story to letters@metronews.com.
---
[ Silicon Valley | Metroactive Home | Archives ]