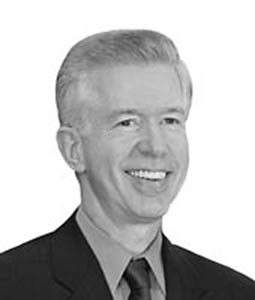 Biter

Get a Job

Biter consults a local career expert on behalf of the laid-off governor

By Allie Gottlieb

BITER KNOWS all too well how tough it is to find work these days. (We've failed at every attempt so far to acquire our own dream job--which, it probably goes without saying, would be evil ruler of the universe-slash-pastry chef.) So we feel awful for Gray Davis, the most publicly fired man ever.

Davis, on the other hand, is obviously in complete denial of the harsh reality that will face him the moment his job skids to its, er, termination. If his press secretary is to be believed, Davis is doing nothing to help himself. Biter has therefore decided to consult with a local expert on Davis' behalf to assist him in lining up his best options for a new career.

Stanford University alum Susan Gould, a 20-year-plus veteran career coach in Palo Alto, carefully reviewed Davis' job history, as compiled by Biter, and identified his likely and demonstrated skills and how he might use them.

Davis' skills as are as follows: He's a "very smart" professional who has won awards and who graduated from Stanford and Columbia Law School with distinction. He's "very good at fundraising" and has excelled at "mobilizing support." (He won two out of the three elections held for his two terms as governor.) He knows how the public realm works and is familiar with the "inner spaces" between the public, private and nonprofit sectors.

As a lawyer by training, he should also be a problem solver, good communicator, assertive, tenacious, intuitive and results-oriented, Gould notes.

Now to connect the man's skills with his career objective. According to Davis press secretary Steve Maviglio, the outgoing governor may seek a job in education, because that's "where his passion lies." It isn't really where his experience lies, at least not in a hands-on sort of way. But that shouldn't be a problem, according to Gould. Davis should simply aim for a high-profile, top-level position where layers of hierarchical insulation can replace years of actual experience.

Gould recommends that Davis look at heading or starting a foundation focused on education. He might consider running an inner-city school system--probably by hiring people who know what they're doing and paying them with his $98,000-a-year pension money. Then he could take all the credit for building a model school system--a boast that might come in handy three years from now, when he will be eligible to once again run for governor.

If that's too much work, or too inner-city, he could teach public policy at Berkeley, Stanford or Harvard. Or, he might consider applying to be the head of a college. (Say, San Jose State University?)

Unfortunately for Davis, the California State University system has already narrowed down the applicant pool to three finalists who are touring the San Jose campus next week.

But not to worry, says Cal-State public affairs director Colleen Bentley-Adler. Biter can nominate Davis for the Bakersfield campus' president position, due to open up in January after the current head retires. The position doesn't require experience working in the field of education, assures Bentley-Adler, who seems to have forgiven Davis for cutting her public university system's budget. "He does have all of the qualifications that would make a good president," she concedes.

And--the position is immune to recall.
---
Send a letter to the editor about this story to letters@metronews.com.
---
[ Silicon Valley | Metroactive Home | Archives ]