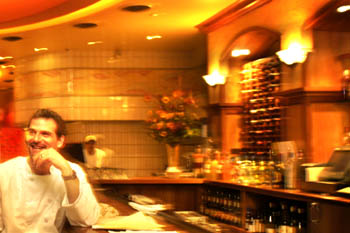 Photograph by Charlie Nucci

Fluid Notions: Steamer's new chef, Brian Barry, raises the bar on seafood favorites

Ahoy, Sated

Los Gatos' Steamer's Grillhouse nets a plentiful menu of fine fishy food

By Aaron Robinson

IN THE face of Old Town Los Gatos' reconstruction three years ago, I was afraid. I'd just as soon see Grace Cathedral replaced by McDonald's. However, Steamer's Grillhouse, a Los Gatos original, not only continues to enchant but is getting better at it. Besides being a recipient of Wine Spectator magazine's "Award of Excellence," Steamer's has acquired executive chef Brian Barry, formerly of the critically acclaimed Jardinière in San Francisco. There's definitely something special cooking here.

Once past Steamer's upscale strip-mall exterior, the décor transforms to resemble a Mediterranean resort. A terra-cotta paint job and booths are supported by koa wood and stenciled glass that resembles fluid ocean waves.

Our server, Paige, was a Jedi waitress, well trained in the art of intuitively making customers feel comfortable. Her educated suggestions resulted in at least one culinary discovery: the Mango Martini ($8.50), one of many fresh-fruit-infused vodkas made in-house. It was designed to please the lightweights, being heavy in fruit, but it was sophisticated enough even for a veteran martini drinker. That and the spongy sourdough kicked us off to a great start.

We began our ocean voyage with the fantastically rich Dungeness crab and artichoke dip with doughy stone-oven-baked pizza crust ($11.50). I've seen many restaurants conjure up a can of mayonnaise with a dash of crab and a pinch of artichoke and call it a dip. Not Steamer's. Its version featured hearty crabmeat and generous artichoke, smoothly combined and baked with a bread crumb crust.

I must admit I've never been too crazy about ahi tuna tartare. I find it usually consists of pale, chewy fish trimmings. Steamer's petite ruby-colored ahi appetizer ($12), garnished with a long sesame crisp, was hands-down in a league of its own. The addition of finely diced watermelon and cucumber, shaved fennel and pickled red onion created a flavor scope that aimed toward the heavens.

Before we could get to the salads, we had to first choose the wine: a bottle of the 2001 Martinelli Sauvignon blanc ($36)--a clean vintage yielding pleasing notes of citrus and melon, with a crisp finish. This refreshing elegance paved the way for a clever array of marinated baby beets above shaved fennel with mâche and baked goat cheese ($9). The only flaw was the cheese being dry and chalky when it needed to be creamy and nutty. Other than that, it was delicious. The local heirloom tomato salad ($9) with tiny additions of fresh mozzarella, basil, mâche, white-wine vinaigrette and pungent caper berries still needed a little tweaking. Some tomatoes were too ripe, some too young; there was not enough cheese, and too much mâche.

Did you know that foods have soul mates, too? Proof of the theory could be summed up in my gorgeous entree of seared day boat scallops ($24). A crisp, buttery crust that existed on both top and bottom concealed the scallops' tender interiors. The quintet sat proud in a pool of what the chef calls "white corn nectar"--sweet but not obtrusive. A complementary toss of chopped asparagus and portobello nestled in the center, and modestly dispersed toy-box tomatoes were allowed to express their tang.

Steamer's lived up to its reputation for market-fresh fish in our next entree, a thick mesquite-grilled swordfish steak served with a Mediterranean bouquet of oven-roasted artichokes, smoked roasted tomatoes, peppers, kalamata olives, capers, fennel and garlic mashed potatoes ($24). The flavors were incredibly intense, with so much going on that my taste buds were running on overload. Let's just say, whether sauté, grill or oven, Steamer's has a kitchen staff worthy of acknowledgment

By now we were already guilty of the sixth deadly sin: gluttony. Still, how do you resist pumpkin cheesecake with a ginger cake crust, brandy whipped cream and a garnish of pumpkin seed brittle ($7)? You don't. You let it slide down your throat like a Christmas Day sleigh ride. Then you wash it down with a "Girl Scout Cookie" (peppermint Schnapps and hot chocolate, $6), and that is that.
---
Steamer's Grillhouse
Address: 31 University Ave., Los Gatos
Phone: 408.395.2722
Hours: Open daily for lunch and dinner, 11:30am-closing (which could be 10pm-2am)
Price Range: $5-$32
Full bar
---
---
Send a letter to the editor about this story to letters@metronews.com.
---
[ Silicon Valley | Metroactive Home | Archives ]