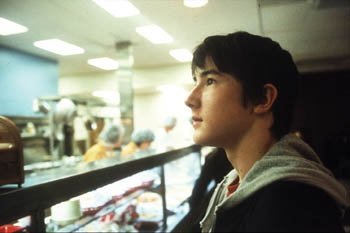 Photograph by Scott Green

Least Likely to Graduate: Alex Frost plays a high school shooter in 'Elephant.'

Combing Over Columbine

Gus Van Sant goes over the well-tilled killing fields looking for clues in 'Elephant'

By Richard von Busack

PICKING at the scab of Columbine is a national pastime, and we're in the middle of a revival on the subject of school shootings. D.B.C. Pierre's novel Vernon God Little--a robust Texas satire about the buddy of a high school sniper, a harmless fool who becomes an object of national fury--landed the Booker Prize. Zero Day, Ben Coccio's mockumentary, is essentially The Blair Witch High School Shooting in the form of a video diary left by the pair who shot up their high school.

This week's slouch toward Columbine is an experimental film by Gus Van Sant that won the Palme d'Or and the Best Director Award at this year's Cannes Film Festival. Shot in a recently abandoned high school in suburban Oregon, Elephant film stalks a mixed group of students during the morning before an attack.

Van Sant's subjects include the student photographer, Elias (Elias McConnell), and the sensitive John (John Robinson), who has to caretake his drunken father (Timothy Bottoms). In other episodes, we meet a cluster of students, including the cutest guy in school (Nathan Tyson) and his girlfriend (Carrie Finklea).

The dialogue is improvised, and it shows. The scene of three popular girls talking in the cafeteria bears the self-conscious, hollow ring of the preliminary chat in porno films. When the two assassins--Alex and Eric (Alex Frost, Eric Deulen)--confer before the shooting, one of them says, as an afterthought, "Have a good time"--about the only sign of youthful spirit breaking out of the formalist wet blanket that Van Sant has drawn over the school.

Much has been made of a long, slow circling shot watching Alex playing Beethoven on the piano. As a symbol of boiling passion, is this any more profound than that pipe organ in an old-time villain's lair, ready for a thundering version of Bach's Toccata? One key to the general numbness at Watt High School--bruited about by Stuart Klawans in The Nation--is the interpretation that the characters are all ghosts, which is the second-most unsatisfactory explanation of a vague film, surpassed only by "It was all a dream."

No question that the muffled ominous visuals keep you watching. Elephant is much less austere than Van Sant's previous film, the taxing Gerry. Standout scenes include the opening: observing a car drifting home, clipping another car and almost killing a bicyclist, the wheels scudding through autumn leaves. And certainly the introductory shot of Michelle (Kirsten Hicks) standing, frozen with shame, underneath a gloomy northwestern sky is a perfect emblem of the agony of high school. Hicks is the one performer who melts Van Sant's artificial chill.

The title has a double meaning. One is "the elephant in the room that no one wants to see." Spot the pachyderm in this movie: it's a drawing of an elephant on the wall of Alex's bedroom, where the two murderers hang out during the piano scene. These two shooters may have sexual longings for each other that they don't want to express--the elephant in the room?

The other aspect may be a reference to "the seven blind men and the elephant"--the parable that means everyone sees something different according to their perceptions. My section of this laurel-bedecked elephant tells me this is another meandering film by Van Sant. When not fulfilling the demands of the market (with wholesome pro-private school opuses like Good Will Hunting and Finding Forrester), he's gone as avant-garde as it gets today, emulating the arduousness of Hungary's Bela Tarr. Unlike Tarr, however, Van Sant never seems to have a destination.

Van Sant does imply that the rampage is due to the suburbs, of course. Most of the people who sit through Elephant will be city dwellers willing, as they were at American Beauty, to believe that the suburbs are evil incarnate. Van Sant seems awake to that possibility. Note how he stops to gape at the spacious, bland interior of a ranch house like a man who has just arrived from Afghanistan.

The school riot was once a call to revolt, in Zero for Conduct and If... . Since no one now will find juice in the phrase "Society is to blame," such films have lost even their function as protest. In the back of the mind, the thought of being done to death by a sniper isn't even really that extreme a fate anymore--it's an unlikely death, but possible, like being hit by lightning. It can happen anywhere, in small towns or even in the corridors of a Montreal university.

Elephant takes the shootings to a new level--past horror, past humor, straight into banality. I came out perplexed and depressed, thinking maybe Michael Moore's guess was as good as any: it was bowling that drove them to it.
---
Elephant (R; 81 min.), directed and written by Gus Van Sant, photographed by Harris Savides and starring Alex Frost, Eric Deulen and Carrie Finklea, opens Friday at selected theaters.
---
---
Send a letter to the editor about this story to letters@metronews.com.
---
[ Silicon Valley | Metroactive Home | Archives ]